Angels rally against Astros to extend homestand winning streak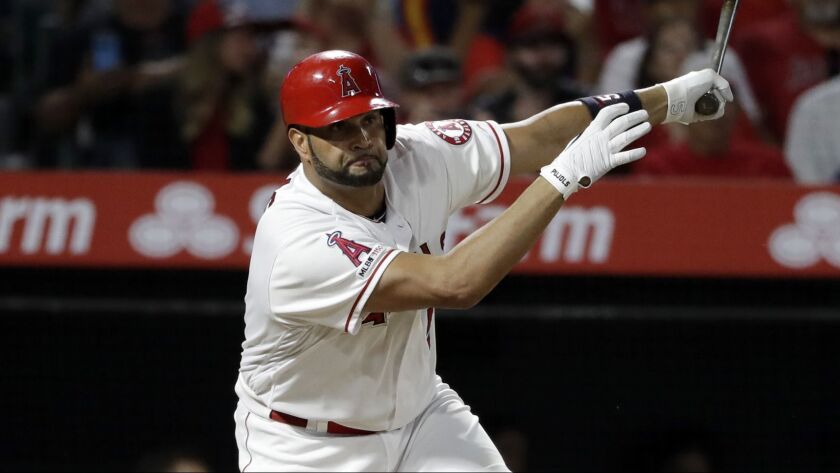 The Angels have lived on the outskirts of playoff contention, sliding on and off the bubble, for the better part of four months. Always too far behind the Houston Astros in the division race to be taken seriously. Never too far away from .500 to be counted out.
With an opportunity to play the Astros at Angel Stadium this week, it became more imperative than ever that the Angels find some footing. A 9-6 victory on Monday, keyed by Albert Pujols' three hits and three RBIs, allowed the Angels, who improved to three games above .500 for the first time this season, to inch toward that goal with their fourth win in a row.
"Any time you play a team you're chasing, it's important," manager Brad Ausmus said. "I don't think .500 is the goal. It's something you pass on the way to a goal.
"I would never call a July series critical," he added, "but we are chasing them, so it's probably more important for us."
As the Los Angeles Angels continue to mourn the loss of pitcher Tyler Skaggs, they try to find a way to stay focused on the on-field tasks before them.
Sound logic. The Astros' 59-win total is tied with the New York Yankees for the most in the American League. Their on-base-plus-slugging percentage of .817 makes the Astros the second-most potent offense in baseball. Barring a precipitous fall, it seems unlikely even second-place Oakland can challenge their grip on the AL West.
For the Angels to get anywhere close to ending their four-year playoff drought, they must take advantage of the 14 second-half games they have against the Astros.
The Angels nearly squandered their first opportunity. Rookie Griffin Canning stumbled for a second straight start, failing to command any of his pitches.
After opening the game with two outs on two pitches, he ran into a tight strike zone and couldn't recover. He walked four straight batters before he could return to the dugout. His next time out, he allowed the Astros to string together two walks and two hard-hit singles. Alex Bregman knocked an RBI single off Canning's 50th pitch for a 3-0 lead, knocking the 23-year-old right-hander out of the game with one out in the second inning.
It was the first time any pitcher threw four wild pitches, walked six, and recorded four outs or fewer.
Sign up for our daily sports newsletter »
"They're good hitters but I'm not trying to nibble," Canning said. "I felt like I was being aggressive. They were close. When they're close but they're balls, then you kind of just put yourself in a bad position. Just kind of snowballed a little bit.
"I don't think I need to panic. … I don't think there was anything mechanical at all. I'm not gonna feel sorry for myself, just gonna keep working."
Canning's collapse didn't doom the Angels. They scored in three consecutive innings and rallied.
Their swift deconstruction of young left-hander Framber Valdez in the fifth inning anchored the victory. Michael Hermosillo, recalled before the game to start in center field in place of the ailing Mike Trout, drew a leadoff walk. He then dashed so quickly to third base on David Fletcher's double that he lost his helmet. Hermosillo zoomed home with the go-ahead run when Andrelton Simmons, who homered in the third inning to put the Angels on the board, grounded out to shortstop.
Fletcher and Shohei Ohtani followed Hermosillo home on Pujols' single to right for a 6-3 lead.
George Springer threatened to topple the Angels. He knocked three hits, including two homers, and scored three runs. His two-run shot off reliever Justin Anderson's high fastball banged into the seats in right-center field and halved the Angels' four-run lead in the sixth inning. Springer added a solo blast to center off Ty Buttrey in the eighth.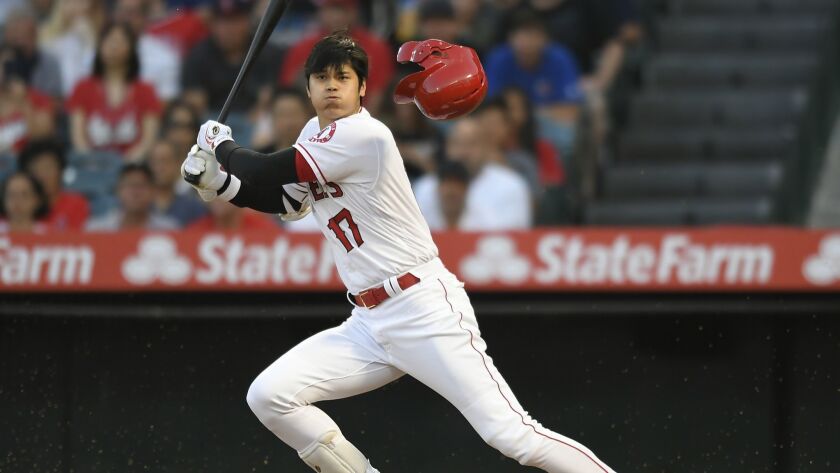 But an otherwise strong performance from the bullpen absolved Anderson, Buttrey and Canning of any blame. Taylor Cole, the architect of two perfect innings in Friday's combined no-hitter, pitched 31/3 scoreless frames in relief of Canning. Cam Bedrosian added a scoreless performance of his own over 11/3 innings, and Hansel Robles got his 14th save.
It helped that the Angels managed to contain Yordan Alvarez, the Astros rookie who became an instant star after slugging nine homers and batting .362 in his first 21 games. He walked, grounded into a double play and hit a hard fly ball for an out. He scorched a single to start the fifth but was left stranded at third by Anderson.
"You definitely want to play good against the Astros," Simmons said. "Whenever you walk away with a win, you know you beat a really good ballclub. It's really positive feedback when you beat a team like that."
---
Get the latest on L.A.'s teams in the daily Sports Report newsletter.
You may occasionally receive promotional content from the Los Angeles Times.