Column: Angels search for familiarity and hope following Tyler Skaggs' death
The rhythms of the game pulled them back in and took hold again Monday, and for that small gift, the Angels were grateful.
They gladly gave in to the tug exerted by the familiar and routine, to playing catch under a cloudless blue sky and hearing the reassuring pop of the ball as it smacked into leather gloves, to chatting as they took batting practice and smiling as they hadn't allowed themselves to smile since pitcher Tyler Skaggs' death July 1 hurled them into an unscripted world of mourning and aching loss.
They are not back to normal. "No. Never," catcher Dustin Garneau said with a passionate certainty that was echoed by his teammates.
But the music in the clubhouse was a little louder Monday than it was before the game Friday, when the Angels honored Skaggs in a moving tribute and later felt his spirit feeding theirs while they pulled off an astounding combined no-hitter, all while wearing replicas of Skaggs' jersey. Players were no longer speaking in notably hushed tones before the game Monday. Many wore T-shirts with Skaggs' No. 45 on the back and his favorite phrase, "We're Nasty" on the front. Sometimes they passed his locker stall, which will be kept intact the rest of the season.
"We see his locker over there every day and I feel like there's times I do look over there and I still see him. I can see what he's wearing still," reliever Justin Anderson said before the Angels rallied for a 9-6 victory over the American League West-leading Houston Astros at Angel Stadium.
"I don't know if 'normal' is the right word. I don't know if I can give you a word right now, off the top of my head or pinpoint it. But I think just us knowing that he is still here with us, and we feel his presence still, I think that's what rejuvenates us and helps bring us to life a little bit. We think about the things he would say to encourage us or the other positive words he would say throughout the day. I think that's the best way to describe it."
They hoped the emotions that lifted them to a sweep of the sub-.500 Seattle Mariners last weekend would energize them against Houston as they continued a longshot pursuit of the second wild-card berth. It made perfect sense to Anderson that what he called "a magical night, a beautiful night" in the no-hitter, a businesslike win Saturday and a comeback Sunday could create "a big momentum shift" for a team that urgently needed one. Stranger things have happened.
And strange things happened again Monday, when the Angels overcame pitcher Griffin Canning's early wildness and relentlessly chipped away at the Astros' no-longer-formidable pitching staff. Is this what the Angels can do and who they can be, or was their comeback merely a temporary product of the surging emotions they've been riding? They have a lot of ground to make up and a lot of emotional healing to do, but the no-hitter Friday seemed impossible too.
Their first step, no matter what, is to throw themselves back into their old rhythms and habits and let recovery happen naturally, as much as it can.
"I don't know if we're going to be healed but getting back to our routines definitely helps," infielder David Fletcher said.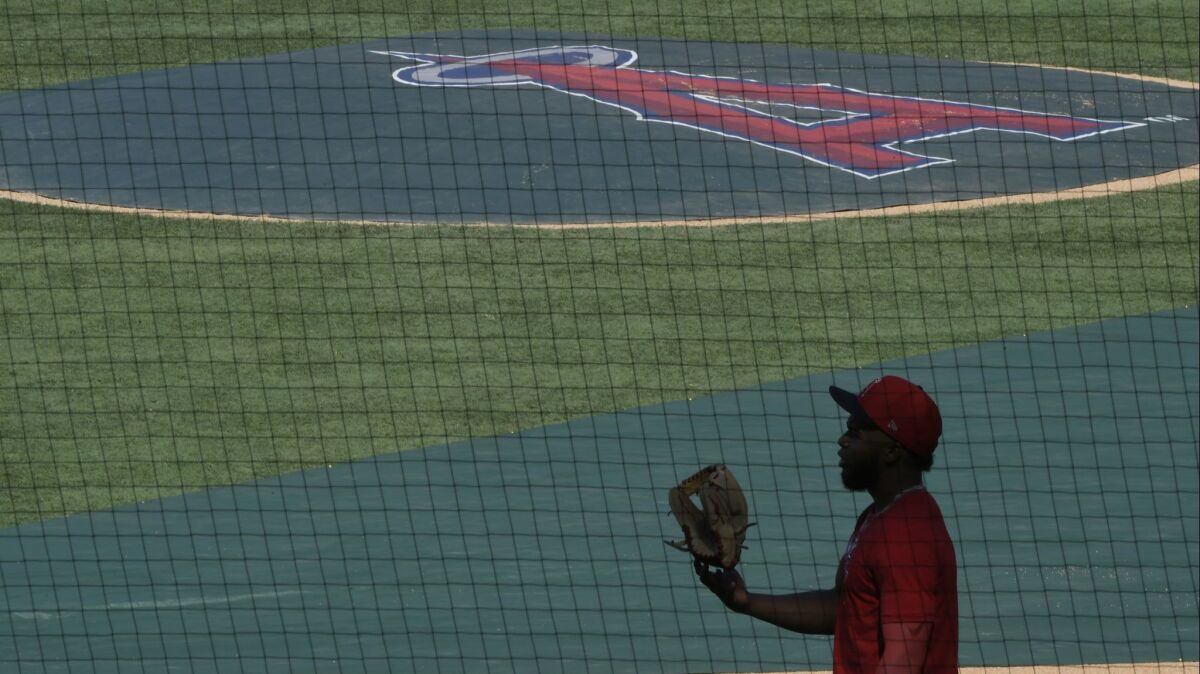 The sooner they can immerse themselves in the sights and sounds that haven't changed, even though so much else has changed so terribly for them, the better off they will be.
"Guys are trying to do that as quick as possible, so they can get back into their routines and feel, I don't want to say normal, but back at least close to normal," Garneau said. "The more you can dive into your routines, the more that baseball activities take your mind off it, for sure, and that helps guys out that way."
Manager Brad Ausmus believes that will happen, though maybe not quickly.
"The baseball schedule and routine will slowly aid in the healing process," he said, acknowledging there's no single, defined path to get there. "It's a process and the process goes at different rates for different people."
That process goes beyond individual steps to depend on collective efforts.
"The guys do a good job coming in the clubhouse every day with the right attitude to play the game," infielder Matt Thaiss said.
Outfielder Michael Hermosillo, called up from triple-A Salt Lake on Monday while Mike Trout underwent an MRI exam that found a small right calf strain, noticed the team's determination to regain its emotional direction.
"It's good that everyone's been positive and really picked up where Tyler left off," Hermosillo said.
Sign up for our daily sports newsletter »
He was with his teammates in Tacoma, Wash., when they learned of Skaggs' death and he thought back to Skaggs' kindness.
"It's just super-sad, honestly," Hermosillo said. "Tyler was really cool to me. I felt like he was really good to the younger guys, really made you feel good from the get-go, being in the locker room. I'm definitely going to miss him a lot. I definitely appreciate everything he did for me. He had a big impact on me, for sure."
Skaggs' impact on the Angels is still being felt. Their heartbreak over his death hasn't healed, but they're embracing the rhythms of the game and the game is warmly returning that embrace.
---
Get the latest on L.A.'s teams in the daily Sports Report newsletter.
You may occasionally receive promotional content from the Los Angeles Times.