Mariners fans let Angel Albert Pujols bask in triumph after 3,000th hit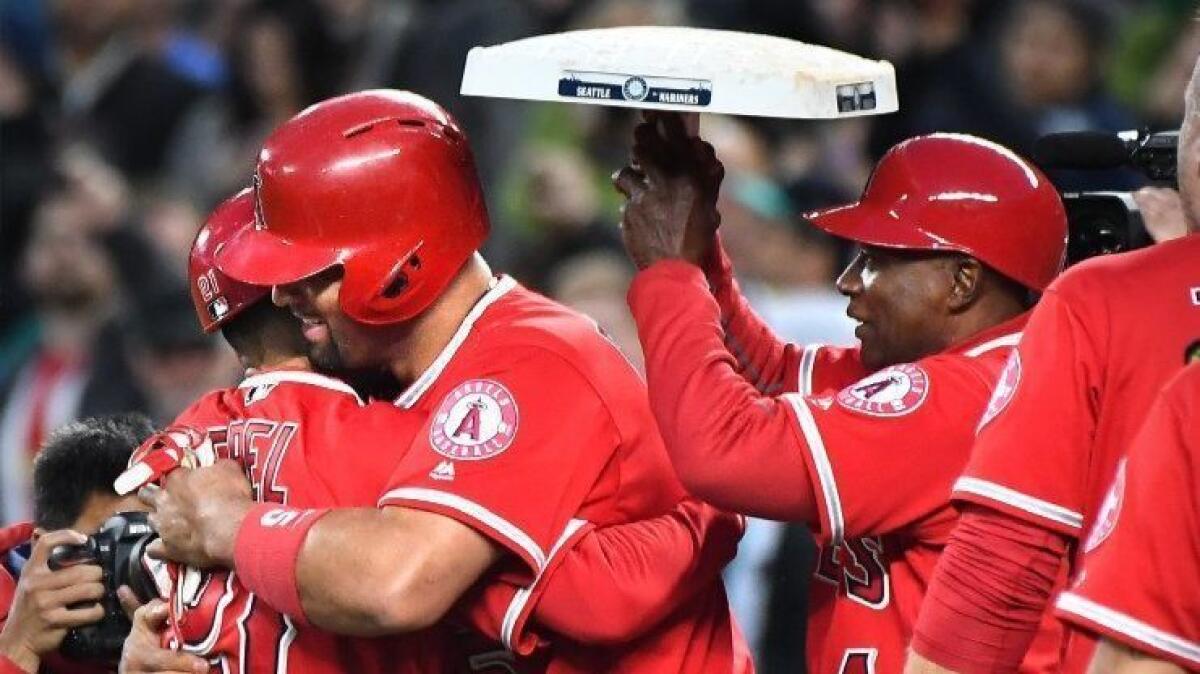 Reporting from SEATTLE —
This is the home of the Seattle Mariners, where the slogan is "True to the Blue." On a cool Pacific Northwest evening, they stopped the game at 8:30 p.m. to honor a guy dressed in red.
The Mariners did not orchestrate the stoppage, but neither did they object. The Angels surged forth from their dugout, a sea of red surging toward first base.
Albert Pujols stood there, triumphant. That glorious round number of hits was his: 3,000.
Mike Trout led the players. Hugs from all, and first base itself for Pujols, so that he could keep the specially authenticated baseball used for the occasion, and the base yanked from the ground after he touched it.
"It was hard to hug everybody," Pujols said. "So I just told them, let's do a group hug."
"This is something we can all cheer, even though we are in the same league and we are enemies," the Mariners' Ichiro Suzuki said before the game. "It's a moment where all fans, everybody, can root for and cheer him on. So I will be doing that."
The whole thing took two minutes. The Mariners themselves graciously stood aside so Pujols could enjoy his moment. Their fans applauded, not raucously but certainly politely. Pujols doffed his helmet to them. And then the Angels returned to their dugout, and the Seattle fans could get back to doing what they came to Safeco Field on Friday to do.
Witness history? Nope.
They came to boo the hell out of Shohei Ohtani.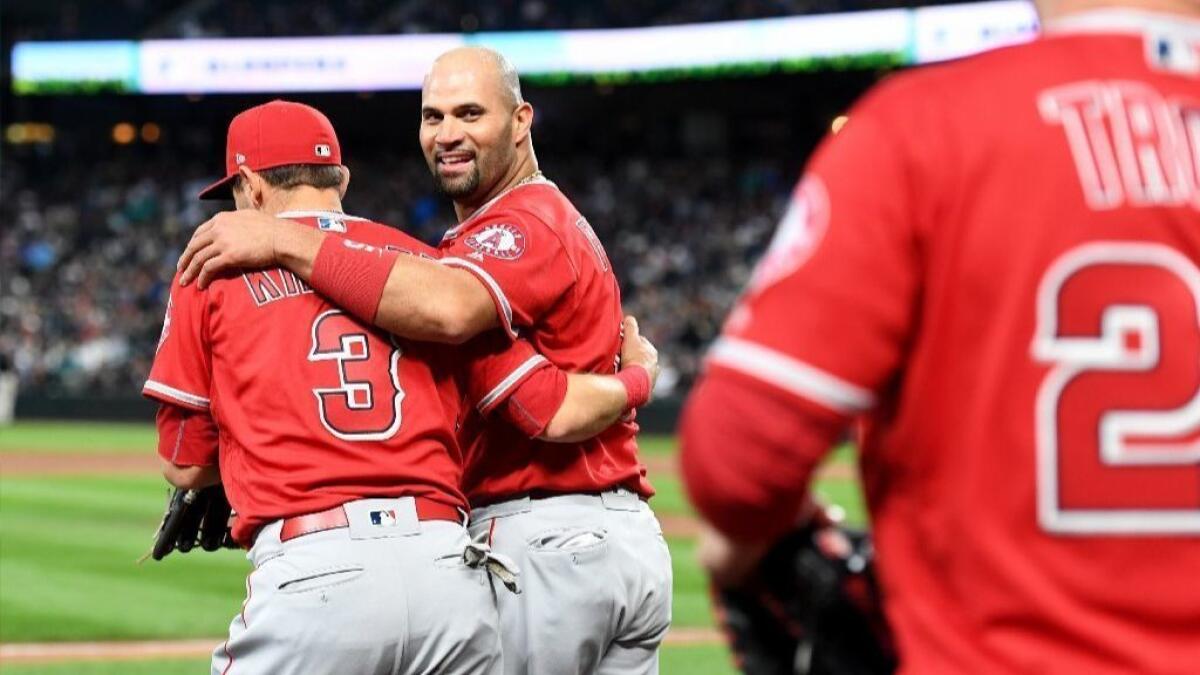 They booed Ohtani in his first at-bat, then cheered wildly when he struck out. And after Pujols and the Angels celebrated the milestone hit, Ohtani stepped to bat, and the crowd booed the hell out of him again.
Suzuki chose to play for the Mariners. Ohtani chose the Angels. The Seattle fans do not handle rejection very well.
"I'm not really used to getting booed," Ohtani said through an interpreter. "It's probably been the first time. It felt awkward, and a little weird."
Suzuki got to 3,000 two years ago, when he was riding the bench with the Miami Marlins. He got to 2,998, then he waited eight days to hit 2,999. On five of those days, he pinch-hit without a hit. On the sixth day, he came off the bench and picked up an infield single.
On the seventh day, he started, and he tripled. His time from 2,999 to 3,000: one day.
"If it was one [hit to go] and then all of those pinch-hitting opportunities," he said through interpreter Allen Turner, "every at-bat probably would have been pretty hard."
Suzuki understands English. He listened as Turner spoke, and he decided there could be a better way to explain how he would have handled the burden of waiting several days to get that one hit.
"I would have been so stressed out, I would have had to go to the hospital," Suzuki said.
As Turner spoke the words, Suzuki smiled.
Pujols smiled a lot, too, even before the game. He got from 2,999 to 3,000 in two days.
The Angels did not take batting practice on the field Friday, but the Mariners did, so Pujols pranced outside, wearing a black sleeveless T-shirt in the afternoon chill.
He conducted his own meet and greet. He chatted with his fellow Dominicans, Nelson Cruz and Jean Segura. He cracked up with another fellow Dominican, Robinson Cano.
He wrapped Suzuki in a bear hug.
They posed for a picture, arm in arm, with Pujols kicking up his left leg as if he were auditioning for a chorus line. They talked, and they hugged again, and then Suzuki headed toward the cage to take batting practice.
You are excused if you are shaking your head at this point. Suzuki did indeed agree Thursday that he would not play for the rest of the season, but the Mariners are letting him work out as if he were, and whether he tries to play next season is an issue the parties decided not to resolve now.
Suzuki once had 700 at-bats in a season. In what could well be the last five seasons of his career, he never got even to 400.
That could be the future for Pujols, in the presence of Ohtani.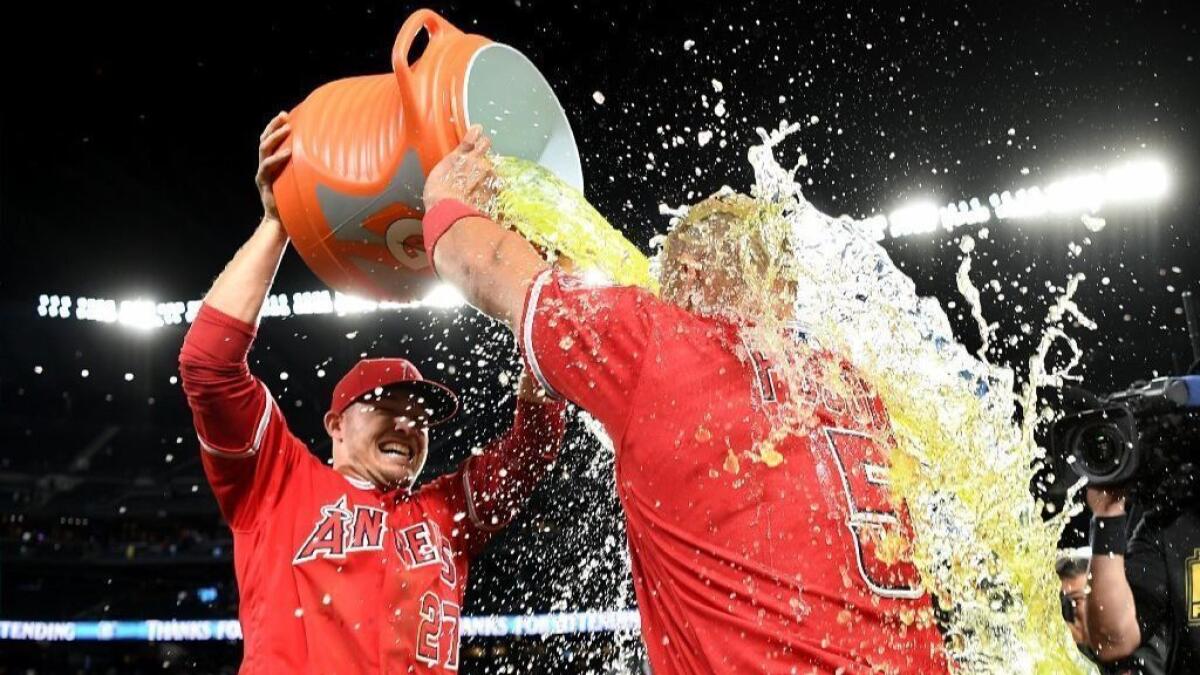 The rookie had two hits Friday. He is batting .339, with a .627 slugging percentage. Pujols also had two hits. He is batting .256, with a .450 slugging percentage.
The Angels are committed to using Ohtani as a pitcher and designated hitter. That requires Pujols to play a fair share of first base.
He played six games there last year. He has played 19 already this year. He is 38, with three years left on his contract and a recent history of knee and foot injuries. If he stays healthy, great.
If he again must be limited to designated hitter, the Angels might need to have delicate conversations with Pujols about a roster spot as a pinch-hitter and backup DH.
The Mariners had those conversations with Suzuki over the past couple weeks, and he walked away — for the year, or maybe for good — after talking with his family.
His wife, for one.
"And also my dog," Suzuki said.
The future can wait. The present is a gift he earned, two decades of hits now served a slice of immortality.
After the game, Pujols changed into a new T-shirt, this one gray with "PUJOLS 3K" in black letters. The Angels celebrated after the game, with champagne in the clubhouse.
Mike Scioscia, the Angels' manager, would not share what he said in his toast. But he did say that it takes 15 years to recognize the importance of some moments, and 15 seconds to recognize the importance of others.
"I was happy to see a historic moment like this," Ohtani said, "something I can brag about for the rest of my life."
Pujols had no interest in ranking his accomplishments, among them three most valuable player awards, 600 home runs and 3,000 hits. He does not define himself by trophies or statistics.
"At the end of the day, it's the memories that stick with you, the things that you do with your teammates, and the relationships you have built," he said.
"You live longer than your career."
We will talk about the numbers for him, because he is in rarified company.
Ladies and gentlemen, and fans of all ages, the complete membership in the club of 600 home runs and 3,000 hits: Hammerin' Hank Aaron. The Say Hey Kid. A-Rod.
And please welcome the newest member: the man that is The Machine, etching another line onto his Cooperstown plaque.
Follow Bill Shaikin on Twitter @BillShaikin
Get the latest on L.A.'s teams in the daily Sports Report newsletter.
You may occasionally receive promotional content from the Los Angeles Times.