Andrew Heaney suffers setback with elbow injury, will undergo reevaluation Monday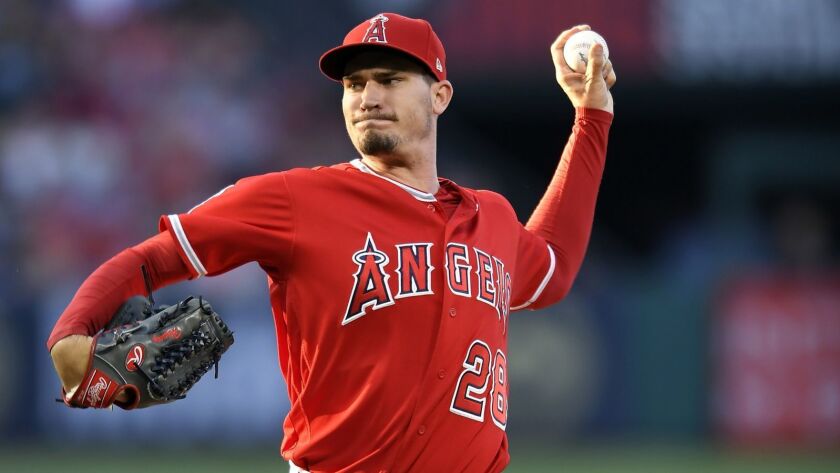 Reporting from Oakland —
Angels left-hander Andrew Heaney had a setback during a side session this week and will have his throwing elbow reevaluated Monday, general manager Billy Eppler said Thursday morning.
Heaney, who is on the injured list, did not make the opening-day roster for the second year in a row because of elbow inflammation.
Asked if he was concerned the injury might be serious, Eppler said, "We'll wait to hear from the doctors."
Heaney, 27, would have competed for a chance to start on opening day, but his elbow began to bother him after his first start of the spring. He ended up making just two Cactus League starts and hasn't pitched in a game since March 8.
Heaney on Monday threw about 20 pitches off the mound for the first time since his elbow flared up. He reported discomfort in his elbow afterward, so the Angels decided to send him for scans next week.
While the rest of the opening-day rotation succumbed to in-season injuries last season, Heaney was the Angels' lone constant. Heaney, who had elbow ligament replacement surgery in 2016, shook his injury quickly enough to make 30 starts and lead the staff with 180 innings, the most in his career. In his comeback season, Heaney threw his first complete game in a shutout of the Kansas City Royals on June 5 and threw at least 100 pitches in eight outings.
"I'm a little concerned," manager Brad Ausmus said. "But the most important thing is to get him back healthy so when he returns to the rotation he's there for the remainder of the season."
Ohtani sees the field
Shohei Ohtani took the latest step in his hitting progression Wednesday at Angel Stadium: He took batting practice on the field for the first time since having elbow ligament replacement surgery in October.
"He felt good," Eppler said.
Sign up for our daily sports newsletter »
Ohtani has been brought along conservatively in his return to hitting. The Angels have said all spring he may not be ready to hit in a major league game until May. However, the only hurdle left for Ohtani to clear on the hitting side is to face live pitching.
He will continue to add elements to his pitching rehab, increasing the volume of his flat-ground throws and the distances. But he is only going to appear as a designated hitter this season.
"He's moving along," Eppler said. "A lot of the plan is derived off of him rather than — it's not made in a back room somewhere. It's more of how he feels as he goes through each kind of new layer of progression."
Trout scraped up in opener
For a moment late in Thursday's 4-0 loss to the Oakland Athletics, Mike Trout sent the Angels' fan base into panic mode when he slid feet-first into second base on a single and error and stood up looking pained. He crouched on the infield dirt in the eighth inning and was visited by trainers.
After a short delay, the Angels surmised that Trout had only a cramp in his right calf muscle. He remained in the game.
Earlier in the day, Trout had slid into second base and sustained a superficial scrape on his shin. He stanched it with a pad that constricted his blood flow.
"My calf cramped up a little bit. That's what scared me," he said. "But it's all good now, I'm fine. Other than that, I've got a strawberry and that's it."
---
Get the latest on L.A.'s teams in the daily Sports Report newsletter.
You may occasionally receive promotional content from the Los Angeles Times.