Andrew Heaney's elbow injury will keep him off Angels' opening day roster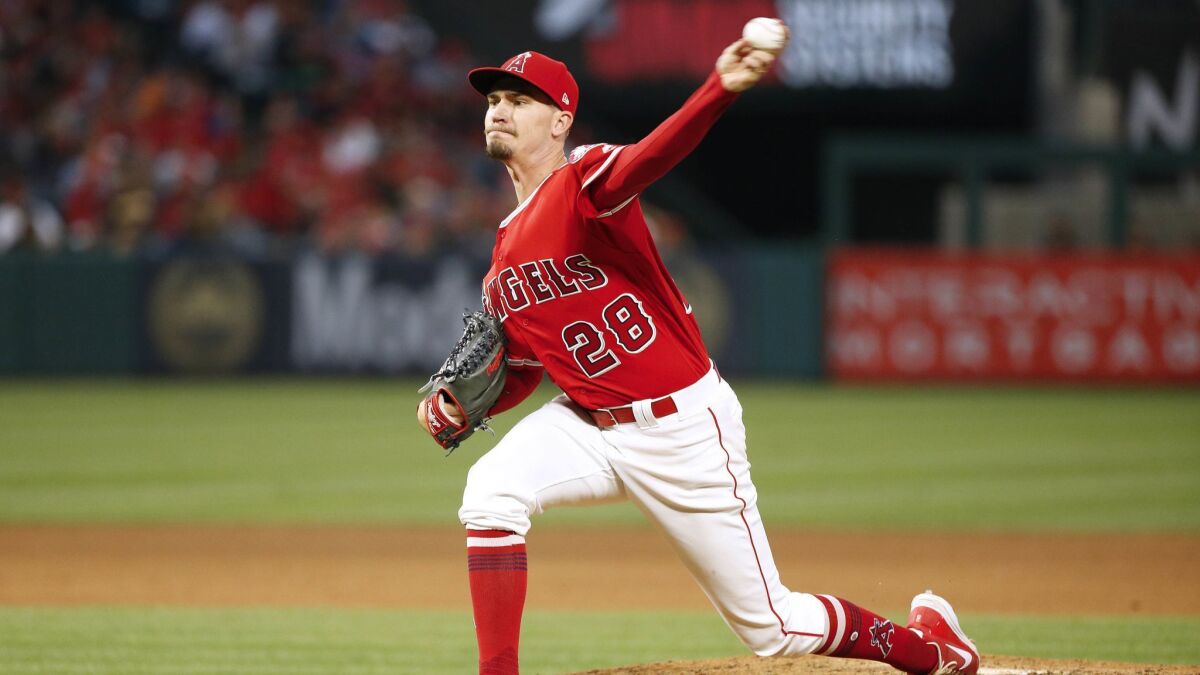 Reporting from Peoria, Ariz. —
Pitcher Andrew Heaney will not be on the Angels' opening day roster, manager Brad Ausmus announced Sunday.
Heaney is recovering from elbow inflammation, and Ausmus said he would be on the injured list for opening day. Heaney missed time last season with elbow inflammation, and Ausmus announced Wednesday that the injury had resurfaced during spring training.
"It sucks," Heaney said Wednesday. "I'm frustrated, but it's something we have to take care of now."
Heaney did light throwing Sunday for the first time since his last spring training outing. After the Angels game against the Padres on Sunday, Ausmus said he hadn't heard how Heaney fared in that exercise.
He is encouraged, at least, that Heaney is able to throw lightly.
"Hopefully it won't be too long," Ausmus said of Heaney's injury. "But yeah, he won't be ready for opening day."
Before the injury, Heaney had a 10.80 ERA in 1.2 innings during spring training. Last season, he posted a 4.15 ERA and 1.20 WHIP.
Starting pitcher Tyler Skaggs is recovering from an injury, too — left forearm fatigue. He threw in a minor league game Friday and retired teammates Justin Upton and Zack Cozart, who are also recovering from injuries.
"I feel good," Skaggs said Friday, after his start. "I feel strong."
On Thursday, Skaggs is slated to start his first major league game since his injury. He said being healthy for opening day was "a goal."
Ausmus would not say who the opening day starter will be, or which pitchers will be part of the rotation. Even though, as one reporter noted, there are only five healthy starters remaining on the roster.
"OK, so then it makes it easier," Ausmus said of the speculation, a smile stretching across his face.
Those five are Skaggs, Matt Harvey, Trevor Cahill, Jaime Barria and Felix Pena. Harvey and Skaggs are the likely favorites to start opening day — if Skaggs is recovered by then.
"We'd still like to see him work on some things," Ausmus said of Harvey. "He did a nice job executing today, but … we're not finished out of here yet. We're not gonna rush into naming the opening day starter before we get our work done."
Harvey, who ended the 2018 season with a 4.94 ERA, is an experienced arm in the rotation. Ausmus named Harvey and Cahill, whom he said provided a "calming influence," as leaders among the remaining starters because of their experience.
Sign up for our daily sports newsletter »
Not that his praise was effusive.
"You know," Ausmus said. "We need starters."
The injuries to Angels pitchers are a point of concern in an otherwise-successful spring training. But Ausmus said the problem was inevitable.
"As much as you try to manage or control injuries, they just happen," Ausmus said. "I'd like to say there's some secret sauce to keeping everyone healthy. But it's impossible to predict injuries."
Ohtani making progress
Shohei Ohtani took live batting practice from a coach for the first time Sunday morning, as he recovers from Tommy John surgery. Ohtani hit 10 on the tee, 10 soft toss and 10 coach pitches.
Ohtani also threw lightly Sunday — 10 pitches at 20 feet, 30 feet and 40 feet, then 30 at 50 feet. He threw 10 cool-down pitches as well.
The next step at the plate for Ohtani's rehabilitation is taking batting practice on the field, instead of in the cages. Ausmus said he expects this to be a bigger step than the transition from soft toss to coach pitches.
"When you're in the cages and it's soft toss or overhand soft toss, you're still constrained by the nets," Ausmus said. "You put them out here, and they see 360 feet down the line, 400 to center field. There's a little added energy in the swing."
---
Get the latest on L.A.'s teams in the daily Sports Report newsletter.
You may occasionally receive promotional content from the Los Angeles Times.