Jered Weaver yells, then Angels retake lead over Detroit Tigers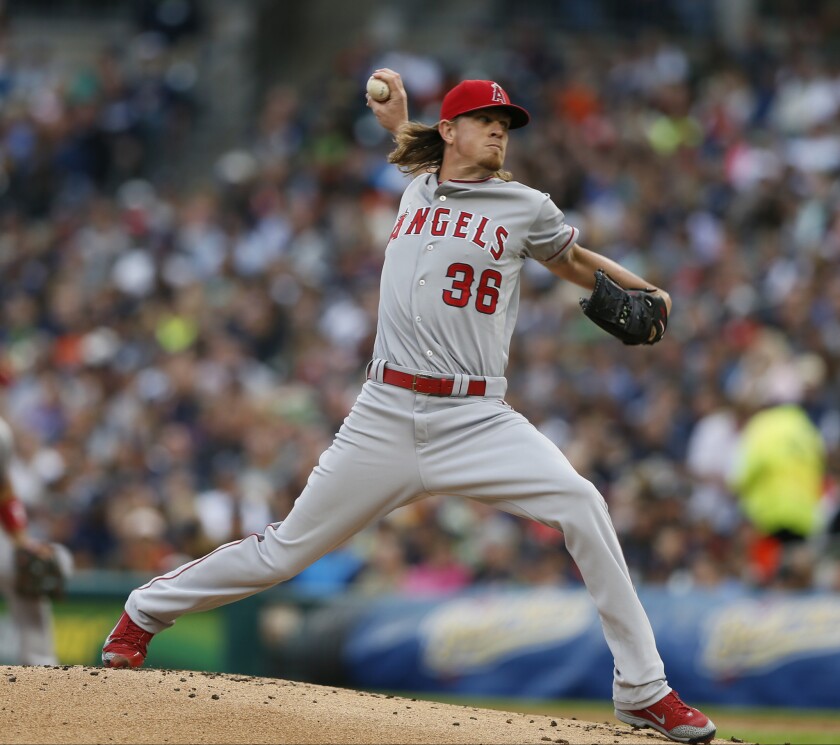 REPORTING FROM DETROIT —
Jered Weaver may have lost the zip on his fastball, but the Angels right-hander can still bring the heat. Just ask his teammates who were within earshot of Weaver's fiery tirade after the third inning of Tuesday night's 8-7 victory over the Detroit Tigers in Comerica Park.
Center fielder Mike Trout lost Anthony Gose's third-inning drive to right-center in the lights, and the ball dropped between him and right fielder Kole Calhoun for a double, one of four hits — Miguel Cabrera's three-run double was the big one — in Detroit's four-run rally that tied the score, 4-4.
When the inning ended, Weaver walked slowly toward the dugout, apparently gaining a head of steam. He descended the steps and flew into a rage, screaming indiscriminately as he walked the length of the dugout and teammates walked past him.
The Angels had lost four straight to the Chicago White Sox and Toronto Blue Jays by a combined score of 44-12, and here they were against a struggling Tigers club, misplaying a ball in the outfield and squandering a 4-0 lead that Albert Pujols helped build with a three-run homer in the first.
"It wasn't directed toward the guys in the outfield at all — it was just more of trying to get the guys fired up and trying to get guys motivated," Weaver said. "We've been slumping a little bit, and we're a better team than we've shown. We're in the mix for a playoff spot, and we need to start playing good baseball."
Weaver didn't know at the time that Trout lost track of the ball after quickly glancing at Calhoun.
"I had a bead on it, Kole had a bead on it, and we have a system where I go in front and he goes in back so we don't collide," Trout said. "I thought I had it the whole time. Then I looked at Kole, and when I looked back up, I didn't see where the ball was. It was kind of in the lights."
Manager Mike Scioscia sat next to Weaver and tried to calm him down.
"I think once Weav realized Mike lost the ball in lights, he apologized," Scioscia said. "It's all straightened out."
Huston Street, who recorded the final four outs for his 30th save, had a similar but more abbreviated outburst Saturday night against Toronto. He approved of Weaver's message.
"I loved when Weav got frustrated, because he's trying to give everyone energy," Street said. "I don't think anyone thought he was screaming at Kole and Mike. He was screaming at the game itself. That's what you do as a leader. You bring energy, and guys respond."
But can such an outburst divide more than motivate?
"It only divides a team if guys are sensitive, and if guys don't realize that someone is trying to make them better," Street said. "There's a big difference between calling someone out and holding people accountable."
The Angels didn't shrink after Weaver's tirade. They scored twice in the fourth and fifth innings — two of the runs coming on Alfredo Simon wild pitches and one on an Erick Aybar double — to build an 8-4 lead.
Trout made a diving catch of James McCann's drive to left-center to save a run in the fourth, Pujols made a backhand diving stop of McCann's seventh-inning grounder and threw to first with two on to end the seventh, and David Murphy reached over the railing in foul territory in left to catch Gose's eighth-inning fly.
"Those guys in the outfield have taken away more runs than they've given up for me," Weaver said. "I never want to show my teammates up. I was just trying to fire guys up, and we were able to take the game tonight."
Up next
Left-hander Hector Santiago (7-7, 2.91 earned-run average) will oppose Detroit right-hander Justin Verlander (1-6, 3.86) at Comerica Park on Wednesday at 4 p.m. PDT. TV: FS West, MLB Network; Radio: 830, 1330.
Follow Mike DiGiovanna on Twitter @MikeDiGiovanna
---
Get the latest on L.A.'s teams in the daily Sports Report newsletter.
You may occasionally receive promotional content from the Los Angeles Times.