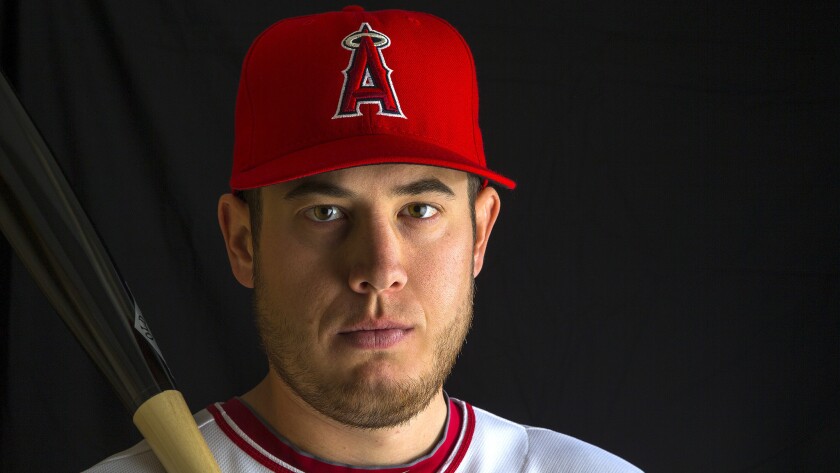 Reporting from Tempe, Ariz. —
Because they both grew up here and remain in the area, C.J. Cron and Kole Calhoun drove to the Angels' spring-training complex to practice hitting most days in January.
Late in the month, they started to see teammates Kyle Kubitza and Kaleb Cowart doing specialized defensive drills with Mike Gallego, the Angels' new director of baseball development. Drafted and developed as third basemen, Kubitza and Cowart were learning how to play second base.
Cron asked Gallego to help him improve the position he already plays, first base, where the Angels will ask him to play in 2016 more than he ever has. And so began hourlong sessions each afternoon.
"We actually did drills instead of just mindless ground balls," Cron said. "I've always taken ground balls, but this year I think there was more purpose to them."
Gallego hit him ground balls and had him count the hops, to make Cron aware of the first hop as soon as the ball began to bounce.
"That grabs their interest," said Gallego, the former infielder hired by General Manager Billy Eppler this off-season. "Because it's something they kind of know but nobody really ever explained to them before. You can slow this baseball down if you see it early enough, long enough and quick enough, and understand what you're looking for."
Cron first played first base full time in 2012. Previously, he played catcher, until shoulder surgery pushed him off. He said his feet were too static at first before this off-season.
"I knew I had good hands, but sometimes my feet would get in my way and they wouldn't allow my hands to work," he said. "That's kind of what we worked on, just keeping my foot moving."
Said Gallego: "Now you see this 6-feet-5, 245-pound man light on his feet."
Gallego was Oakland's third base coach for seven seasons. The Athletics fired him in August after hiring former Texas manager Ron Washington to help fix struggling shortstop Marcus Semien.
Semien had little experience playing the position when Oakland acquired him before last season, and Gallego was given the task of teaching him. It did not go well initially, and in came Washington. Gallego called the switch a "very touchy subject."
"His method, his style, was completely opposite from mine," Gallego said.
In a twist, Washington coached Angels second baseman Johnny Giavotella this off-season, meaning the team could have conflicting defensive styles next to each other in the field many nights.
Angels Manager Mike Scioscia said Cron "has the game to play at a higher level than what he's showed."
Asked whether he sees the potential for Cron to be above average playing the position, Gallego said Cron could be "an everyday first baseman."
"Above average comes with playing and confidence," Gallego said. "That's not easy."
Weaver undergoes test
After he struggled to surpass the 80-mph mark in his second spring-training start Wednesday, veteran Angels right-hander Jered Weaver underwent an MRI exam on his neck Thursday.
"He felt a little hampered yesterday," Scioscia said. "You could see he wasn't quite where he needed to be."
The Angels characterized the exam as precautionary. Weaver, 33, reported feeling sore when he arrived at Tempe Diablo Stadium on Thursday and was sent for the test. He still played catch at the facility.
In his first start this spring, Weaver reached 83 mph with his fastball and said he was pleased with his performance. But he averaged 79 mph against the Dodgers on Wednesday, gave up three home runs and spoke afterward about the uncomfortable feeling of waking up each morning hoping his problems had vanished.
Weaver spent six weeks on the disabled list last season because of left hip inflammation.
Once an ace, Weaver's fastball velocity has steadily declined in recent seasons to a career-low 84 mph in 2015. He threw 159 innings at a 4.64 earned-run average and did not touch 90 mph.
This will be the final season of the five-year, $85-million extension Weaver signed with the Angels during his prime. Scioscia has said repeatedly this spring he expects Weaver to be part of the starting rotation.
Asked Thursday whether Weaver will make his next start, Scioscia said he was unsure.
Follow Pedro Moura on Twitter: @pedromoura
---