Flanked by rookies, Angels shortstop Andrelton Simmons teaches by example
He'll turn 29 on Tuesday, much too young, in his eyes, to be a mentor.
Andrelton Simmons can't see himself as that yet, and he doesn't really have the older, cagey-veteran look of a player well into his 30s.
Simmons didn't see the Angels' season veering off track either, and this is the role he' ha taken on — teacher to a pair of rookie infielders on both sides of him with the Angels out of contention.
"This hasn't been the best past couple of weeks, but you still go out there and try to compete and do your best," Simmons said. "You try to [help] the young guys and try to teach them. They can be an asset for us going forward. It's time to learn."
Simmons has set a stellar example for third baseman Taylor Ward and second baseman David Fletcher. The veteran led all shortstops with 189 putouts, with only eight errors, in 120 games through Tuesday.
"He's kind of like a general out there," Fletcher said. "He kind of runs everything. It makes it easier on me."
Simmons is vocal but he knows when to back off when working with Fletcher and Ward, who have played a combined 76 games in the majors and are still learning their positions.
Simmons' next game will be his 902nd, and the three-time Gold Glove winner has seen practically every type of play come his way. Mostly, he sees the big picture, after the Angels traded Ian Kinsler and Martin Maldonado at the trade deadline. It was time for the team to focus on future seasons.
"It's fun to see them grow," Simmons said of Ward and Fletcher. "I try to help them whenever I can. If they make a mistake here and there, I'll show them some pointers or what I think they can do better.
"But also, you have to give them time to play. You can't just stay on them at all times. You've got to let them make those mistakes. They kind of understand. They're quick learners. I'm optimistic of what they'll be able to do."
To Ward, it's almost unrealistic to have Simmons as the blueprint. Before January, Ward had never played third base. The Angels decided his arm and physical ability warranted giving him a look, and he's learning alongside Simmons.
"He's seen so many ground balls, [and] obviously everything comes a lot easier to him," Ward said. "I'm nowhere near that. Actually, being able to watch him, I don't think it's going to help all that much because of the way he does it. It's so smooth and effortless. He doesn't have to think and move the way that I have to move to get into positions. That just comes with experience."
Simmons also has shown the way at the plate. He's struck out only 31 times while hitting .293. The last player to hit .300 with fewer than 40 strikeouts with a minimum 550 plate appearances was Placido Polanco in 2007.
That disciplined season won't carry over to the playoffs, and that speaks to the Angels' soon-to-be four-year postseason drought. Simmons has played only five playoff games in his career and none since 2013, with the Atlanta Braves.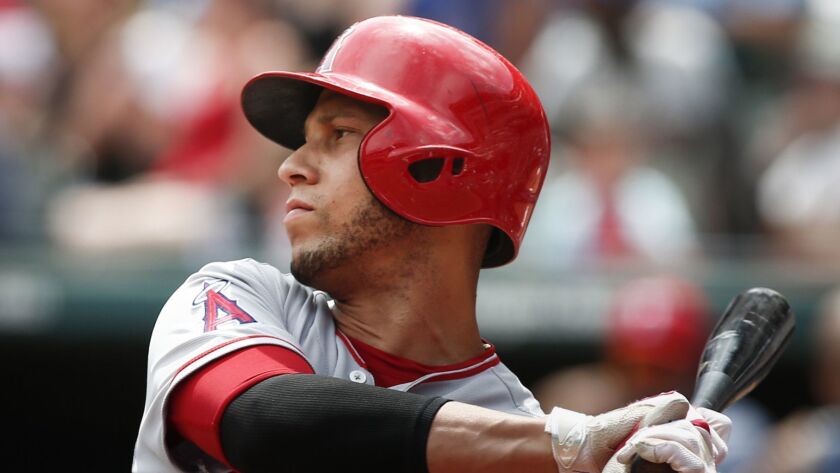 When he broke into the majors with Atlanta, in 2012, shortstop Jack Wilson was a mentor to him. So his career has come full circle, before he's reached 30. Just don't bring up the m-word.
"I've never seen myself as a mentor," Simmons said. "I just try to help where I can. I have a little bit of knowledge and some ideas. But I also discuss some ideas with them — in this situation, what do you think we should do? I'm always willing to learn, but I'm willing to put my two cents in too, if we can all get better."
Rivera claimed
Rene Rivera was awarded to Atlanta on a waivers claim. The veteran catcher was a free agent signing in January and missed 76 games with a knee injury. He hit .244 in 30 games with the Angels.
Prospect signed
The Angels reportedly signed Alexander Ramirez, 16, an outfielder prospect from the Dominican Republic. Ramirez is ranked a top-30 international prospect by MLB.com.
Twitter: @curtiszupke
---
Get the latest on L.A.'s teams in the daily Sports Report newsletter.
You may occasionally receive promotional content from the Los Angeles Times.