Angels decline to offer contracts to pitchers Matt Shoemaker and Blake Parker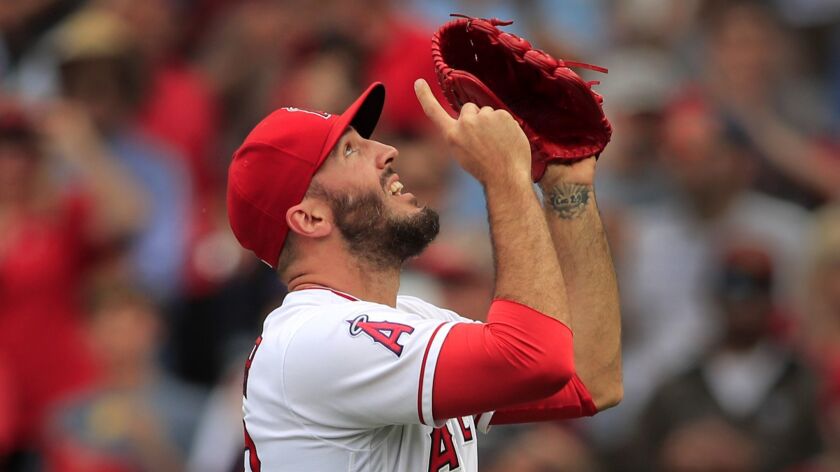 The Angels on Friday declined to offer contracts to veteran starting pitcher Matt Shoemaker and journeyman reliever Blake Parker, making them free agents on the day teams were required to decide the fate of arbitration-eligible players on their 40-man rosters.
Shoemaker and Parker could come back to the Angels on new contracts, but whether they do will depend on the path general manager Billy Eppler chooses to cut for his 2019 club, which now has two spots open on the 40-man roster 10 days before the start of baseball's winter meetings in Las Vegas.
Shoemaker, who signed with the Angels as an undrafted free agent in 2009 and made an improbable ascent to the major leagues four years later, had returned healthy to the mound in September. But his late appearances capped two seasons worth of forearm troubles. His extensive injury history precluded him from earning a raise over the $4.125 million he made last year.
Parker, claimed off waivers by the Angels in December 2016, enjoyed success in Anaheim. He had a 2.90 ERA in 138 games. He collected 14 saves for the Angels last year. But his peripheral numbers — from 2017 to 2018, his earned-run average increased by almost one run to 3.26, he allowed more hits per nine innings (1.6 compared to 0.9) and he struck out two fewer batters per nine innings (9.5) — made him a liability in the Angels bullpen.
Much of what the Angels do in the coming months might hinge on their gauge of American League West Division rivals. The Seattle Mariners, under former Angels general manager Jerry Dipoto, are dismantling their roster and waving a white flag for 2019. The Texas Rangers have a first-time manager and don't seem to pose a threat. The Houston Astros could be poised to make a run at their third straight division title and are likely to replace Cy Young winner Dallas Keuchel, who departed as a free agent, with another potential superstar. The Oakland Athletics won 97 games last year and could prove even more dangerous as their young stars continue to develop.
The Mariners' decision to step back could open the door for imaginative roster moves on the Angels' end. Eppler has indicated all along that he is not willing to compromise the health of the Angels' farm system, which was ranked 10th best by Baseball America after the 2018 draft, for trade acquisitions. But maybe Eppler can finesse extra capital from owner Arte Moreno in order to position the Angels as genuine contenders in a division that's suddenly within reach.
Non-tendering Parker and Shoemaker allowed the Angels to save about $7.4 million, which was the combined total MLB Trade Rumors projected the players to make in arbitration.
Of the 10 players who were eligible, the Angels will enter the salary arbitration process with eight of them.
LHP Jose Alvarez, 29
Alvarez struck out 59 batters and issued 22 walks in 63 innings. He appeared in a career-high and American League-leading 76 games and posted a career-best 2.71 ERA. He also limited batters to a .217 average and was the only Angels reliever of those who logged at least 55 innings to surrender fewer than 20 earned runs.
RHP Cam Bedrosian, 27
In his first full major league season free of injury, Bedrosian made the second-most appearances on the team and had a 3.80 ERA in 64 innings. He walked 26 batters and struck out 57, watching his strikeouts per nine rate drop to 8.0. It was the lowest such mark of his career since he was still a starting pitching prospect in 2012. The former first-rounder made $1.1 million last year in his first year of arbitration eligibility.
LHP Andrew Heaney, 27
Heaney had a 4.14 ERA in his final pre-arbitration year, but still made strides in his development. He made 30 starts for the first time in his professional career and avoided spending significant time on the disabled list, which he wasn't able to do in 2016 and 2017 while recovering from an elbow ligament injury that required Tommy John surgery. Among his 2018 highlights: a complete-game, one-hit shutout of the Kansas City Royals in early June and a stretch of five July starts in which he was charged only 11 earned runs in 34 1/3 innings (2.88 ERA) while holding batters to a .185 average and striking out 35.
One number that could affect Heaney's final price tag is his home run rate. Heaney allowed 27 home runs, including 17 off his sinker. In fact, batters slugged better than .340 against all three of his pitches.
If they don't acquire a front-line starter, Heaney is likely to lead the Angels' rotation in 2019.
INF Tommy La Stella, 29
La Stella was acquired in a trade with the Chicago Cubs on Thursday. He batted .266 while appearing in a career-high 123 games last season. He led the major leagues with 24 pinch-hits and was tied for most pinch-hit RBIs (11). His left-handed bat and experience at second and third base, as well as first base, make him a valuable asset for the Angels as they prepare to provide ample playing time to Taylor Ward and David Fletcher, who made their major league debuts in 2018.
RHP JC Ramirez, 30
The 2018 season was a wash for Ramirez. He started experiencing discomfort in the ulnar collateral ligament of his right elbow in July 2017, was sidelined two months later so he could treat the injury with a stem cell injection and then in April tore the ligament fully. He had Tommy John surgery and may not return to the major leagues until mid-2019.
RHP Hansel Robles, 28
After being claimed off waivers from the New York Mets in late June, Robles received frequent assignments in the bullpen and finished the season with 37 appearances for his new team. He knocked down the ERA he toted to Anaheim by nearly two runs and finished the season with a 3.70 mark in 53 games. Robles' fastball, which had hovered around 95 to 97 mph, ramped up to 100 mph in late September. He is expected to compete for the role of Angels' closer in spring training.
LHP Tyler Skaggs, 27
Had groin injuries not derailed his bid, Skaggs might have earned an All-Star nod and finished the season with close to 30 starts for the first time in his career. Although he did finally surpass the 20-start threshold, Skaggs was limited to 24 turns and 125 1/3 innings in his first full season back from elbow ligament replacement surgery.
RHP Nick Tropeano, 28
Slated to return from Tommy John surgery in 2018, Tropeano made three trips to the disabled list because of lingering inflammation in his shoulder. He was shut down in September after posting a 4.74 ERA in 76 innings. He received a platelet-rich plasma injection to ease the injury. He has not reported any issues since beginning to play light catch in recent weeks.
---
Get the latest on L.A.'s teams in the daily Sports Report newsletter.
You may occasionally receive promotional content from the Los Angeles Times.