Angels' bullpen falters in a second loss to Astros in Monterrey, Mexico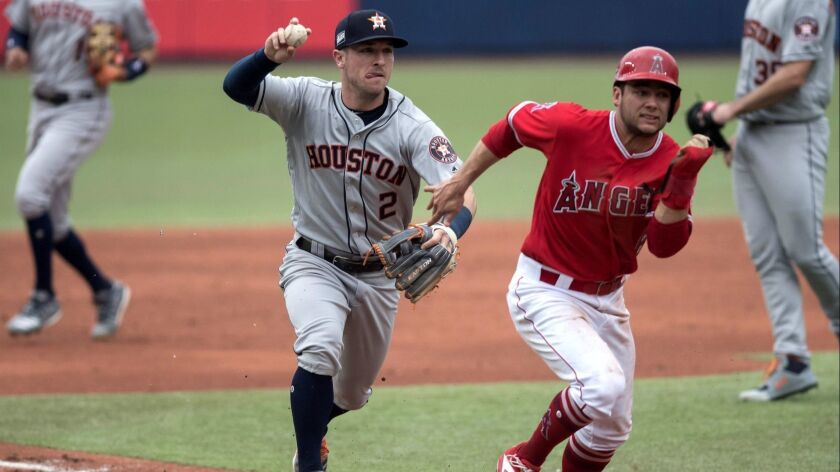 Reporting from MONTERREY, MEXICO —
The Angels traveled south of the border intent on not combusting at high altitude during their first series of the year against the Houston Astros.
They weren't able to accomplish that.
In a 10-4 defeat Sunday, their second straight to their American League West rival, Angels pitchers were forced to pay for their mistakes in an unforgiving environment.
"We gotta pitch better, play defense better, hit better," catcher Jonathan Lucroy said. "I think it's all encompassing from every aspect of our game. We've gotta be better to beat them. They're a good squad and they have a lot of great players. We've gotta figure it out. We've gotta get it done."
One week after tossing seven strong innings in Kansas City, starter Matt Harvey was not sharp. After he retired the side in order in the first inning, the Astros strung together four straight hits in the second. Carlos Correa, the second batter of the inning, homered for two runs and a 2-1 Astros lead.
Harvey escaped the jam without giving up more runs. He even retired nine in a row in the middle of his outing.
But when he began to lose command in the fifth inning, hitting Robinson Chirinos with a pitch, things unraveled quickly. Cam Bedrosian got up in the bullpen, the only reliever called on to get warm. When the Astros loaded the bases, no other reliever had stirred.
So manager Brad Ausmus removed Harvey, who was at 57 pitches, in favor of Bedrosian.
Moments later, Bedrosian hung a fastball over the middle of the plate. Astros third baseman Alex Bregman, who entered the game slugging .541, drove the pitch into the center-field berm for a grand slam.
"One, it's not as easy to use [Ty] Buttrey without [Cody] Allen closing, the way we've used Buttrey in the past," Ausmus said. "Two, if the game stays the same, you are going to need someone to go through the top of the lineup again later. And, three, when we got Cam up, there was really just a runner at first base. That's why we went with Cam."
The early hook took Harvey by surprise, but he didn't fight Ausmus' reasoning.
"I watched a little bit of video and it looked like I was kind of flying open a bit," Harvey said. "It's kind of a minor adjustment. I wish I could have done it during the game. But unfortunately this happened pretty quick. I was feeling all right, was getting some outs, but something just wasn't quite right. Just the way it goes sometimes."
Before Bregman's slam, the Angels (15-19) led 3-2 thanks to Lucroy's second-inning, two-run homer off veteran Astros starter Justin Verlander. They never approached another advantage.
"You make mistakes, they make you pay for it," said Lucroy, who hit another homer off Verlander in the seventh. "That's what good teams do. I've been playing against them for a while now in this division on different teams. They've been real solid the past three years."
The Astros (20-14) have held tight to the top rung of the AL West division ladder for three straight years. Even as the Seattle Mariners and Oakland Athletics threatened to overturn the balance, the Astros remained strong. They went 204-120 from 2017 to 2018, clinching back-to-back division titles and winning a World Series.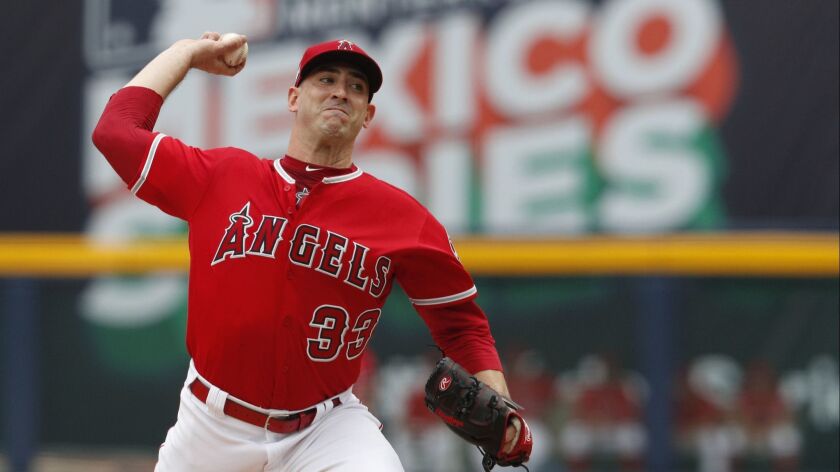 The Angels have withered in the same span, tallying 160 wins and 164 losses. There's hope on the horizon. Shohei Ohtani is nearing his return to the lineup, perhaps as soon as Tuesday in Detroit. In 104 games as the Angels' designated hitter last year, he batted .285 with 21 doubles, 22 home runs, 61 runs batted in and 3.9 wins above replacement. He led AL rookies with a .925 on-base-plus-slugging percentage. He also managed to steal 10 bases in 14 attempts.
That would solve only one part of the equation Lucroy laid out for the Angels. The starting pitching needs to solidify itself, beginning with Harvey's inconsistency and continuing with sinkerballer Trevor Cahill's sudden home run problem. Even Lucroy, a defensively maligned catcher who was signed to a one-year contract in December in part because the Angels believed he could rebound, needs to clean up his own game. He allowed three passed balls in his first 25 games behind the plate; he allowed 10 in 125 games last year and only six in 2017.
Sign up for our daily sports newsletter »
Performances like the ones assembled by the Angels this weekend, in front of 35,791 fans enjoying a regular-season MLB series for the second time this season, will not fly as summer nears and the playoff chase becomes more competitive.
"We made a mistake today but we gotta learn from them, keep grinding, keep going, keep moving forward," Lucroy said. "Hopefully we'll be a little hotter next time we play them."
---
Get the latest on L.A.'s teams in the daily Sports Report newsletter.
You may occasionally receive promotional content from the Los Angeles Times.