Reporting from Oakland —
The solution seemed simple Sunday, but the bullpen remained a complicated issue for the Angels.
"You gotta make pitches in this league," reliever Blake Parker said. "You can't be giving guys free bases and expect to get out of it and expect to win."
The Angels blew a two-run lead in the ninth inning and lost 6-5 to Oakland in 11 innings, a result that delivered more than a little frustration.
For the second consecutive game, the team's bullpen — stretched by injury and strained by inexperience — couldn't finish.
After Andrew Heaney pitched eight stout innings and the offense came back to forge a 5-3 advantage, the relievers failed to produce.
"A couple guys coming out of our bullpen just brought too many walks and hit batters," manager Mike Scioscia said. "We just put too many guys on base from the ninth inning on."
After Heaney departed, the bullpen retired only seven of 16 hitters while allowing four hits, four walks and a hit batsman.
Parker, who leads the Angels with seven saves, started the ninth by allowing a first-pitch home run to Marcus Semien.
"One pitch, one run," Parker said. "Gotta come back and regain my focus."
Instead, he walked Chad Pinder on four pitches and — after striking out Jed Lowrie — walked Khris Davis as well after getting ahead in the count 1-2.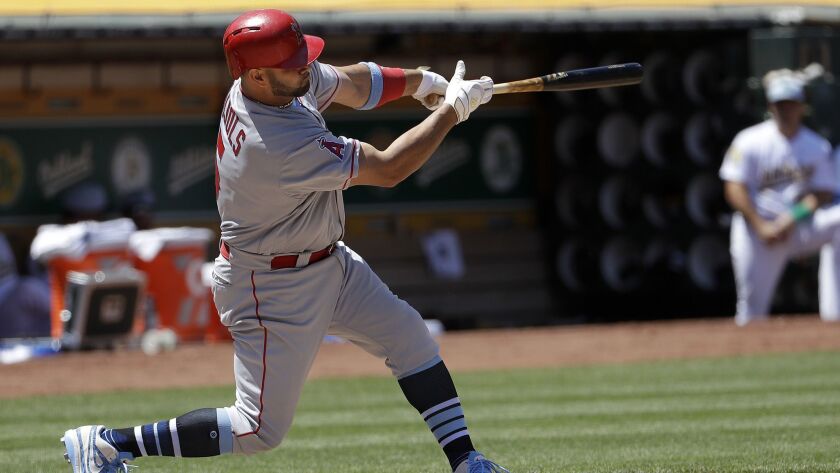 "You got to stay aggressive," Parker said. "You got to make pitches in the zone and make them put the ball in play. You have to throw strikes for that to happen."
Jose Alvarez entered the game and struck out Matt Olson in a matchup of left-handers.
That brought up the right-hand hitting Mark Canha; Scioscia countered with the right-hand throwing Cam Bedrosian.
Though the career sample sizes were small, Canha had one hit (a homer) in six at-bats against Alvarez while going two for three against Bedrosian.
"Cam had been throwing the ball well," Scioscia said when asked if he considered leaving Alvarez in the game. "A guy hits the ball off the end of the bat and bloops it in, you're going to give that any extra thought — no."
Canha's game-tying single hardly was ripped, but it landed safely in center field to make the score 5-5 and send the game into extra innings. Jonathan Lucroy's bases-loaded single would give the Athletics the win.
The Angels have 15 blown saves, tied for the most in the majors with Detroit.
Minus the injured Keynan Middleton, Jim Johnson and Blake Wood, the Angels are trying to piece together games with what remains: a mixture of established veterans and kids, each of whom has produced varying degrees of big-league performances.
"The trick is to keep those guys available," Scioscia said, referring to his better relievers. "It's going to take a combination. We gotta score runs and we gotta get our pitchers pitching as deep as they have been lately."
Heaney, coming off his worst and shortest start of the season, was dominant for a stretch Sunday. After giving up a two-run homer to Canha in the second, he permitted only two more baserunners.
He retired 11 Athletics in a row into the sixth and allowed just one other man to advance beyond first.
With Heaney at 106 pitches, Scioscia said he did not consider sending him back out for the ninth.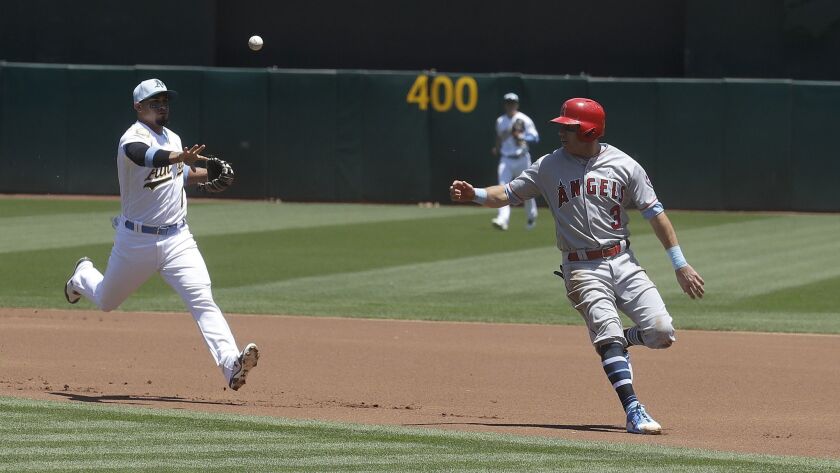 "Where he was," the manager explained, "I don't think it was in the cards for the 120 pitches that it was probably going to take."
The team returns home still facing late-inning uncertainty.
"I've had my fair share of bad games," Heaney said. "I'm never going to judge another player who I know goes out there and is grinding their {tail} off to do what they can to win games for this team."
---