Nothing adds up for Angels in 7-0 loss to Athletics
In a game the Angels really needed to win Saturday, they never even led.
They were barely as good as tied, in fact, the 0-0 starting point lasting only seven pitches.
Because, on Tyler Skaggs' eighth, Matt Chapman singled home Marcus Semien and Oakland was on its way to a 7-0 thumping that ended whatever smidgen of resurgence the Angels had assembled.
So instead of celebrating another victory, Angels fans had to be content witnessing history, catcher Francisco Arcia becoming the first position player to pitch for the franchise in more than a quarter century.
But for something so rare, Arcia's performance was strangely pedestrian. Pitching the ninth inning, he retired three of the four A's he faced — Stephen Piscotty had an infield single — on only eight pitches. He topped out at 73.4 mph.
The Angels hadn't used a full-time position player on the mound since Chili Davis worked two scoreless innings on June 17, 1993, in an 18-2 loss to Texas. That had been the longest such streak in baseball.
Other than that, there wasn't much to remember for the Angels, who edged closer to extinction.
Sure, the odds are stacked against them as convincingly as the standings are at the moment. But until mathematical elimination or September arrives, few baseball teams will willingly concede defeat.
Then Saturday happened at Angel Stadium, Skaggs struggling badly for the second consecutive start in a season that, for him at least, had been progressing so pleasantly not long ago.
Just off the disabled list, he gave up seven runs on 10 hits in lasting only 31/3 innings again. Semien had three hits, two homers, four RBIs and three runs scored off Skaggs all by himself.
The Angels entered Saturday having won four in a row, matching their best stretch since early June.
They gained two games on the A's during the winning streak to close to within 91/2 games for the American League's second wild-card spot.
But with only 44 games remaining and continuing to loiter around .500, the Angels hardly have the look of a contender.
Instead, they appear to be a team bound for an uncertain offseason, which will include a managerial switch and a roster retooling.
Still, baseball history is littered with teams overcoming sizable deficits in August and September, and the Angels' next seven games after this series come at San Diego and Texas, teams that are a combined 41 games below .500.
But then the schedule turns unfriendly, with 24 of their final 36 games against teams with winning records.
In other words, if the Angels are going to squeeze any more intrigue out of this fading season, sweeping the A's would have been a great way to start, followed by blanking the Padres and Rangers.
Now, they're back to facing a 101/2-game deficit and looking to salvage a series triumph on a day when they'll pitch a string of relievers because they're down one starter.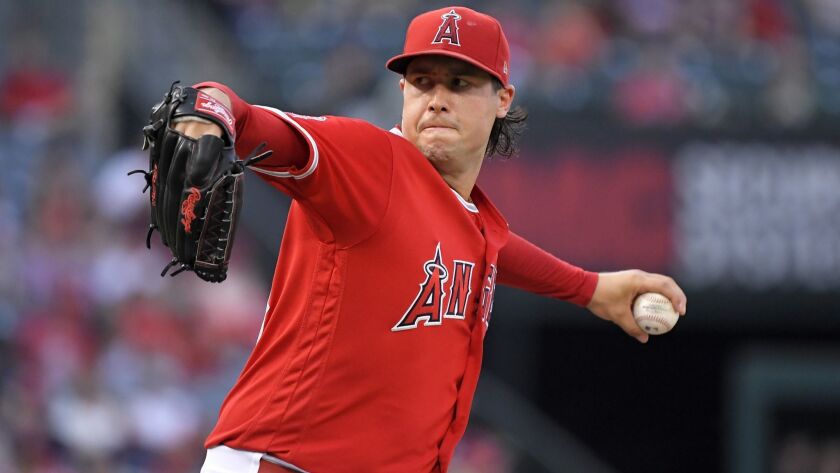 Skaggs hadn't allowed an earned run in two starts and 131/3 innings against the A's this season. He won both those starts as part of a first half that had him receiving consideration for the All-Star Game.
But a pair of adductor strains have helped derail Skaggs of late, his last two starts — separated by a stint on the disabled list — particularly difficult.
On July 31, he permitted 10 earned runs while retiring only 10 Tampa Bay Rays in a game the Angels would lose, 10-6. Of the last eight innings Skaggs has started, only one has been scoreless.
The Angels managed just a double each from Justin Upton and Kaleb Cowart and a single from AlbertPujols in Jackson's 71/3 innings.
And that's the sort of game this was Saturday. Well, that, plus this:
On a night when the Angels needed their starting pitcher to be very good, things went so sour that their closing pitcher was their backup catcher.
---
Get the latest on L.A.'s teams in the daily Sports Report newsletter.
You may occasionally receive promotional content from the Los Angeles Times.