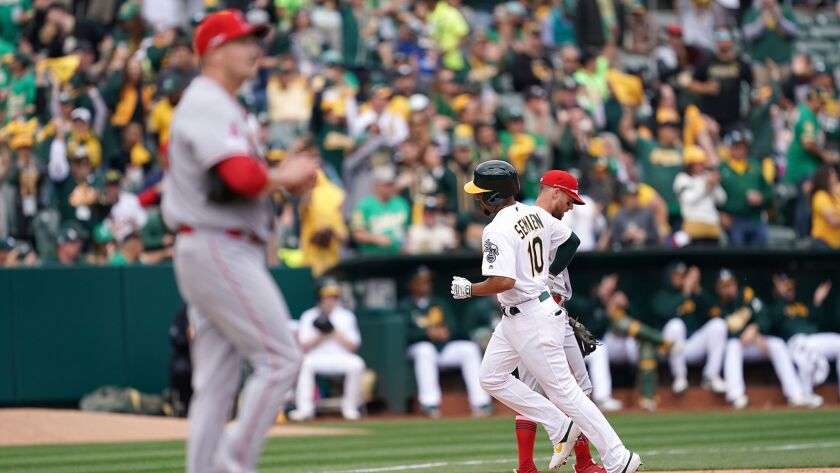 Reporting from Oakland —
A few hours before the Angels lost their season opener 4-0 to the Oakland Athletics on Thursday, Angels general manager Billy Eppler stepped out of the visitors dugout at the Oakland Coliseum and declined to put a projection on his team.
"Time will tell," he said, when asked if the Angels would make the playoffs this season.
"Time well tell," he said a second time when he was goaded. "I like our club. If we're the best version of ourselves day in and day out, good things will happen."
The Angels were far from the best version of themselves on a clear afternoon in front of an announced crowd of 22,691. They couldn't get a hit for 4 1/3 innings against a starting pitcher who in November had not been offered a contract for the second straight year. Their own starter, Trevor Cahill, at times struggled to put away batters against whom he'd gotten ahead in the count.
The Angels' impotence against right-hander Mike Fiers was their biggest downfall. Fiers had a respectable 3.74 earned-run average with the A's after being acquired in an August trade last season, but he owed much of the credit to the Athletics' stellar defense judging by an advanced metric. His 4.94 fielding-independent pitching score, which measures a pitcher's performance by stripping away the role of defenders, was worse than the league average of 4.15. And the A's last year boasted two Gold Glove winners in third baseman Matt Chapman and first baseman Matt Olson and a finalist for the award in shortstop Marcus Semien.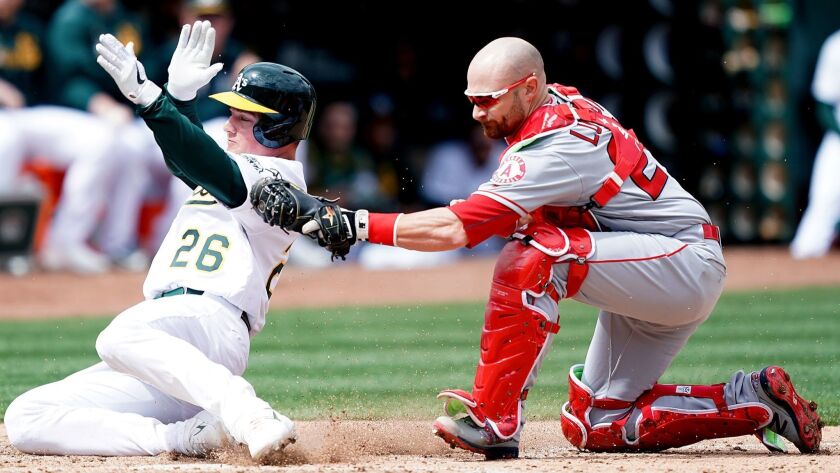 Although Olson is currently on the injured list recovering from surgery on his right hand, Fiers still received stellar backup. Chapman made a leaping back-handed grab of a liner hit toward third base to steal a hit from Angels catcher Jonathan Lucroy in the third inning. With runners on first and second and one out in the fifth inning, Chapman scooped a groundball hit by Peter Bourjos, stepped on the bag at third and slung the baseball to first base for an inning-ending double play. In between, Robbie Grossman made his own catch in the air near the left-field wall when Andrelton Simmons hit a ball toward the warning track in the fourth inning.
"I thought we took some good swings on him that couldn't find grass," manager Brad Ausmus said. "But he got through those and did an outstanding job for them."
To his credit, Fiers was mostly sharp. He threw 50 of 83 pitches for strikes, received 15 called strikes and got six swings-and-misses.
"He was just mixing all his pitches, throwing it for strikes, throwing them for balls to chase," said center fielder Mike Trout, who went 1 for 3. "He had good stuff. Obviously, he knows how to pitch. That's a tough at-bat every time."
But Fiers also issued three walks over his six innings. The Angels just never capitalized. Instead, they struggled to put together any semblance of a threat. Albert Pujols reached base when Fiers hit him with a pitch above his right elbow in his first at-bat, and Trout drew a walk to lead off the fourth. Both were left stranded after eventually reaching second base.
The Angels didn't log another baserunner until Tommy La Stella lofted a one-out double over the head of center fielder Ramon Laureano in the fifth inning for the Angels' first hit, the only hit allowed by Fiers. La Stella, too, was stranded.
The Angels' offense and Cahill shared equal blame for the loss.
The last time he pitched in Oakland, Cahill wore a white home jersey trimmed in green as he surrendered five runs over 3 1/3 innings in an Athletics loss Sept. 23.
Things were a little different Thursday. He wore Angels red. He lasted six innings. However, the results were similarly unfavorable. He gave up two home runs, allowed four runs and yielded six hits.
Cahill cruised through his first inning back at the Coliseum. He threw all 10 of his pitches in that scoreless inning for strikes as he worked around a leadoff single.
He wasn't as fortunate in the second inning. Jurickson Profar roped a leadoff triple into the right-field wall and scored on Chad Pinder's sacrifice fly.
The bad luck continued in the third. Grossman singled and stole second base. He scored when Stephen Piscotty looped the first pitch for a double that dropped between left fielder Peter Bourjos and Trout.
In the bottom of the fourth, Semien hit a home run to straightaway center field on a 3-2 sinking fastball that didn't sink. Another mistake to Khris Davis resulted in a home run to begin the sixth. It was Davis' 16th career homer against the Angels.
"They did a good job battling and laying off some stuff," said Cahill, who helped the A's win 97 games and clinch a wild-card spot. He later added, "All my pitches were kind of OK. I was able to command them but they weren't as sharp as I was hoping."
Neither were the Angels, who lost their sixth consecutive season opener.
Sign up for our daily sports newsletter »
---