It's been a road life for reliever Blake Parker, but his character on and off the mound is endearing to the Angels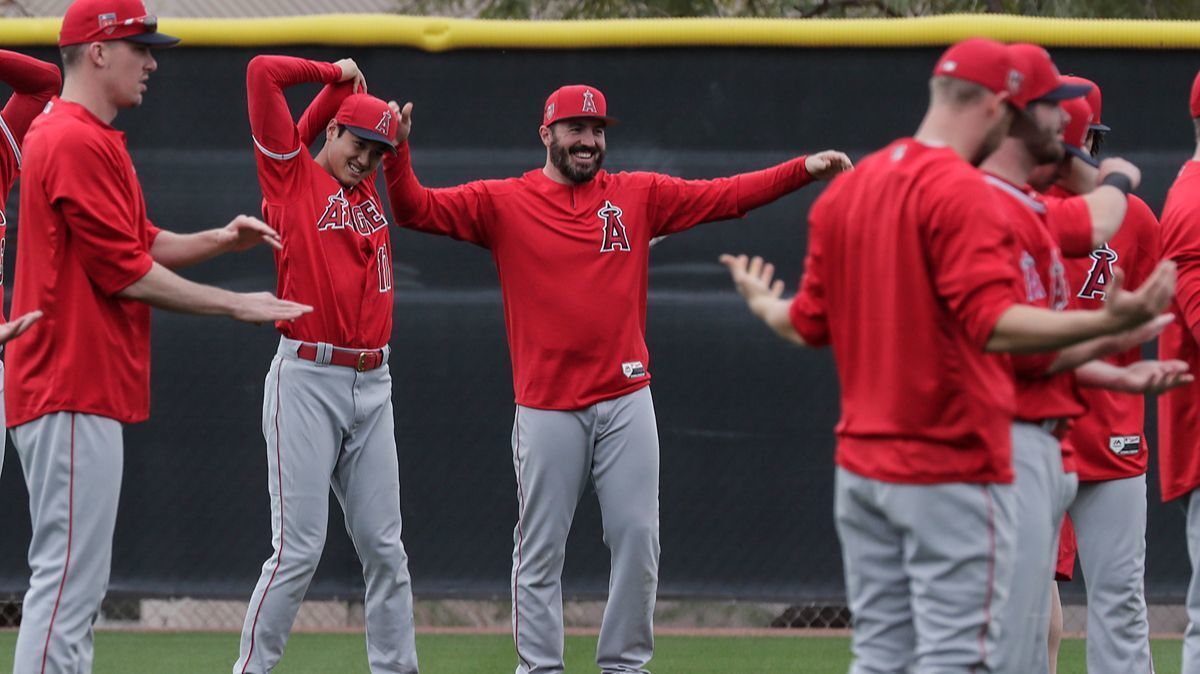 Reporting from TEMPE, Ariz. —
Blake Parker has found that sweet spot between confidence and humility, the reliever's blend of dominance on the mound and modesty off it endearing him to Angels coaches, teammates, front-office executives and fans.
The 32-year-old right-hander was claimed off waivers three times before the 2017 season, twice by the Angels. Parker made the team as a nonroster player out of spring training and was so effective in his first full big league season — and 11th in pro ball — that he finished as the club's closer.
And he did it all while living in a "fifth-wheel" recreational vehicle with his wife, stepson and dog, in the Angel Stadium parking lot for the first month and a few relay throws down Katella Avenue, in an RV park, for the next five.
"I'm just a country boy from Arkansas," Parker said before a spring-training workout. "I try to stay in my lane, go about my business and do my job."
Parker, mixing a lively 94-mph fastball with a nasty split-fingered pitch, struck out 17 consecutive batters to end spring training in 2017. He carried that momentum into the season, finishing with a 3-3 record, 2.54 earned-run average and 15 holds in 71 games, striking out 86 batters and walking 16 in 67 1/3 innings.
He quickly matriculated from a middle-inning to a late-inning role, and when injuries sidelined or slowed Bud Norris and Cam Bedrosian, Parker moved to closer in mid-August. He finished with eight saves in 11 opportunities.
"He had a little bit of a velocity uptick last year, and that allowed a lot of the secondary stuff to play up," general manager Billy Eppler said. "He was able to pitch in some big situations and get some important outs. That adds some comfort and trust."
And, Parker can hope, job security. He had the kind of breakout season that could give a player who spent most of the previous decade in the minor leagues a sense of belonging. The $1.8-million contract he signed to avoid arbitration seemed to further validate Parker's worth and solidify his position.
Not so for Parker, who said he is still scratching and clawing for a roster spot.
"I've been thinking a lot about that, and I want to keep the same approach," Parker said. "I've always been kind of that underdog-type guy. I'm not a household name, an All-Star who is expected to save 50 games, throw 100 mph.
"I like to keep that chip on my shoulder, take that same mindset into every game, and really not try to change anything."
There will be one major change in 2018. The RV will remain in Arkansas. Parker is renting a home in Phoenix for spring training and has lined up a rental home in Anaheim for the regular season.
The decision had more to do with the birth of his now 8-week-old son, Richard Tyce, and a second dog than with Parker feeling secure enough to put down roots in Orange County.
"I would do it again in a heartbeat," Parker said of the RV life, "but with the baby and two dogs this year, my wife [Jordan] made the decision. I just wanted to make her happy."
Parker considered selling the camper over the offseason "and one of my buddies was like, 'You can't sell that, man — that's your legacy,' " Parker said. "I guess it's something I'll never forget. It was a great experience."
Parker, tired of short-term rent costs and the nonrefundable pet deposits required by most apartments, decided last year that a mobile home was a better fit for his nomadic lifestyle.
"If I didn't make the team out of spring, I figured I'd be up and down, and that can be a nightmare when you're talking about security deposits and all that," Parker said. "Being able to pack up and go if I was called up or sent down, that's what I was kind of expecting. But it ended up working out."
Parker can thank his split-fingered pitch, which he began throwing in 2012 but didn't perfect until then-New York Yankees teammate Tyler Clippard suggested a more comfortable grip in 2016. He is also grateful to Angels catcher Martin Maldonado.
"I give 99% of the credit to Maldy," Parker said. "He takes all the pressure off you. He gives you such confidence. He puts down a sign and it's like, 'OK, that's it,' and you can really focus on making a pitch. He helped me evolve as a pitcher and realize how my pitches work in different situations."
Maldonado, acquired from Milwaukee before 2017, built an immediate rapport with Parker. The catcher's mantra: Focus on making pitches, not results. Parker bought in.
"He was out there having fun, getting people out, attacking hitters — he wasn't afraid," Maldonado said. "All that came with the confidence he built up coming out of spring training."
Parker is working this spring on a cut-fastball to replace a curveball that "wasn't really a factor last season," he said. "I'd like to have something with a little wrinkle in it."
Though he ended 2017 as closer, Parker is not entering 2018 as one. The Angels acquired Jim Johnson, who had 50-save seasons for Baltimore in 2012 and 2013, from Atlanta, and they expect Bedrosian to bounce back from an injury-plagued 2017. Hard-throwing right-hander Keynan Middleton also could close.
"We have three, four, five guys who can close, and with the way [Mike] Scioscia manages the bullpen, that can be a reality," Parker said. "It could be one of us one day, another guy the next. I would love the opportunity, and if it arises, I'll step up and try to get the job done."
Parker clearly has the stuff and mental makeup to pitch the ninth inning, but his ego does not dictate he close.
"That's a testament to the guy's character and his upbringing and the events of his life that shaped him and made him who he is," Eppler said. "That's special."
---
Get the latest on L.A.'s teams in the daily Sports Report newsletter.
You may occasionally receive promotional content from the Los Angeles Times.