Mike Trout robs homer from Brewers' Christian Yelich in Angels' victory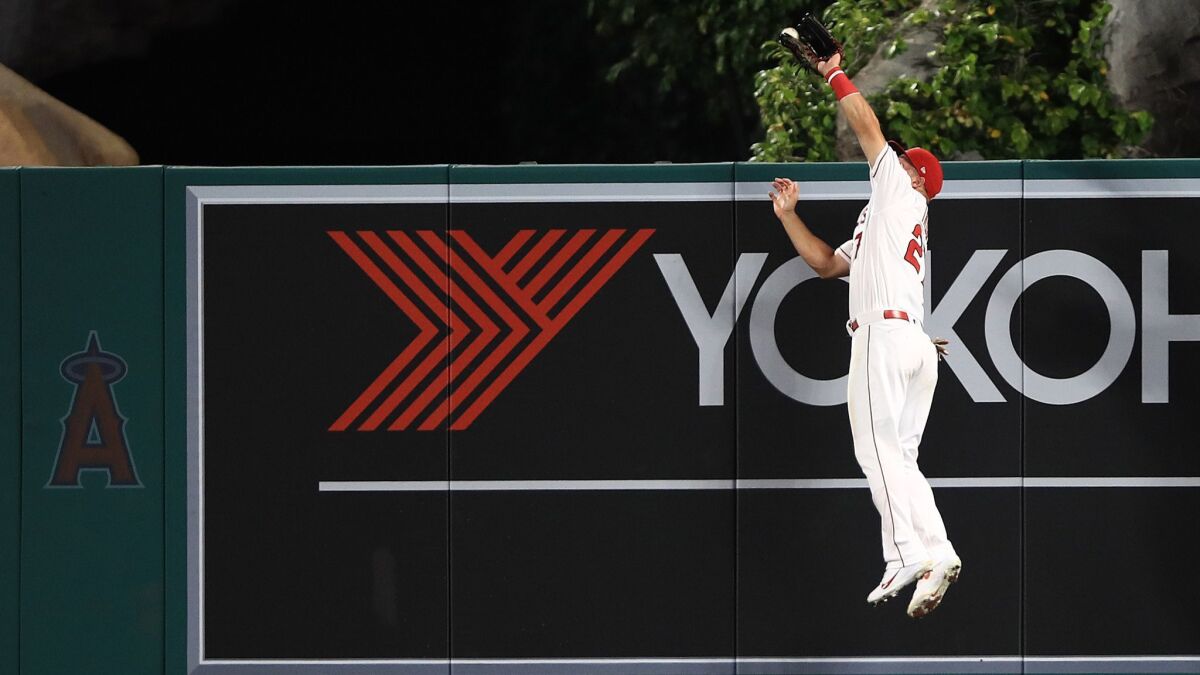 Mike Trout's streak with a home run ended at four games Monday night. So did the Angels center fielder's four-day assault on opposing pitchers that led to a 2.631 on-base-plus-slugging-percentage against the Texas Rangers, the third-highest OPS in a four-game series behind Babe Ruth and Mickey Mantle.
Trout did not have a hit in the Angels' 5-2 victory over the Milwaukee Brewers in front of 28,571 in Angel Stadium. He walked in the first inning, struck out in the third, flied to right in the sixth and walked in the eighth.
The two-time American League most valuable player still found a way to affect the game, leaping above the center-field wall to rob 2018 National League MVP Christian Yelich of a solo home run in the third inning to help the Angels secure their fourth straight win after a 1-6 start.
"I didn't think he hit it as well as he did, so I was kind of worried when [Trout] started going back," Angels pitcher Trevor Cahill said. "And then I was like, 'Oh, he'll probably jump and catch it.' He didn't have a homer today, so he had to rob someone of a homer.
"He's the best player in the game. Everything he does … at some point, you just stop being impressed and you're like, 'Yeah, it's just him.' "
Yelich opened the third inning with a towering drive to center field. Trout scooted back to the warning track, timed his leap perfectly and made the catch about a foot above the wall.
It wasn't the most spectacular catch of Trout's career, but Yelich still doffed his helmet and grinned at Trout, a show of respect from one MVP to another.
"I thought it was a fly ball to center field, and it kind of kept going," Yelich said. "I know how that is as an outfielder. When I saw him tracking, I was like, 'Ah, this is probably not good.' And it wasn't good. But it was a great play. Tip your cap to him and try to steal one from him later in the series."
Trout has provided the bulk of his team's offense this season — he entered Monday with a .393 average and a major league-leading 1.581 OPS, five home runs and 12 runs batted in — but the Angels tapped into some new power sources Monday night.
Tommy La Stella, Andrelton Simmons and Justin Bour each hit their first home runs of the season, La Stella a two-run shot to right-center field in the second inning, Simmons a solo shot to left in the fourth and Bour a two-run shot to right in the eighth that pushed the lead from 3-2 to 5-2.
"I think it was a matter of time before other people started hitting home runs," manager Brad Ausmus said. "As much as Mike can carry us at times, we're going to need other people to contribute if we're going to be a championship team."
Cahill, making his third start after signing a one-year, $9-million deal with the Angels in December, used a five-pitch mix — four-seam fastball, cut fastball, curve, sinker and changeup — to hold the Brewers to two runs and five hits in six innings, striking out eight batters and walking one to earn his first victory in two decisions.
The 31-year-old right-hander retired the last seven batters he faced, striking out Yelich and Ryan Braun with curves to end the fifth inning, and Travis Shaw and Jesus Aguilar with fastballs to open the sixth.
Sign up for our daily sports newsletter »
Shaw was so frustrated after his strikeout — his third of four whiffs in the game — that he slammed his bat over the bat rack twice, snapping the lumber in half on the second try.
Simmons, the Angels shortstop, also saved two runs in the second inning when, with runners on second and third and two outs, he ranged behind the second base bag to glove Lorenzo Cain's grounder and, after a 360-degree spin, fired to first base.
Hansel Robles retired the side in order in the seventh, Ty Buttrey gave up a hit in a scoreless eighth and closer Cody Allen threw a one-two-three ninth for his second save, lowering the Angels bullpen's major league-best ERA to 1.41.
Get the latest on L.A.'s teams in the daily Sports Report newsletter.
You may occasionally receive promotional content from the Los Angeles Times.