Angels seem to have quite a catch in Carlos Perez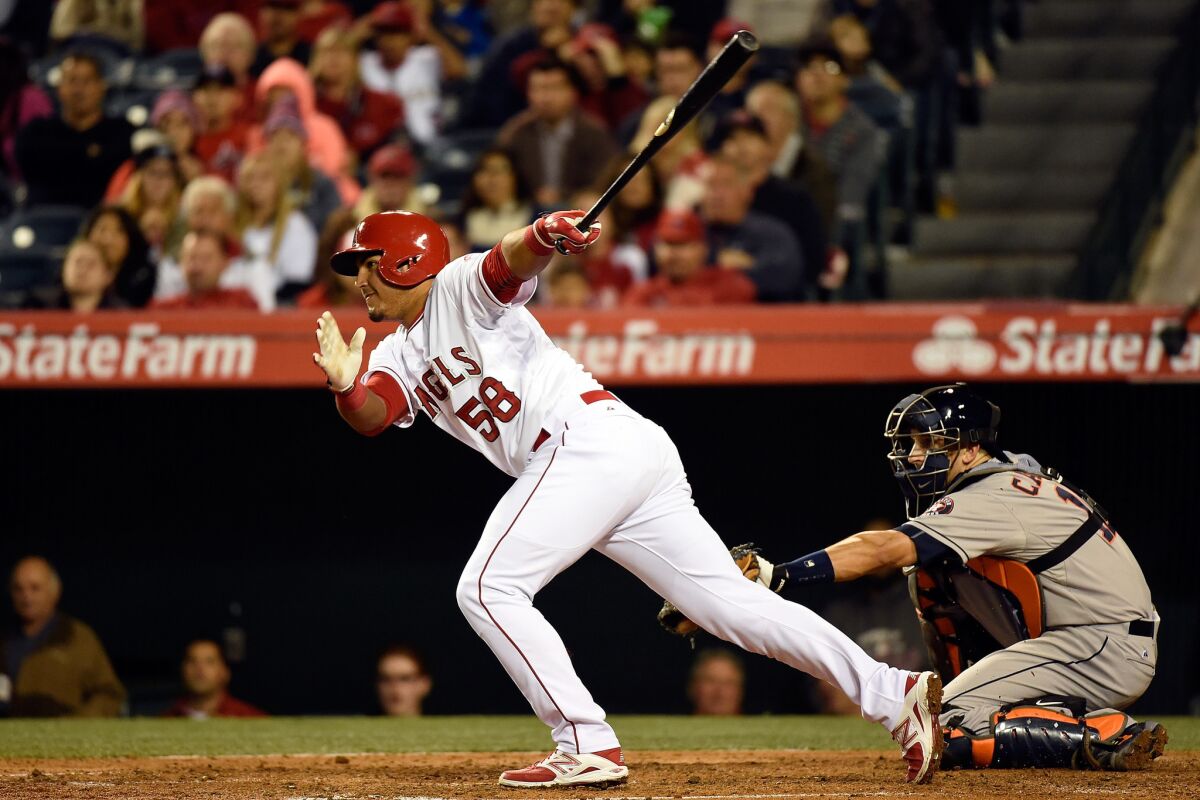 It was a whirlwind first week in the major leagues for Angels catcher Carlos Perez.
After seven years in the minor leagues, he hit a game-winning home run against the Seattle Mariners in his big leagues debut Tuesday. And he followed up with a couple of solid performances that left Manager Mike Scioscia intrigued.
Perez credits a keep-it-simple approach for his early success.
"I just am trying to do everything I learned in the minors," he said.
It was a long study session.
Perez is only 24, but he put in his time since signing as a teenager, playing in the Toronto Blue Jays and Houston Astros organizations. There were occasions he wasn't sure where his work would lead, but he said, "I never stopped believing that I could get to the major leagues."
It looks as if he might stay awhile.
In four games, Perez has four hits in 14 at-bats and, more impressively, has shown he possesses the intangibles that would extend his stay.
"We always felt he was going to be able to catch and throw, but you're seeing him bring a game plan into a game," Scioscia said. "You're seeing him make adjustments between innings with pitchers. You're seeing him apply himself on warmup pitches, which is probably one of the most valuable tools a pitcher and catcher have, to go out there and make it a mini-bullpen [session] between innings.
"These are things that hopefully add up to a frontline major league catcher."
Veteran Chris Iannetta, 32, has been solid for the Angels the last three seasons after being acquired in a trade with the Colorado Rockies. But he is batting .101 in 23 games this season and has thrown out three of 20 runners trying to steal.
Perez provided an immediate boost. He had two hits in his major league debut, the second a line drive that cleared the left-field fence and resulted in a celebratory sports drink shower from his teammates.
Then he spent the weekend being a thorn to his former team.
Perez, who was acquired from the Astros during the off-season along with pitcher Nick Tropeano in exchange for catcher Hank Conger, had an run-scoring single in the Angels' 2-0 victory Friday and two hits and drove in a run in the team's 6-5 loss Saturday.
"Every time I go to the plate, I just try not to put too much pressure on myself," Perez said. "I'm just trying hit to the middle and not pull the ball."
The Astros tested his defense right off the bat. Jose Altuve led off Friday's game with a single and tried to steal on the next pitch. Perez gunned a throw to second base to erase Altuve.
The same thing happened to Jake Marisnick on Saturday: single, attempted steal on first pitch, out.
"That's huge," said Matt Shoemaker, the Angels' starting pitcher Saturday. "It's one of the most encouraging things for a pitcher, when a guy gets thrown out trying to steal a base. It's a bonus out."
Scioscia, a former catcher, has been encouraged by Perez's impressive start, but he is as cautious as he is optimistic.
"It's one week in the major leagues," Scioscia said. "He has shown a lot of promise. But it's still a wide gap between catching well the first week and being a guy who can go out there and catch 130-140 games a year."
Perez's resume indicates that work won't wear on him.
After not advancing past the Class-A level in four seasons with the Blue Jays, he started working overtime in the Venezuela winter league.
He was traded to the Astros during the 2012 season, finishing up with the Class-A Lancaster Jethawks. He started 2013 at double-A Corpus Christi and was quickly promoted to triple-A Oklahoma City, where he also played last season.
Perez has a .280 batting average in the minor leagues, and hit .329 with four home runs and 24 runs batted in in 41 games for Caracas last winter.
By the end of spring training this year, Scioscia recalled, "He was catching at a high level and swinging the bat well."
Assigned to triple-A Salt Lake, Perez continued his ascent, hitting .361 in 17 games.
His transition to the Angels lineup has been seamless. The simple approach he uses when he hits is also applied when he catches.
"I don't try to do too much behind the plate," Perez said. "I try to make the pitcher feel comfortable."
So far, so good.
"He's a great presence back there," Shoemaker said. "He gives you a great target. He's a great defensive catcher with a great arm. That's fun to throw to."
And, for his boss, fun to watch.
"At the plate, he's got some hits to fall in and we think he is a really good offensive player," Scioscia said. "But just being able to control a game like he can from behind the plate, that's very impressive. It gives us a lot of confidence."
Get the latest on L.A.'s teams in the daily Sports Report newsletter.
You may occasionally receive promotional content from the Los Angeles Times.