What a coincidence: With pitching moves, Angels save on bonuses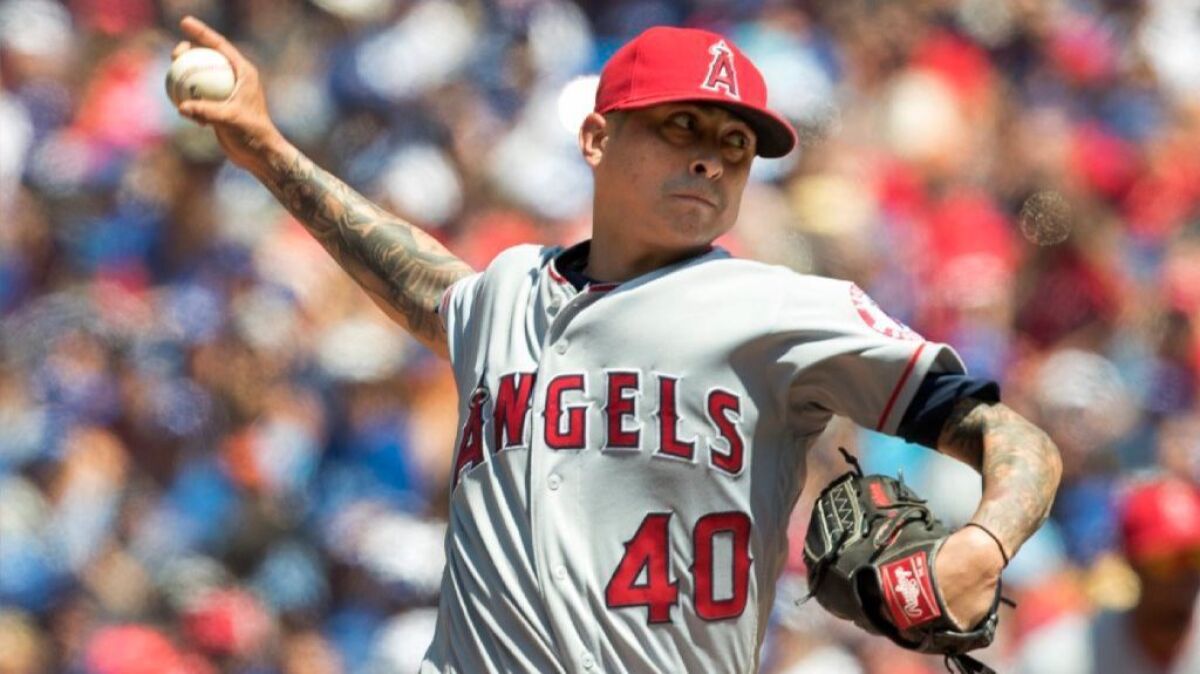 Whether by coincidence or design, the Angels put themselves into position to save at least $750,000 with the way they ordered their pitchers in a win over Texas on Friday.
Needing to fill a start vacated by the injured Andrew Heaney, they picked from a stacked September bullpen of 14 men and settled on one who had not started a game all year.
In total, they used seven relievers, standard practice for this stage of the season. But, to start the game, they made a curious choice. Rather than start Jesse Chavez or Yusmeiro Petit, both of whom have started for them this season, the Angels chose Bud Norris, their former closer, then used Chavez and Petit in relief.
Norris had previously pitched in 56 games this season, all out of the bullpen. The decision probably cost him money, as his deal dictates he receives a $500,000 bonus if makes 60 relief appearances. That would have been a virtual certainty if he remained a reliever throughout September, but is now an improbability. In the last 10 days, he has pitched only once: the game he started.
Chavez has started 21 games this season, shifting to the bullpen while carrying a 5.43 earned-run average at August's start. He impressed with a 2.50 ERA in his first five weeks in the bullpen.
He also had money on the line. As previously reported, he stands to earn a $250,000 bonus if he starts a 22nd game and another $250,000 if he remains in the rotation to make 24 starts.
Angels manager Mike Scioscia said Tuesday that he was unaware of the incentives in both players' contracts.
"In my position as a manager," Scioscia said, "I'm not privy to those contract things, and for good reason."
Angels general manager Billy Eppler said the decision was made because Scioscia likes to have "maneuverable pieces" in the bullpen, freeing him to make pitching changes as desired. Eppler cited both pitchers' experience starting and relieving.
"It's just a coincidence," Eppler said.
Both pitchers will be free agents at season's end. Norris, 32, declined to comment on the matter. Chavez, 34, said he was untroubled by the team's decision, noting his earlier struggles as a starter.
"I'm not about having a problem or letting it trickle down any more than what it already is," Chavez said. "Everybody down there is capable enough to start. Either way, somebody was gonna get it."
Between his base salary and earlier incentives, Chavez has already guaranteed himself a career-high $6.55 million this year. Norris' $1.75-million salary is less than he has earned in any of the last five seasons.
Chavez said he did not want to think that money was a factor in the decision.
"I'm a player," Chavez said. "We never want it to look at it that way, because we never want to look at the game as a business. We want to look at it as a game we've come to enjoy and love.
"If a start comes about, cool. But I'm not peeking around the corner. I know the incentives are out there. Obviously, we negotiated it. But if we look at it that way, we're not going to be able to come out and do our job."
The Angels again need to fill Heaney's spot Saturday in Houston. Scioscia said he has not yet made a decision.
Follow Pedro Moura on Twitter @pedromoura
Get the latest on L.A.'s teams in the daily Sports Report newsletter.
You may occasionally receive promotional content from the Los Angeles Times.