Angels throw combined no-hitter on night they honor Tyler Skaggs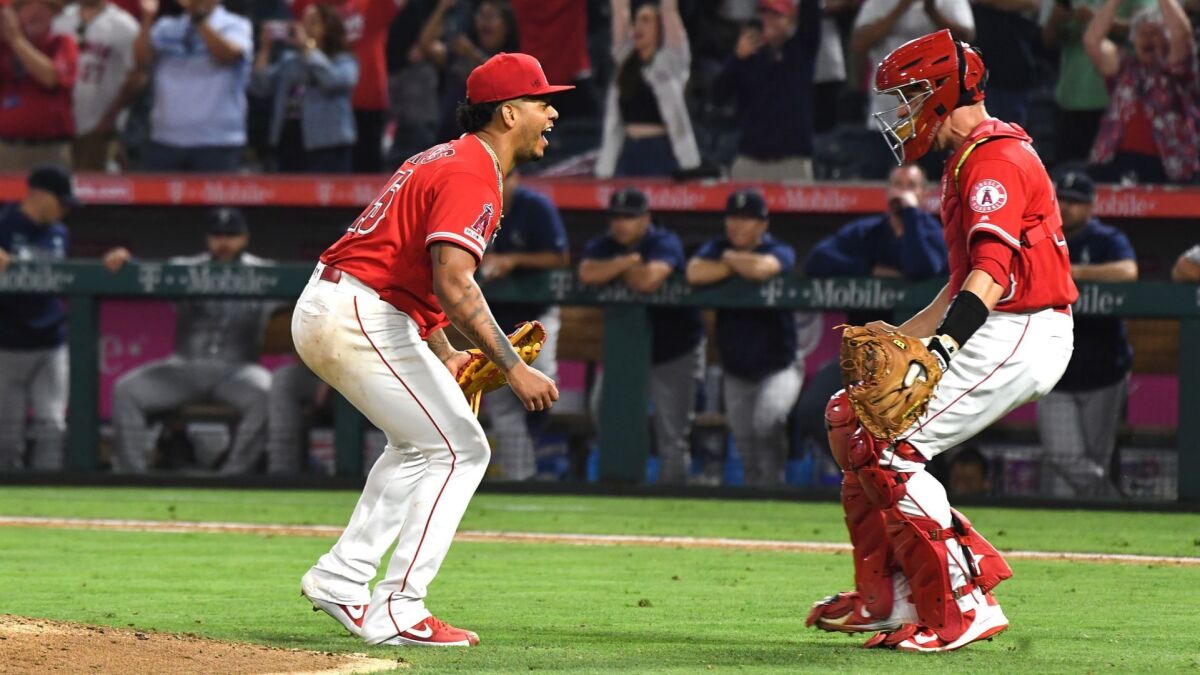 The Angels have had 12 days to process the death of pitcher Tyler Skaggs, to hug each other and cry on each other's shoulders, to mourn and bond together while playing six games on the road, to grieve with family members over the four-day All-Star break.
Friday night, the tragic loss of their 27-year-old teammate hit home. Literally.
Playing in Angel Stadium for the first time since Skaggs was found unresponsive in a Southlake, Texas, hotel room on July 1, with each player donning No. 45 jerseys with Skaggs' name on the back, the Angels honored their fallen teammate with a storybook pitching performance that would have made him proud.
Taylor Cole and Felix Pena threw the second combined no-hitter in franchise history in a 13-0 rout of the Seattle Mariners before a crowd of 43,140, Cole opening with two perfect innings and Pena following with seven no-hit innings in which he walked one, a four-pitch free pass to Omar Narvaez in the fifth.
"You can't make this stuff up," Mike Trout said after driving in six runs and noting that the Angels scored seven runs in the first inning and 13 overall on the day before Skaggs would have turned 28. His birthday was July 13, or 7/13.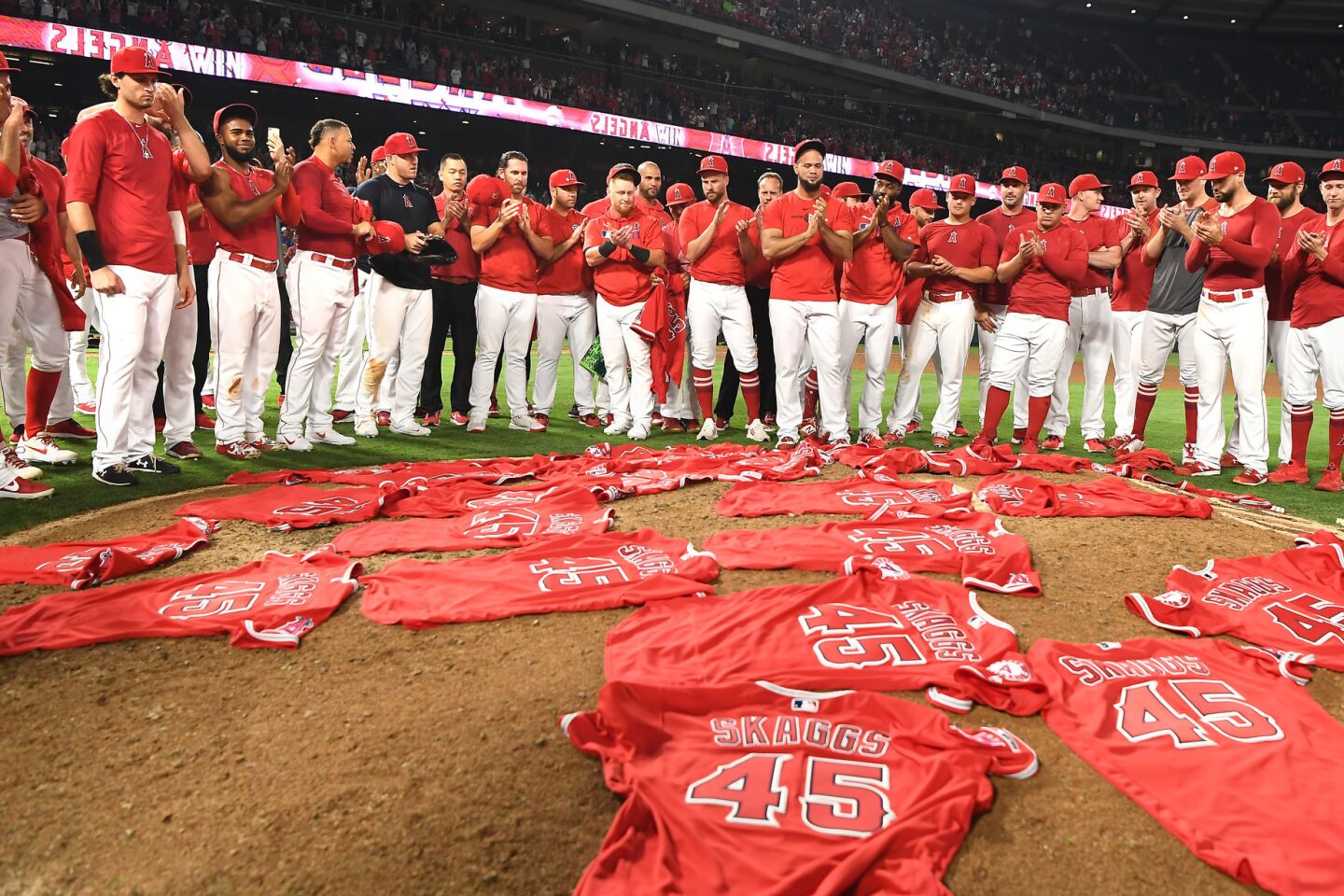 Angel players place their Tyler Skaggs jerseys at the pitchers mound after no-hitting the Mariners.
(Wally Skalij / Los Angeles Times)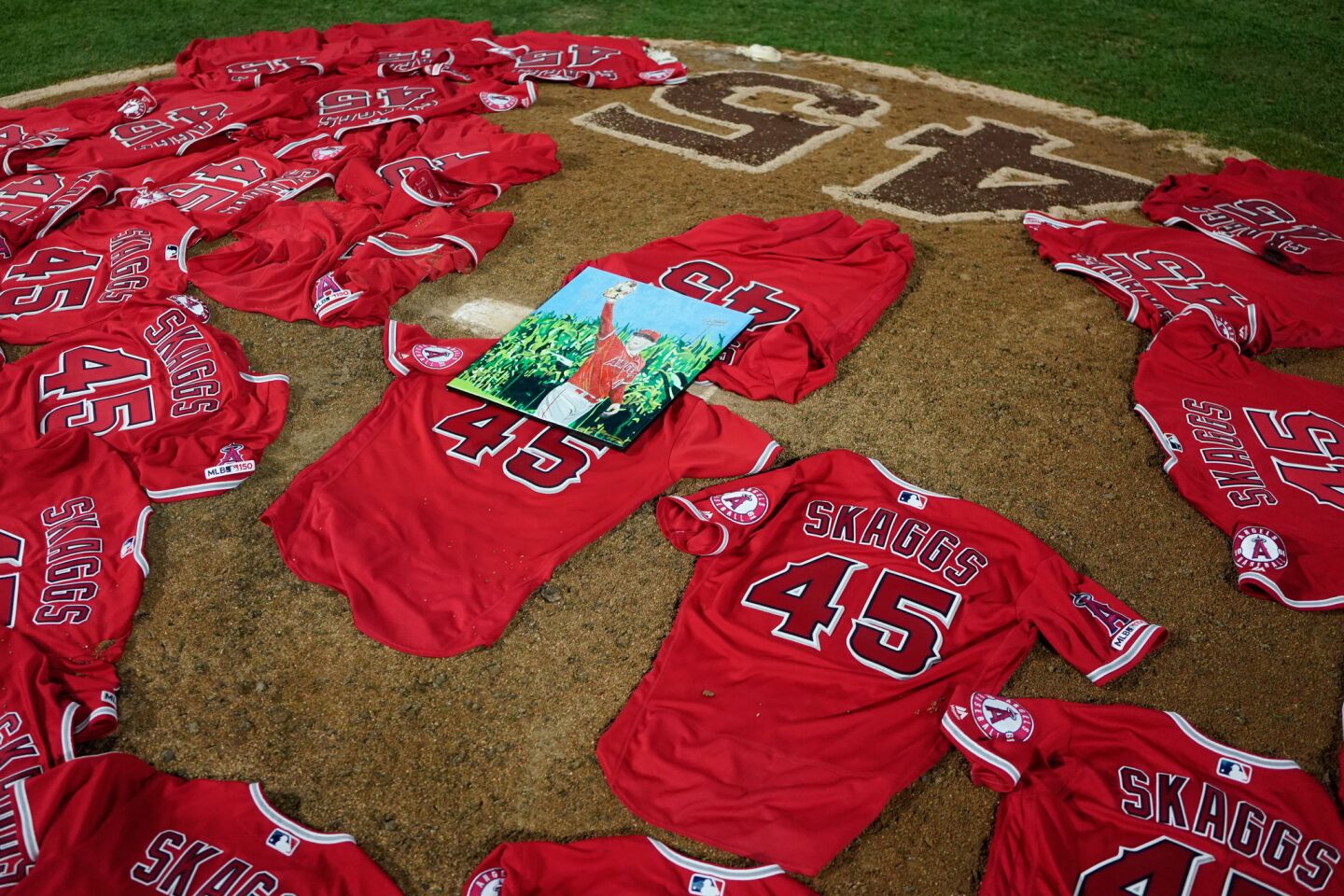 A portrait of the late Angels pitcher Tyler Skaggs sits atop the jerseys on the pitcher's mound after the Angels no-hitted the Mariners.
(Kent Nishimura / Los Angeles Times)
The Los Angeles Angels lay their jerseys bearing the number of the late Tyler Scraggs on the pitchers mound after defeating the Seattle Mariners.
(Kent Nishimura / Los Angeles Times)
Debbie Hetman, mother of the late Tyler Skaggs, looks up after throwing the first pitch.
(Kent Nishimura / Los Angeles Times)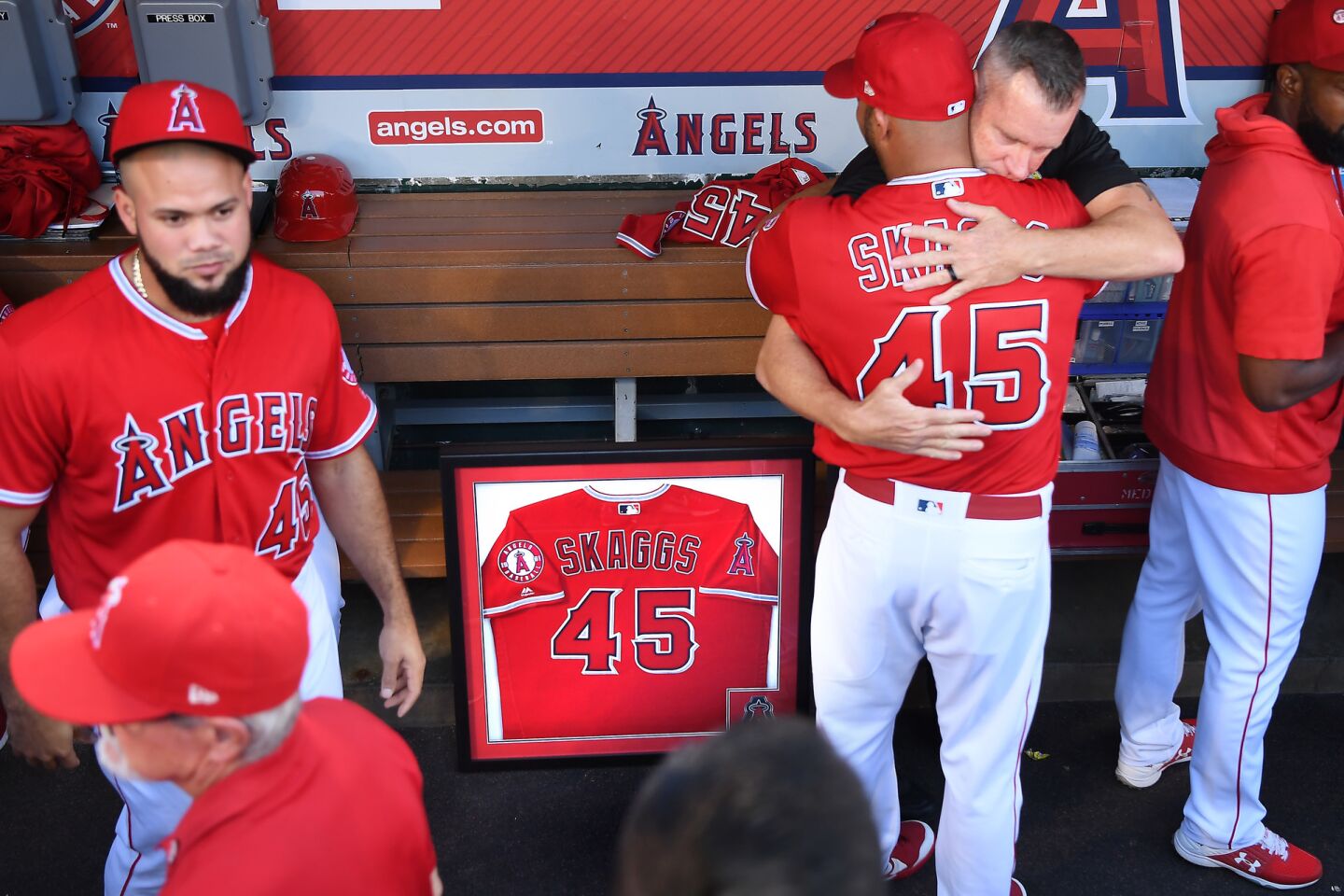 Angels Albert Pujols is hugged by an unidentified Anaheim police officer next to a framed jersey of Tyler Skaggs who was memorialized before a game with the Seattle Mariners.
(Wally Skalij / Los Angeles Times)
Angels center fielder Mike Trout gestures towards a memorial of pitcher pitcher Tyler Skaggs before the game.
(Wally Skalij / Los Angeles Times)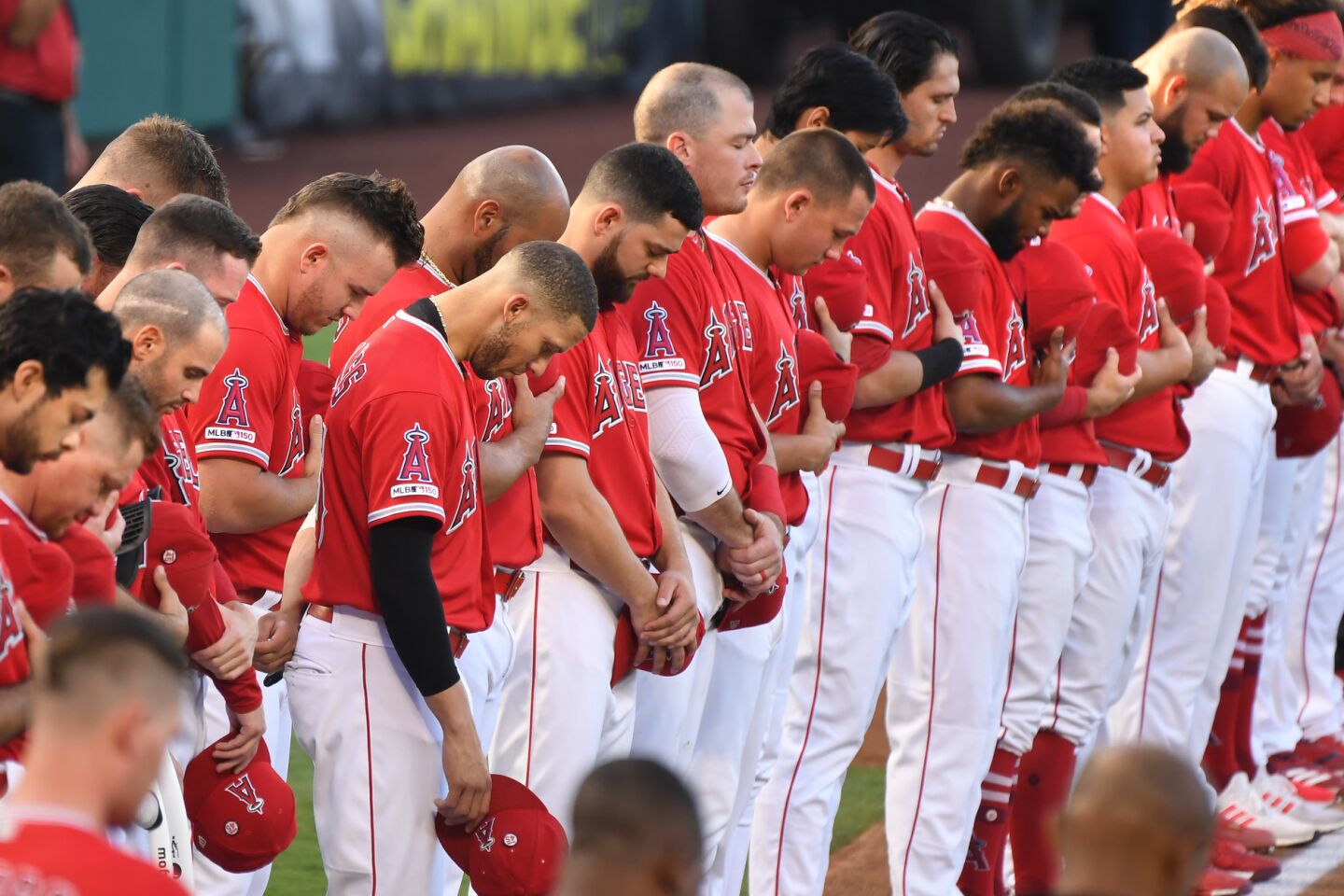 Angel players bow there heads for teammate Tyler Skaggs during a moment of silence.
(Wally Skalij / Los Angeles Times)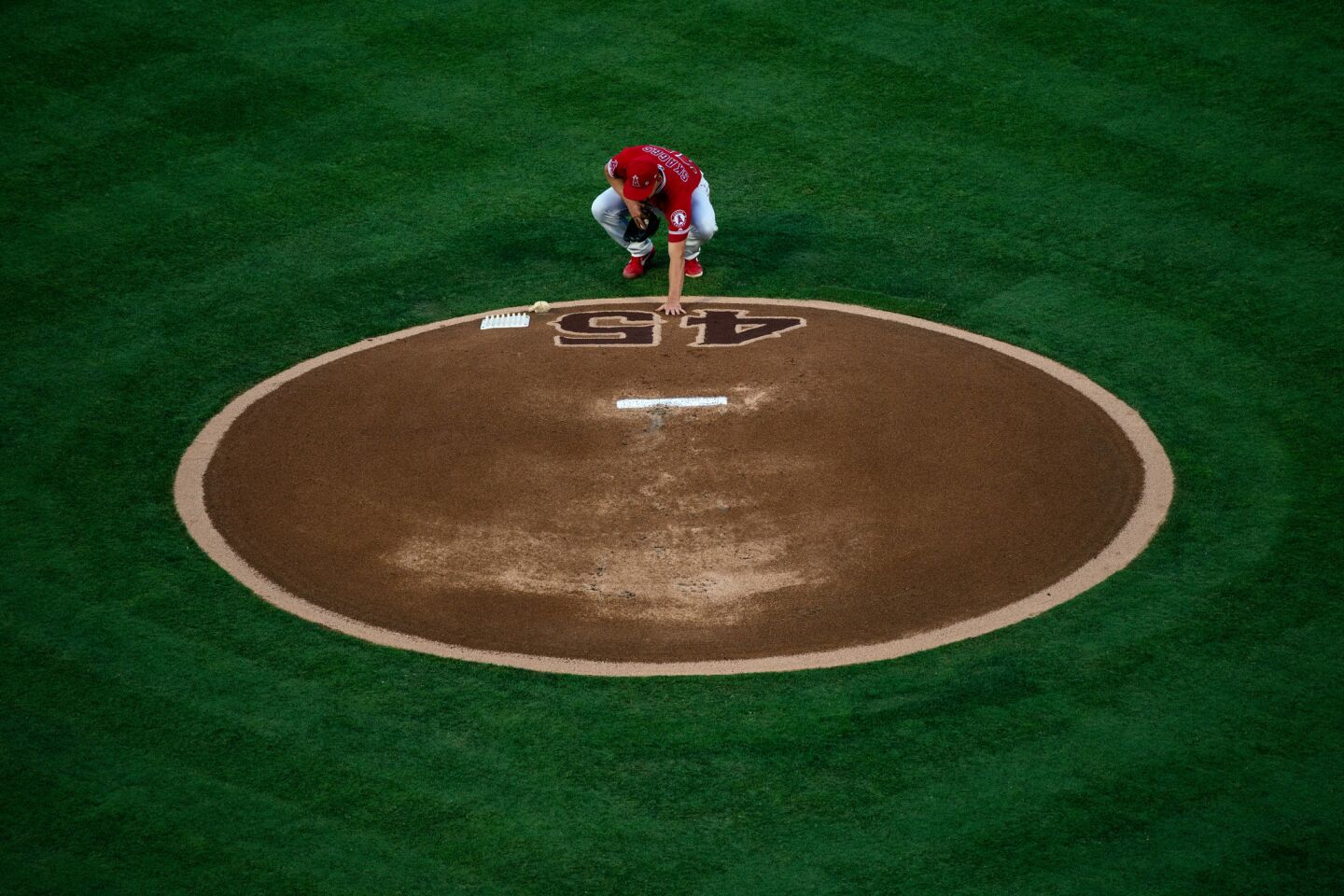 Angels pitcher Taylor Cole places his hand on the number 45 on the pitchers mound in memory of the late Tyler Skaggs before the start of the game against the Seattle Mariners.
(Kent Nishimura / Los Angeles Times)
Angels starting pitcher Taylor Cole pays tribute to Tyler Skaggs before throwing out the first pitch.
(Wally Skalij / Los Angeles Times)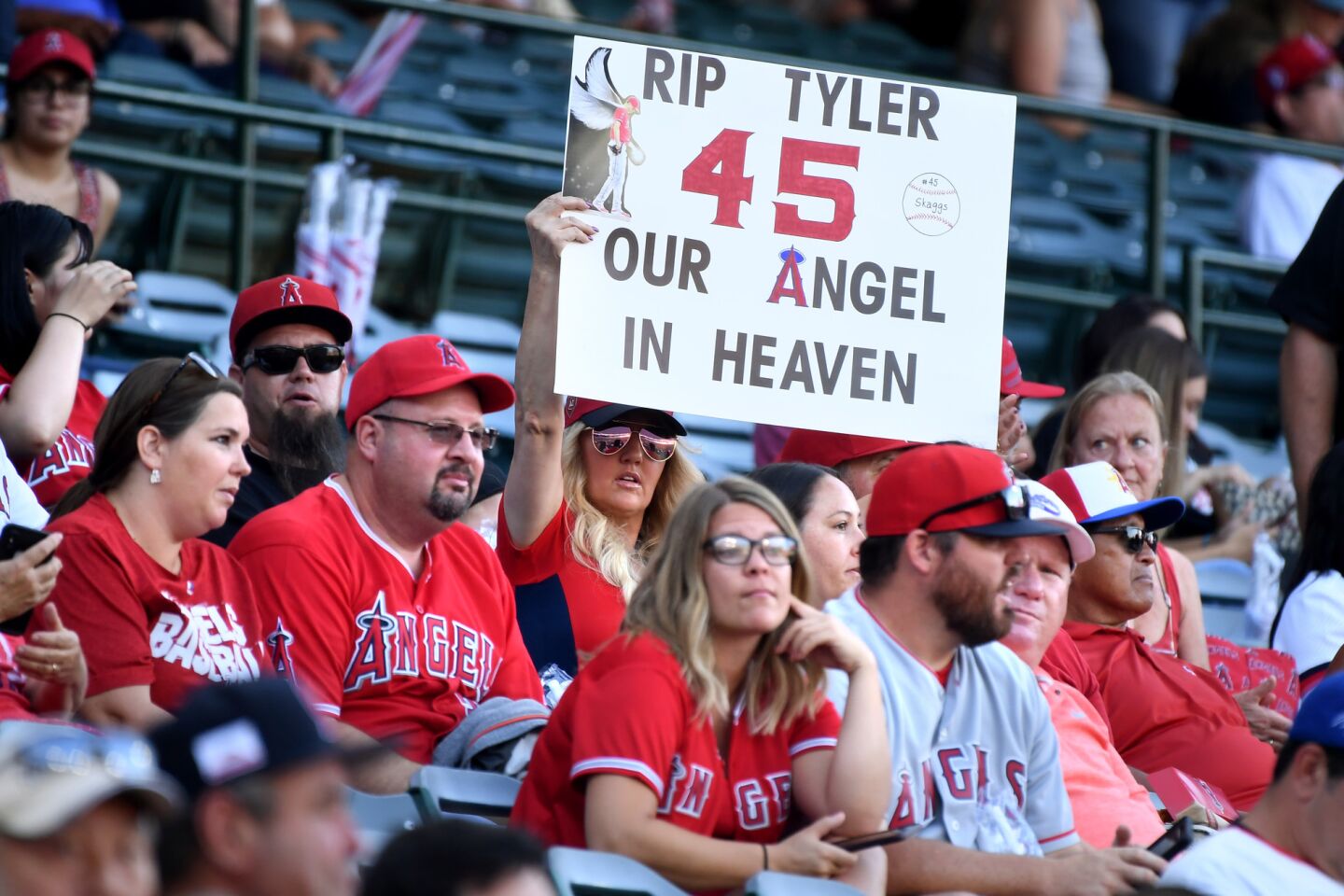 An Angels fan holds a sign for Tyler Skaggs before a game with the Mariners.
(Wally Skalij / Los Angeles Times)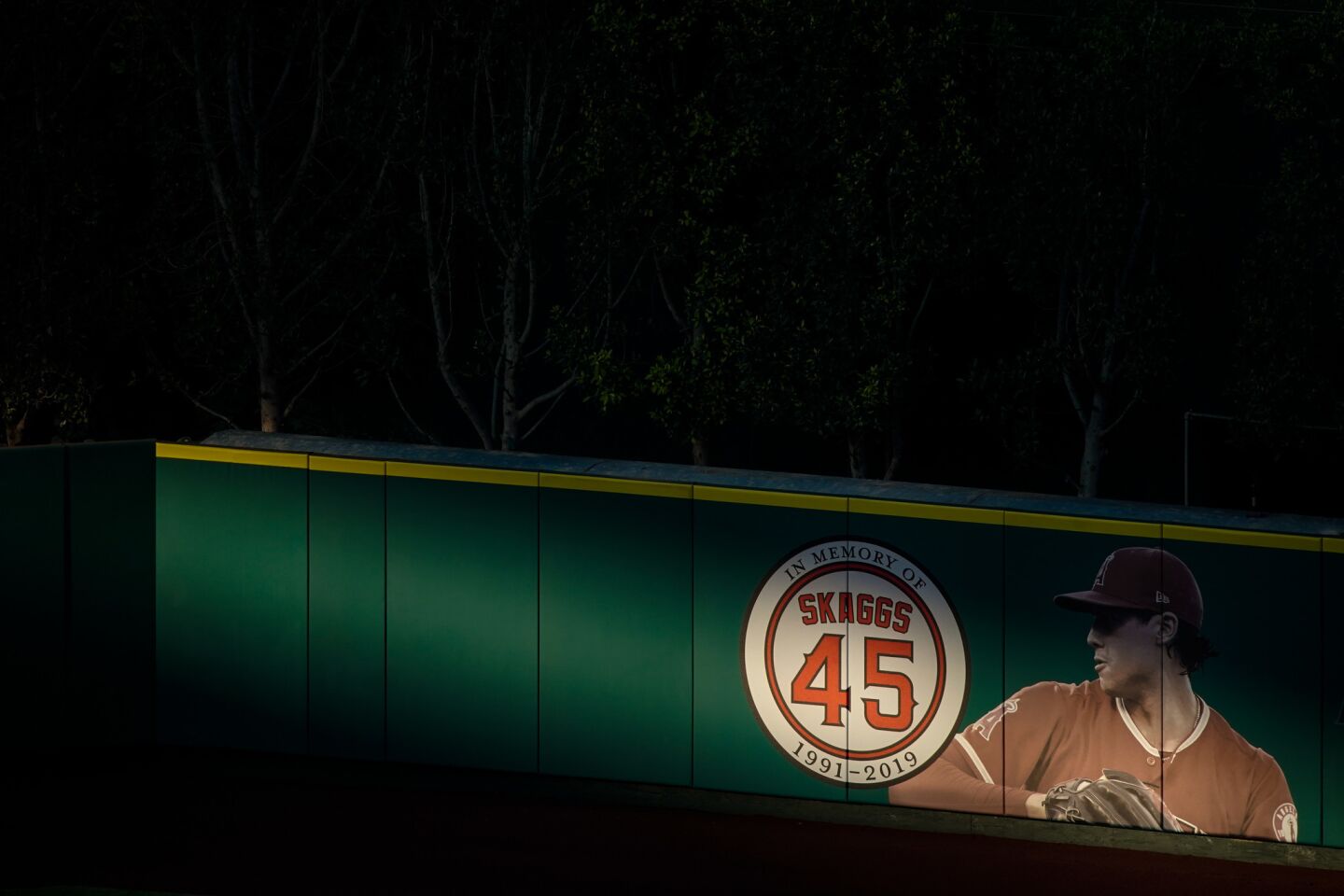 A marker is seen in the outfield in memory of the late Tyler Skaggs.
(Kent Nishimura / Los Angeles Times)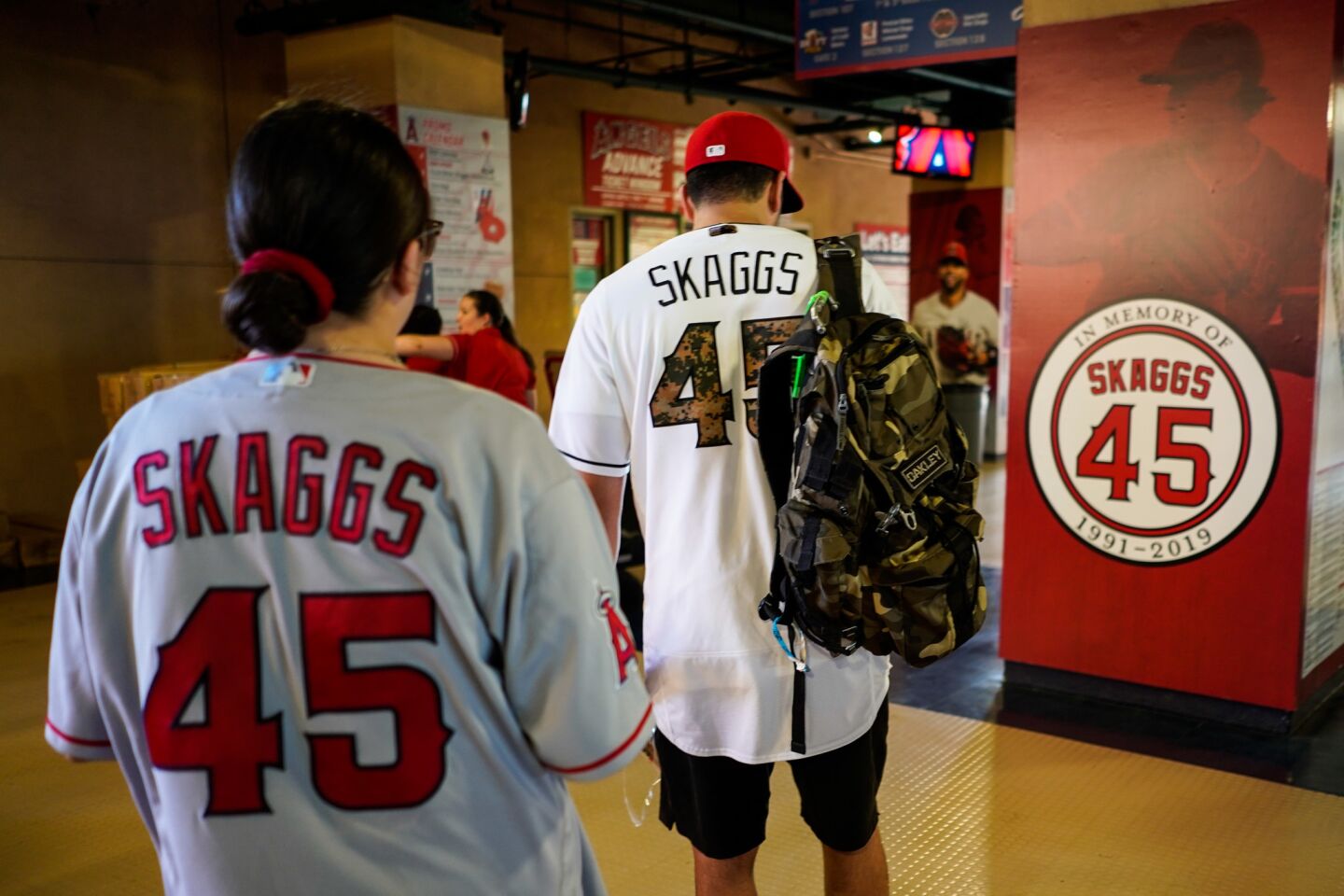 Emma Palacios, 15, and her father, David Palacios, 40, of Covina take pictures of a marker in memory of Tyler Skaggs.
(Kent Nishimura / Los Angeles Times)
Angel fans look at a memorial for Tyler Skaggs in front of Angel Stadium.
(Kent Nishimura / Los Angeles Times)
Julian Segura, 3, hugs his mom, Sylvia Menchaca, of the San Fernando Valley, in front of a memorial for Tyler Skaggs, after Julian placed a helmet with a message to the late Angels pitcher.
(Kent Nishimura / Los Angeles Times)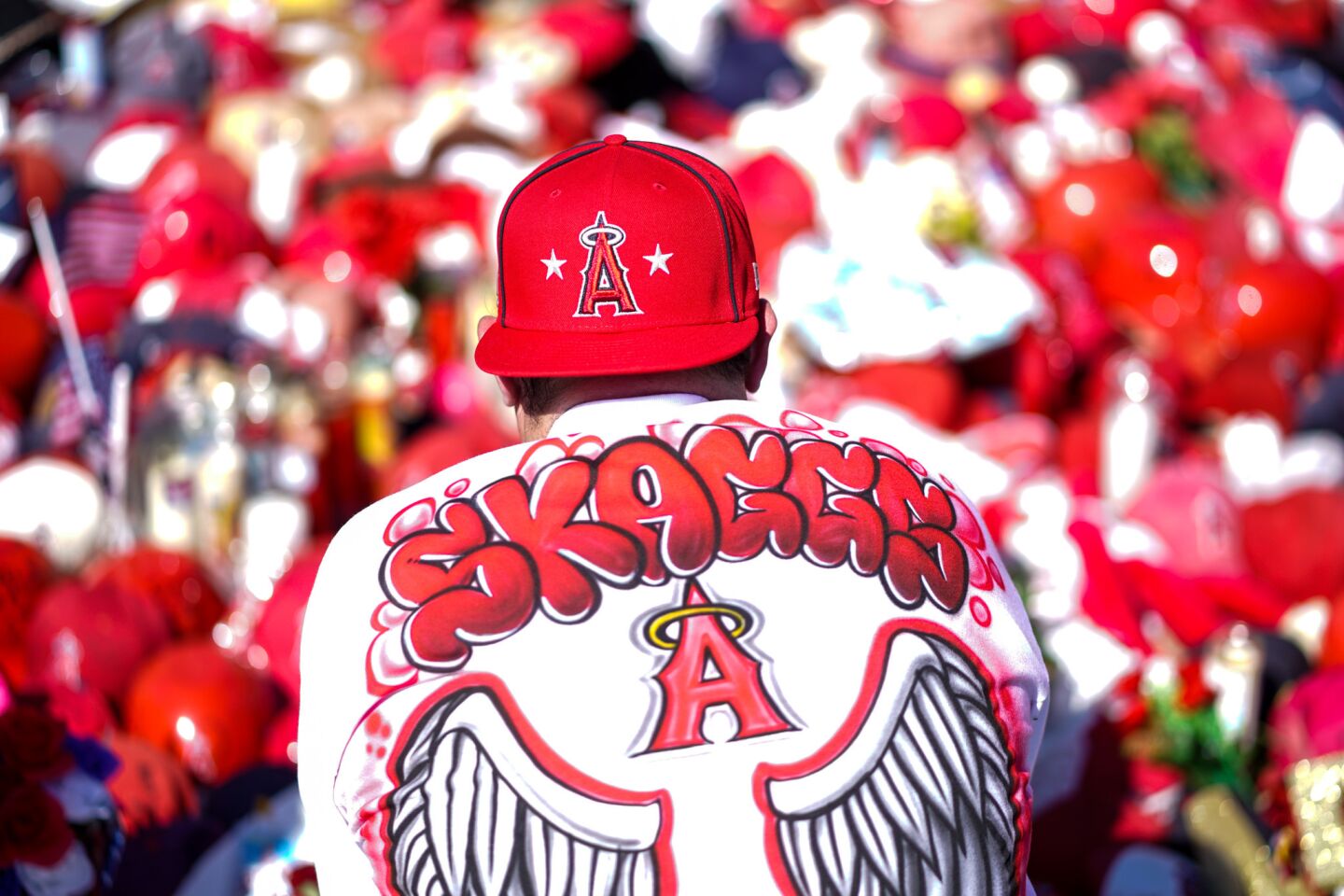 Karl Arriola, kneels in front of a memorial at the front gate to Angel Stadium before the start of the game.
(Kent Nishimura / Los Angeles Times)
Karl Arriola, 48, of Santa Ana kneels before a memorial for Tyler Skaggs, out in front of Angel Stadium.
(Kent Nishimura / Los Angeles Times)
"Tonight was in honor of him, and he was definitely looking over us. He's probably up there saying, 'We're nasty,' and just what an unbelievable game to be a part of. I'm speechless. This is the best way possible to honor him. It was pretty crazy."
Pena left the mound to a standing ovation after the eighth inning, and with two outs in the ninth, fans rose to their feet in anticipation of history. Mallex Smith hit a hard grounder to second baseman Luis Rengifo, who had entered for defensive purposes in the ninth.
Rengifo bobbled the grounder but recovered to throw to first to complete the 11th no-hitter in club history and first combined no-hitter since Mark Langston and Mike Witt against Seattle on April 11, 1990.
The Angels poured out of the dugout to mob Pena. After exchanging hugs and high-fives, the players shed their No. 45 jerseys and arranged them on the mound before saying a prayer in Skaggs' memory. They left the jerseys there as they departed the field, with a painting of Skaggs covering the rubber.
"That was probably one of the most special moments I've been a part of on a major league field in 25 years," Angels manager Brad Ausmus said. "We feel like it's partly Skaggsy's no-hitter."
Said Pena in Spanish: "We now have an Angel protecting us from above."
Seattle's Dee Gordon, who homered three years ago to lead off Miami's first game after All-Star pitcher Jose Fernandez died, again was moved by what he saw.
"I got one thing to say and I said it three years ago and I'm going be done with it: If you don't believe in God, you might want to start," Gordon said. "I said it three years ago when I hit the homer for Jose. They had a no-hitter today. Y'all better start. That's all I got."
Pena, mixing his two-seam fastball with a slider and changeup, needed only 81 pitches to complete seven innings in which he struck out six. The closest Seattle came to a hit was Mac Williamson's hard grounder toward the shortstop hole to lead off the sixth inning.
Rookie third baseman Matt Thaiss, a converted first baseman who began playing third at triple-A Salt Lake this season, made a diving stop to his left, got up and threw out Williamson.
"That was a heck of a play," Ausmus said. "Matty has not played a ton of third base. He was a catcher who moved to first. Now he's playing third, and he made a heck of a play."
Neither Cole nor Pena pitched with any stress, as the Angels blitzed Seattle starter Mike Leake for seven runs and eight hits in the first inning, including a mammoth two-run homer and a two-run double by Trout.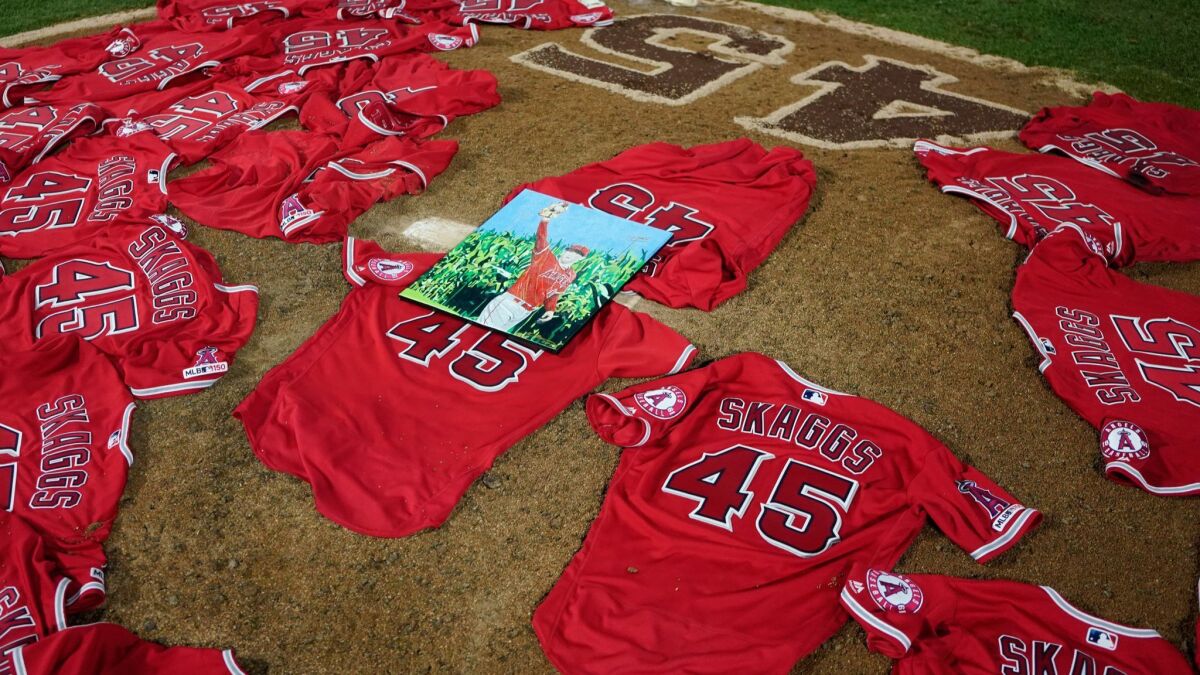 Trout followed David Fletcher's leadoff double by crushing a first-pitch sinker 454 feet to center for his 29th homer of the season.
The former minor league roommate of Skaggs took 28 seconds to round the bases — his slowest home run trot of any since Statcast began tracking such information in 2015. After crossing the plate, Trout looked and nodded toward the owner's suite, where Skaggs' family members were sitting.
Trout capped the rally with a two-run double to left. He drove in a run when he was hit by a pitch with the bases loaded in the second inning and added an RBI double in the fifth. Justin Upton hit a two-run homer in the seventh.
"He doesn't do it a lot," Ausmus said of Trout attacking a first pitch, "but he crushed that one. It was a good start to the game."
The day began on a more somber note, with players filing into the home clubhouse for the first time since Skaggs' death.
"It's definitely tough seeing his locker," Fletcher said. "You get emotional. At times, you still think it's unreal."
The Angels returned from the All-Star break to find an image of Skaggs preparing to throw a pitch was affixed to the same spot on the center-field wall that once bore a picture of Nick Adenhart, the 22-year-old pitcher who died during the 2009 season. Skaggs' No. 45 was painted behind the pitcher's mound.
An emotional 10-minute pregame ceremony included a video tribute to Skaggs, a 45-second moment of silence and a perfect strike of a ceremonial first pitch thrown by Skaggs' mother, Debbie, to pitcher Andrew Heaney, one of Skaggs' best friends on the team.
"Being in here, I'm constantly reminded of him," reliever Noe Ramirez said. "I'm trying to celebrate him, to not have a really depressed energy. I just think about what he was like and what he would want and for us. To be sad all the time, that's not something he would do."
Kevin Jepsen experienced the same feelings a decade ago. He was a rookie reliever in 2009 when Adenhart was killed by a drunk driver three days into the season. Jepsen said returning to the home clubhouse would reopen some wounds that probably began to heal over the past week and a half.
"Absolutely, 100%," said Jepsen, who retired in 2018. "They're gonna see Skaggs' locker … and feel like, 'Is he gonna walk through that door?' It almost seems like it's not real, because one day he's there, one day he's not."
It will take weeks, if not months, for those feelings to subside.
"Guys eat lunch together, they shoot the breeze together, maybe Skaggs played ping-pong and had a regular partner," Jepsen said. "There are all these little things that are part of our routines. And whether we notice or not, we kind of do the same stuff every single day.
"All that stuff is now going to bring up memories, and then they'll notice that Skaggs never shows up, he never meets them in the lunch room to play ping-pong, he's not there for pitchers meetings and weight-lifting. It's gonna be a tough next few months for those guys. I feel for them."
Sign up for our daily sports newsletter »
Get the latest on L.A.'s teams in the daily Sports Report newsletter.
You may occasionally receive promotional content from the Los Angeles Times.