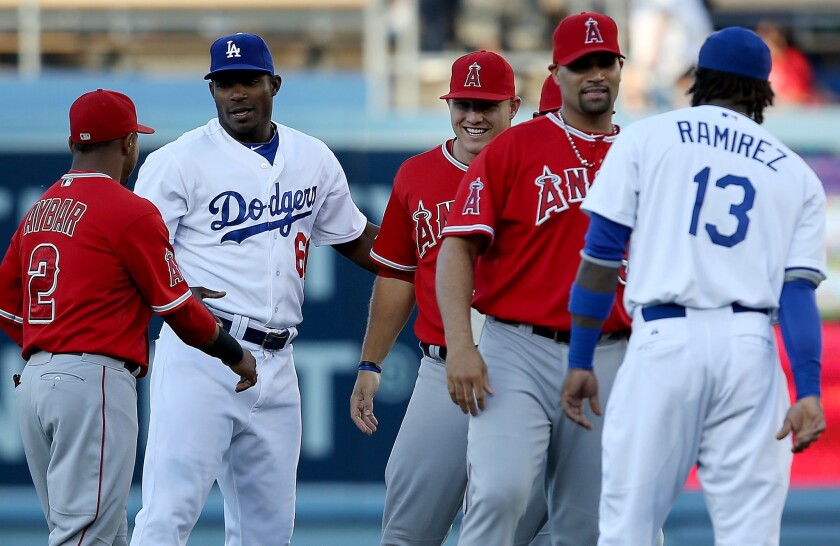 Based on pure conjecture, backed up by that little voice in my head that keeps urging me to invite Tea Leoni to prom, here is what would happen to this rollicking little region were the Dodgers and Angels to meet in the World Series:
They would paint the Hollywood sign blue; Orange County would bleed red. At the confluence of two great rivers, the 5 and the 110, traffic would come to a standstill and 100 helicopters would buzz overhead as if chasing O.J. again. They'd need three blimps to cover it all (one shaped like Lasorda). The mayor would get so excited, he'd forget to drop the F-bomb.
That's right, if the Dodgers and Angels meet in a World Series, we'd have to build more saloons just to handle the wall-to-wall excitement.
Elysian Park would become an overnight campground — a Woodstock, a Coachella. Nolan Ryan would show up and sit next to Sandy Koufax — Sandy on the right, so they'd bump their magic elbows now and then. Don Newcombe would come out of retirement. Longfellow would write another poem.
For two weeks, there would be war whoops and banners, pep rallies and side bets. In Brentwood, waiters would smile and mean it. In Brea, cops would be glad to let you off with "just a warning." All around town, bartenders would say, "This one's on me, pal. Enjoy." For a magnificent two weeks, we would be crazy-kind to each other. Sure, there might be a fistfight or two, maybe even a brawl. But on the field. And probably involving Puig.
It could happen, this dream series. Why not? The teams match up very well. The Dodgers have more sass; the Angels more savvy. We'd see two great pitching staffs — at least what's left of them — and two aging lineups peppered with prodigies. Trout and Gordon would leave vapor trails. Kershaw would throw sonic booms. Pujols would hit one screaming home run all the way back to St. Louis, through the arch and into someone's Budweiser. Ker-plunk. Hey, remember me?
If the Dodgers and Angels meet in the World Series, even Brooklyn will watch again. No one else in the nation would, but Brooklyn will, and we all will, every single sun-splotched soul. It'd be the party of all parties. Surfers would dance with lifeguards. Dogs would dance with cats. Lasorda would dance atop the dugout twirling a towel. Arte Moreno would get so excited he'd drop the price of beer again.
During a passionate postgame celebration in Fullerton, or Boyle Heights, a future U.S. president might be conceived, or the kid who grows to cure cancer. That's right, we'd celebrate so well, we'd change the course of history. Burp. Ahhhh.
Yep, a Dodgers-Angels World Series would be historic, all right. Imagine the photos, the video, the smack. It would be like Godzilla taking on King Kong. Batman versus Superman. It'd be like USC-UCLA football in a seven-game series.
What a revelation it would be. Old men would throw aside their canes, blisters would heal, marriages would mend. We'd paint the place in ballpark mustard.
If the Dodgers and Angels meet, it will divide families, book clubs, street gangs, archdioceses. The series will appear to pull us apart but what it will really do is push us together, all of us discussing the same topic for once, besides our bone-dry lawns, or the rot that passes for popular movies.
For seven games — the last one going 20 innings — Southern California would finally have one thing in common, from the barrio to Balboa, from the mountains to the sea.
"Wow, the Dodgers and Angels are in the Series?" you'd say to strangers at the supermarket.
Say hey, why not?
Follow Chris Erskine on Twitter @erskinetimes
---