Freeway Series: Dodgers rally to victory against Angels as players long for season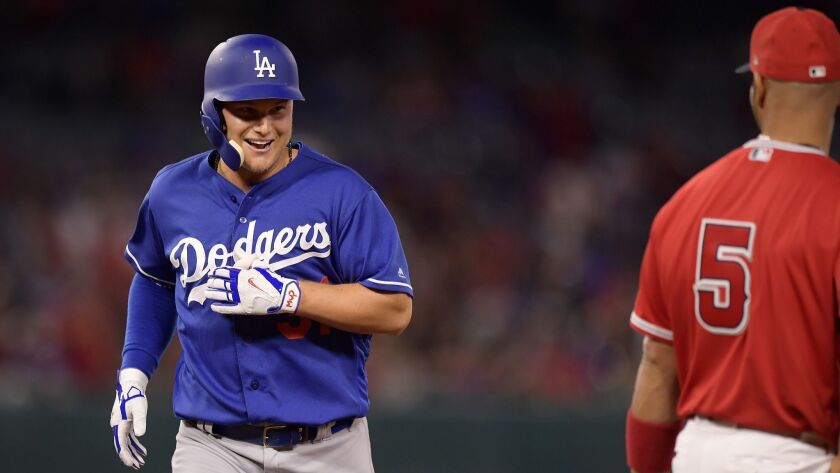 The Dodgers and Angels have spent a month playing baseball games that don't count, searching for their timing at the plate and rhythm on the mound while grinding through a lengthy exhibition schedule filled with wholesale lineup changes, little intrigue and even less suspense.
"At this point," Angels manager Brad Ausmus said, "guys are just itching to get some meaningful games in front of them."
They will soon enough. The regular season — and the adrenaline and drama that come with it — starts Thursday, with the Dodgers playing the Arizona Diamondbacks at home and the Angels in Oakland to play the Athletics.
But the Angels may open without their left fielder and No. 3 batter, Justin Upton, who suffered what was diagnosed as a left big-toe sprain in a minor collision with the wall Sunday night.
X-rays were negative, but Upton, who hit .257 with an .808 on-base-plus-slugging percentage, 30 home runs and 85 runs batted in last season, felt so much discomfort Monday that the team sent him for an MRI test.
Before the Dodgers' 8-7 victory over the Angels in Monday night's Freeway Series exhibition game, Ausmus said that Upton's "toe is a little sore. He's limping around. I'm not sure what the prognosis is for him to start the season."
That outlook seemed more dire after the game.
"We're waiting for multiple opinions and we should know more by [Tuesday]," Ausmus said. "He's not moving real good right now, so we'll see."
Upton's injury put a damper on a night in which Angels right fielder Kole Calhoun hit a solo home run, a double and made the game's best defensive play.
Calhoun, who is trying to rebound from a season in which he hit a career-low .208 with a .283 on-base percentage, 19 home runs and 57 RBIs, slammed Kenta Maeda's first pitch of the game, a 91-mph fastball, over the center-field wall for his second home run of the spring.
Calhoun doubled to right field and scored when Mike Trout flared a single to right in the third. In the fifth, Calhoun gunned down Joc Pederson trying to stretch a single into a double with a one-hop throw to second base.
"I think he's in a real good spot both mechanically and mentally," Ausmus said of Calhoun. "I think he feels real good about where his swing is. He went through those early struggles last year where frankly he was lost. He's the opposite of that right now. Not only does he feel good, but he knows where every part of his swing is."
The Dodgers erased a 3-2 deficit in the seventh inning when they scored five runs, three on bases-loaded walks — one issued by Luke Bard and two by Luis Pena — and two on Connor Wong's bases-loaded single. The teams will close out the exhibition season Tuesday night in Dodger Stadium.
Jared Walsh pulled the Angels to within 8-7 with a three-run double in the bottom of the ninth.
Dodgers closer Kenley Jansen, pitching in consecutive games for the first time this spring, got Trout to ground out and Justin Bour to fly out in the fifth.
Angels closer Cody Allen needed 24 pitches to complete a second inning in which he gave up two runs on Chris Taylor's double and David Freese's single.
Maeda gave up three runs in three innings.
---
Get the latest on L.A.'s teams in the daily Sports Report newsletter.
You may occasionally receive promotional content from the Los Angeles Times.