Angels' Felix Pena maintains stamina in win thanks to PB&J sandwiches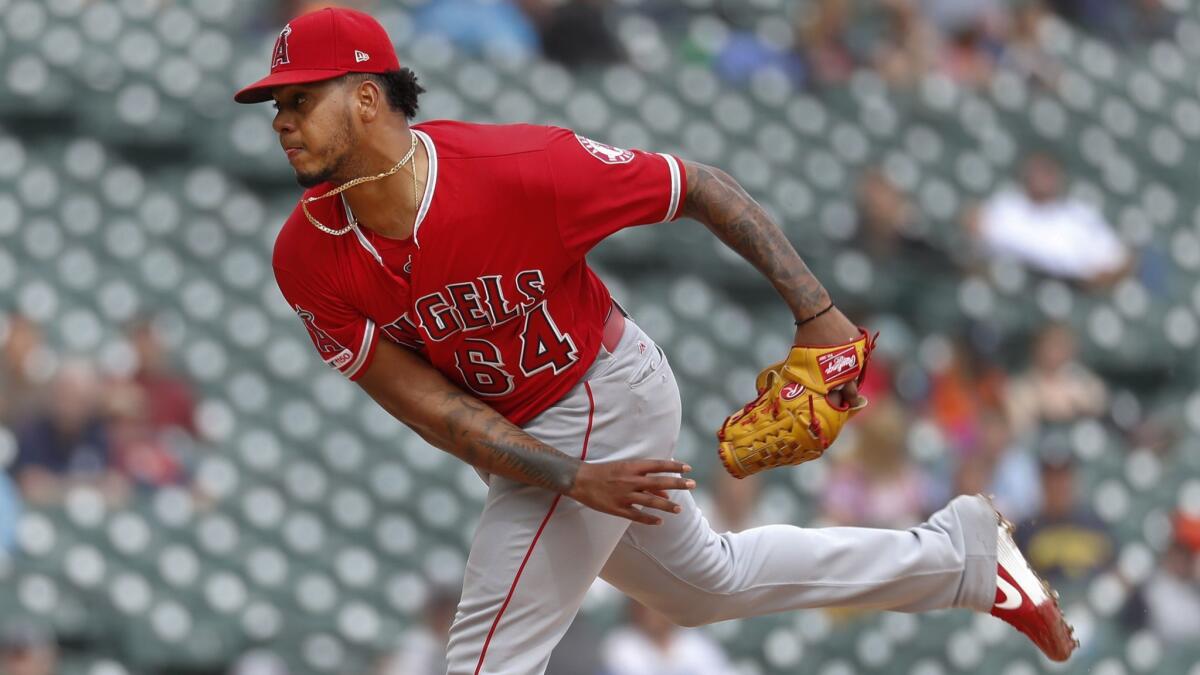 Reporting from DETROIT —
Felix Pena may have unlocked his secret to success Thursday while throwing seven scoreless innings for the Angels in a 13-0 victory over the Tigers: peanut butter-and-jelly sandwiches.
The 29-year-old right-hander's velocity in his first six games dipped when he reached 50-60 pitches, the lack of stamina prompting manager Brad Ausmus to use an "opener," a reliever to start the game, in Pena's last three scheduled starts.
After his last outing against Toronto on May 1, Pena consulted a nutritionist, who suggested he eat during the game. So between innings Thursday, Pena, who replaced Luke Bard to start the second, pounded a few peanut butter-and-jelly sandwiches on wheat bread and protein bars.
Pena gave up only three hits, struck out seven and walked none during an 86-pitch outing, maintaining the velocity of a fastball that averaged 92.6 mph and topped out at 94.7 mph.
"I've never tried it before, but I tried it for the first time today, and it worked," Pena said through an interpreter. "I felt my energy level spike up a bit after the fourth inning, and I was able to finish the game."
Almost. Cam Bedrosian pitched the ninth. But Pena was the first Angels reliever to toss seven scoreless innings in a game since Vern Ruhle on Aug. 3, 1986, at Seattle. He's the eighth reliever in American League history to throw seven scoreless innings with seven strikeouts and no walks and the first since Jake Westbrook on April 19, 2004.
"He's had trouble maintaining his velocity after 50 pitches, but today he was great all the way through," Ausmus said. "If you're out there pitching for an hour and a half and you're not eating, you're depleting your energy source. I don't know if had a real effect, but he was definitely better."
Power play
Tommy La Stella has a new nickname, bestowed upon him by his teammates: Baby Ruth.
The reserve infielder, limited by lower-back tightness to one at-bat the last week, hit a two-run homer in the first inning and a solo shot in the seventh Thursday to highlight a 16-hit attack.
La Stella hit 10 homers in 396 games as a Chicago Cubs utility player from 2014-2018. In 32 games this season, he has nine homers, tying him with Kole Calhoun, who homered in the sixth inning Thursday, for the team lead. La Stella has four multi-homer games in his career. Three have come this season. He leads the team with 23 RBIs.
"He's on fire," center fielder Mike Trout said. "It's incredible. It's fun to watch."
Sign up for our daily sports newsletter »
Every starter had at least one hit, as did both reserves — Brian Goodwin hit an RBI single in the eighth, and Justin Bour crushed a 425-foot solo homer in the ninth. Albert Pujols also homered for his 2,000th career RBI.
Shohei Ohtani, after going hitless in his first seven at-bats in his return from Tommy John surgery, hit an RBI single to right-center in the first and an infield single in the fifth.
"I do get anxious a bit until I get my first hit," Ohtani said through an interpreter. "I think about getting a hit and how I'm making contact with the ball. My first few at bats are important, so I'm glad I was able to get a hit today."
Get the latest on L.A.'s teams in the daily Sports Report newsletter.
You may occasionally receive promotional content from the Los Angeles Times.