Angels acquire slugger Justin Upton from Tigers; Cameron Maybin moves to Astros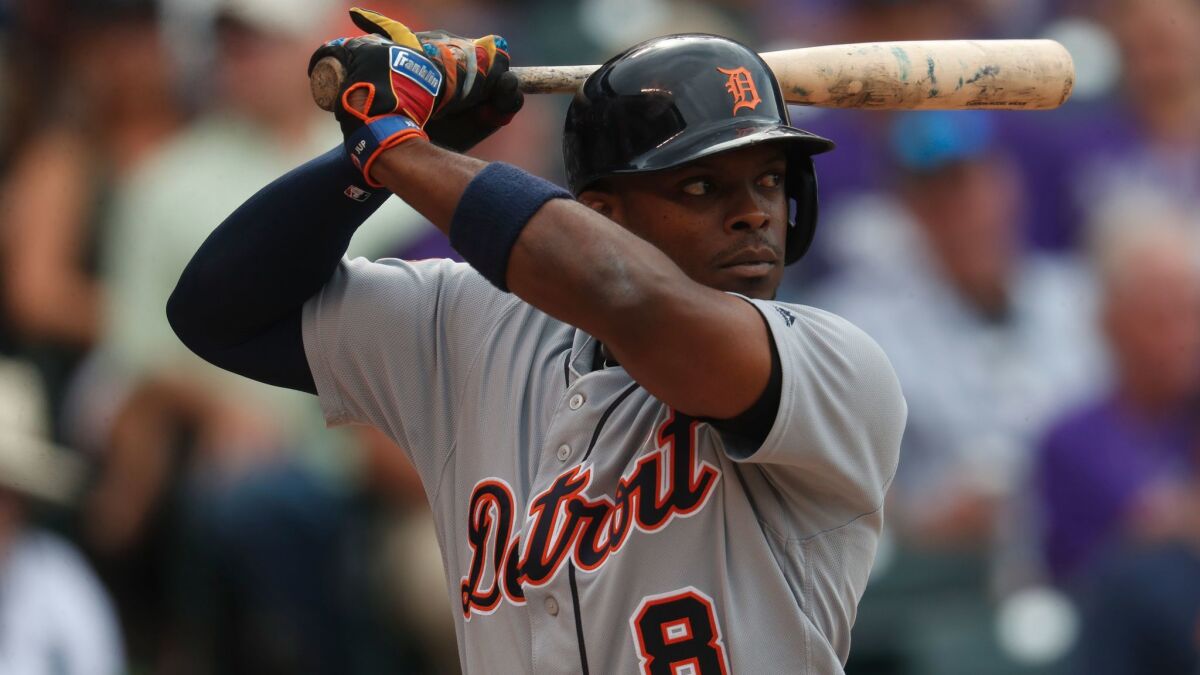 The Angels swung a surprise trade for slugger Justin Upton on Thursday, sending a pitching prospect and a player to be named later to the Detroit Tigers in exchange for the outfielder and cash. Signaling the team's playoff aspirations, the agreement came hours ahead of the 8:59 p.m. PDT deadline to add postseason-eligible players to the organization.
Upton will join the Angels on Friday in Texas, where they will begin a nine-game trip. He turned 30 last week and is having by some measures a career-best season, hitting .279 with a .904 on-base-plus-slugging percentage and 28 home runs.
One hour before the deadline, the Angels completed another trade. They acquired veteran second baseman Brandon Phillips from Atlanta in exchange for triple-A catcher Tony Sanchez, a non-prospect.
One month ago, Angels general manager Billy Eppler opted against acquiring major leaguers at the non-waiver trade deadline. In his only deal, he sent successful reliever David Hernandez to Arizona for a low-level prospect. On Thursday, he said the team's 18-10 August record convinced him to reverse course.
"What we were starting to see is the punches were getting stronger," Eppler said. "Their play warranted continued investment in the club, and [owner] Arte [Moreno] gave us the green light."
With a record of 69-65 and 28 games to play this season, the Angels are only 1 1/2 games out of playoff position. They have withstood an array of pitching injuries to remain in the race. In recent weeks, they welcomed back left-handers Tyler Skaggs and Andrew Heaney to the rotation. Soon, they hope to add right-hander Garrett Richards, the staff ace before he was injured.
But until Thursday, the Angels' biggest weakness was in the middle of their lineup, where Albert Pujols hit third behind Mike Trout. Though he has homered 21 times, Pujols is hitting only .232 with a .665 OPS.
Upton becomes the Angels' second-best hitter and replaces Cameron Maybin as their everyday left fielder. Maybin landed with the Houston Astros, who claimed him on waivers Thursday. The Angels received nothing in return, though Houston is assuming the roughly $1.5 million owed to him over the season's final month.
Between that savings and the cash coming their way from the Tigers to help cover the roughly $3.7 million in salary still due to Upton, the Angels are adding little to their 2017 payroll. They judged the cost — Grayson Long, perhaps their best pitching prospect — to be worth the upgrade. The circumstances dictated they differentiate themselves, Eppler said, with eight teams still within reach of the AL's two wild-card spots.
"We're in such congestion around this wild card," Eppler said. "For everybody, there's some schedule running out. We needed to take full advantage of this opportunity presenting itself."
Upton has a no-trade clause allowing him to nix deals to 20 teams. The Angels were not included on his list. Phillips listed the Angels on his 12-team no-trade clause and possessed the right to refuse the trade. After more than two hours of deliberation, he agreed.
The Angels will pay him a $500,000 assignment bonus for his trouble, a quirk negotiated into his contract when he was traded from Cincinnati to Atlanta last offseason.
A free agent at year's end, the 36-year-old Phillips has steadily produced at an average level for more than a decade. Since they traded Howie Kendrick to the Dodgers in December 2014, the Angels have lacked such play from the position. Danny Espinosa, Cliff Pennington, Nick Franklin and Kaleb Cowart have had trials at the position this year.
For the last month, Phillips has exclusively played third base, creating room for the Braves to play top prospect Ozzie Albies. He had never before played the position, but scouts have been impressed. His versatility boosts his value, but the Angels added him to play second base.
The first overall pick in the 2005 draft, Upton debuted in the major leagues two years later, at age 19. He has been an above-average hitter every season since, accruing four All-Star nods. Between 2011 and 2016, he played at least 149 games each season.
Upton is under contract through 2021 and due $22.125 million in each of the next four seasons. But his deal contains an opt-out clause he can exercise this winter. He may decide to risk what's owed him in order to seek an offer worth more than four years and $88.5 million.
Upton said he had not yet examined his options, noting that he has never stepped foot in the Angels' clubhouse. Eppler said he would be OK with the player's choice either way, adding that Upton considered Anaheim as a free agent after 2015.
"We made the deal for what impact it could bring to our roster now," Eppler said. "But, also, it's understood that you have to be comfortable with the future."
Long is a 2015 third-round pick who possesses a 2.52 earned-run average in 23 double-A starts this season. At midseason, Baseball America named him the eighth-best prospect in the Angels' thin system. A minor leaguer to be named later will also head to Detroit.
The Angels have had trouble filling left field for the last half-decade. Josh Hamilton signed an exorbitant free-agent contract and was a bust; the Angels are still paying him. Short-term fixes in 2015 and 2016 didn't help. In each season, their left fielders' collective OPS was among the 10 worst at the position by any team in the last century.
Hamilton's five-year, $125-million deal expires at year's end, freeing money that would allow the Angels to absorb Upton's salary if he does not opt out.
Pujols' albatross contract also expires after 2021. Trout and shortstop Andrelton Simmons, the franchise cornerstones, are signed through 2020.
The Angels acquired Maybin from Detroit before this season. Mostly hitting leadoff, he streaked at the start of summer and once held significant trade value. He then sprained his knee, and his numbers plummeted. He has stolen 29 bases, but he owns a .685 OPS and is likely to be a reserve in Houston.
In another sign of their grand plans for the season's last month, the Angels flew right-hander Garrett Richards to Texas on Thursday, according to a person who requested anonymity because the move was not yet intended to be public. They plan to activate him this weekend and start him as soon as Monday in Oakland.
Richards last pitched in the majors on April 5 in Oakland, his first start of this season. Diagnosed with nerve irritation in his biceps, he took more than three months off from throwing, then made a Wednesday rehab-assignment start with triple-A Salt Lake. He threw 40 pitches over two scoreless innings, his fastball reaching 98 mph.
Ordinarily, Richards would continue the assignment and work steadily deeper into games. But, at this time of year, few minor league games remain and major league roster space is no longer at a premium. Every team can freely add up to 15 players tomorrow, Sept. 1.
So, Richards can conceivably begin to help the Angels in short stints.
To create space on their 40-man roster for the additions, the Angels transferred injured pitchers Alex Meyer and Andrew Bailey to the 60-day disabled list. Maybin vacated a third spot. To fill that, the Angels promoted reliever Fernando Salas to the majors, one year to the day after they traded him to the New York Mets.
Twitter: @pedromoura
---
UPDATES:
9:10 p.m.: This story has been updated with the trade for Brandon Phillips and other details.
Get the latest on L.A.'s teams in the daily Sports Report newsletter.
You may occasionally receive promotional content from the Los Angeles Times.