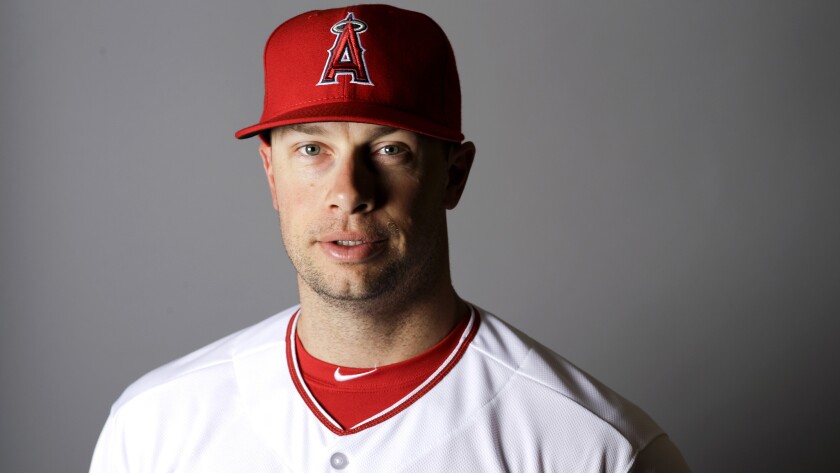 Reporting from Tempe, Ariz. —
Daniel Nava did not have a plan, but he had a membership to a gym, so he worked out relentlessly a dozen summers ago.
He was 20. He had just withdrawn from Santa Clara University, where he spent two years as an equipment manager for the school's baseball team. At first he tried out to play, but he was 5 feet 5. The coach offered him a spot around the team in lieu of one on it.
Although Nava liked it, he and his family could afford no more of the private-school education. He was unsure what to do: He loved baseball and was certain he could compete in it, but he hadn't played it regularly for two years. He was, though, 5-10 and muscular by that time, having experienced a late growth spurt while working out alongside the Bulldogs.
At the gym, Nava ran into a childhood friend, Chris Mezzavilla. They had played together as kids and until they graduated high school and Mezzavilla moved away to pitch at Loyola Marymount.
That had not worked out, and Mezzavilla was back in town, playing for College of San Mateo. Near the weights that day, he suggested Nava try out, too. Nava went, made the team and hit .400 in two seasons, earning him a scholarship at Santa Clara for the 2006 season.
There he hit .395 and walked more than he struck out. But MLB teams selected 1,502 players in that June draft, and none of them was him. He tried out for the independent league Chico Outlaws, and they turned him down. He tried out for the independent league Long Beach Armada, and they turned him down. A year later, Chico said yes, and he won league most-valuable-player honors there. That led to a deal worth $1 with the Boston Red Sox.
Mezzavilla has followed his friend's career all the way through. As he recounted the narrative by phone recently, he paused here.
"Really, at this point," Mezzavilla said, "the idea of even making it to double A wasn't a viable option that anybody thought would happen. Anybody who ever knew Daniel never once thought that any of this was a possibility."
He made it to double A, triple A and then the majors, memorably hitting a grand slam on the first pitch he saw. Now, after a year hindered by a wrist injury suffered experimenting with abandoning switch-hitting, Nava is in a position fans who follow the Angels did not think was a possibility, either: He will likely man the larger half of the team's left-field platoon in 2016.
Rarely will there be more viable options for one spot in an off-season. Presented with a hole in left field, the Angels could have signed Yoenis Cespedes, Alex Gordon, Jason Heyward, Justin Upton, or Dexter Fowler, and they were widely expected to do so. But they did not.
Instead, they will attempt to patch it together. Nava and his planned partner, the right-handed-hitting Craig Gentry, each scuffled in 2015 but previously performed well in the major leagues. For his career, Nava has hit .281 with a .377 on-base percentage and .409 slugging percentage against right-handers. Against left-handers, Gentry has recorded a .274./354/.366 line.
The Angels' primary left fielder last season, Matt Joyce, bottomed out to a line of .174/.272/.291. They acquired David Murphy, David DeJesus and Shane Victorino as trade-deadline reinforcements, and the best of them, Murphy, hit .265/.281/.400.
"The bar wasn't set real high," Manager Mike Scioscia said. "But we'll be better in left field than we were last year."
Gentry signed a nonguaranteed $1-million deal in December. He did so expecting the Angels would subsequently sign a higher-priced left fielder and he would compete for the fourth outfielder spot. They did sign one a week later, but it was Nava.
"To be honest with you," Gentry said, "I was pretty surprised that it stuck out that way. It's great. But I still have to perform."
Gentry's 2015 was disastrous. Oakland acquired him before the 2014 season to fill a similar platoon role, and he had the worst offensive season of his career. He remained an elite defender, so the A's brought him back and were encouraged by his spring-training play one year ago. General Manager David Forst said he was Oakland's top camp performer.
But he only spent April and September in the big leagues. In between, he toiled at triple-A Nashville and posted more subpar statistics as his psyche weakened.
"Baseball's a funny, funny thing," Gentry said. "You stop sometimes and start playing it back and you realize it all snowballed on you. The past two years, I've never experienced struggle like that. I think I was putting too much pressure on myself and too much stock in my performance. I was connecting it to me as a person, and they have nothing to do with each other."
Nava, due $1.38 million in 2016, stood to make much more had he not hurt his wrist in April, tried to play through it for a month and missed two more months because of it.
"Everyone goes through injuries and not playing as consistently as you would like," he said. "Some people can write you off. That's what happened with me."
The Angels have not necessarily written in the Nava-Gentry platoon for opening day. They recently tried to sign Austin Jackson, who opted for the Chicago White Sox on Sunday. But, if they do not acquire another outfielder before April 4, the Angels are content to place their bet on on-base percentage and defense.
"Daniel Nava's got a great opportunity to be that guy if he can do it," Scioscia said. "Gentry, against left-handers, has always done a good job. That's just talking about one guy. We've got some other guys we think can fill in and get it done."
Those guys include Rule 5 selection Ji-Man Choi, Todd Cunningham, and Rafael Ortega, who has impressed early in camp. It is not an illustrious group. Between them, they have played 19 professional seasons and launched double-digit home runs once.
But, yes, the bar has been set low.
"We were terrible at getting some of these fires started," Scioscia said. "Let's just get some kindling out there, some guys on base."
---