Angels will now wait to see if gamble on Tim Lincecum pays dividends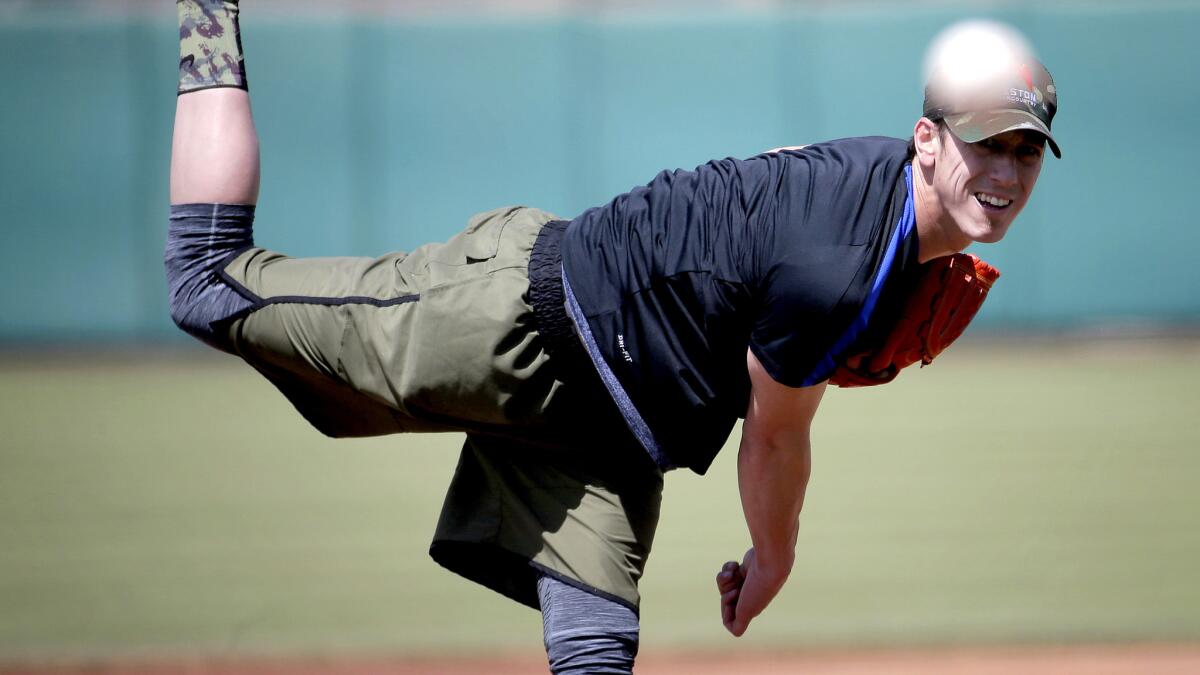 The Angels committed a roster spot and about $2 million to Tim Lincecum on Friday, placing a small bet that the 31-year-old right-hander might somehow be able to recapture his once-great ways.
Expectations are not particularly high, not after the former Cy Young winner failed for four consecutive seasons to pitch at even an average clip.
"Success," Lincecum said Friday, "will be being healthy at the end of this season, and seeing where I am after that."
For more than eight months, Lincecum has lived in Arizona, rehabilitating from arthroscopic hip surgery. He'll remain there now, at the Angels' spring-training facility in Tempe, and throw two simulated games next week.
He's scheduled to start an extended spring game the following week. From there he will head to an indeterminate minor league affiliate. General Manager Billy Eppler anticipates Lincecum making his Angels debut between June 9 and 19.
Until now, Lincecum has pitched only for San Francisco in his nine-year career. He won the National League Cy Young award in his second season as a Giant, then repeated his accomplishment the next year, when he was still just 25 years old.
He twice more earned Cy Young votes but has not been effective for extended periods in five years. He has lost 6 mph of fastball velocity. Lincecum's 4.13 earned-run average a year ago was his best since 2011.
He underwent arthroscopic surgery on his problematic left hip last September, leaving his career in doubt. On a conference call Friday, Lincecum said he was never in significant pain. He said he had been suffering only from a "lack of stability and lack of strength."
"Now that that has been fixed and reattached, I don't really have those issues," he said. "My land leg is now stable. I can rotate fully around it and I have the full range of motion to go through my delivery."
The Angels agreed to pay him the prorated portion of $2.5 million for the remainder of 2016, with additional attainable incentives. MLB Network reported their value to be $1.7 million.
Eppler said Lincecum's contract puts the Angels on pace to surpass the league's $189-million luxury-tax threshold. If they do, it would be for the first time since 2004, and it would be by a minute amount.
Other teams expressed interest after Lincecum hit 91 mph during a scouting showcase this month. Lincecum said a "handful" offered him a major league contract and a chance to start.
The Angels presented an enticing combination: guaranteed money with the potential for more, a willingness to try him as a starting pitcher, and a glaring need. They have lost two starters to elbow-ligament tears and have been without the services of two others they expected to contribute.
San Francisco showed interest, but only if he pitched out of the bullpen.
"My expectations versus their expectations didn't really line up," Lincecum said. "So, I just took time to think about myself, as to what I needed and what was best for my career."
Short hops
Left-hander C.J. Wilson threw a 49-pitch simulated game Friday. He said he'll next make a minor league rehab start with a to-be-determined affiliate Wednesday. Wilson said he'd then be ready to return to the majors after one more appearance. Manager Mike Scioscia was unwilling to commit to that timeline. … Closer Huston Street, out because of an oblique strain, threw a bullpen session Friday and is on track to throw a simulated inning in Texas on Monday.
Follow Pedro Moura on Twitter: @pedromoura
Get the latest on L.A.'s teams in the daily Sports Report newsletter.
You may occasionally receive promotional content from the Los Angeles Times.