Angels defeat Mariners, 4-2, after Matt Shoemaker is hit in the head by a line drive and exits game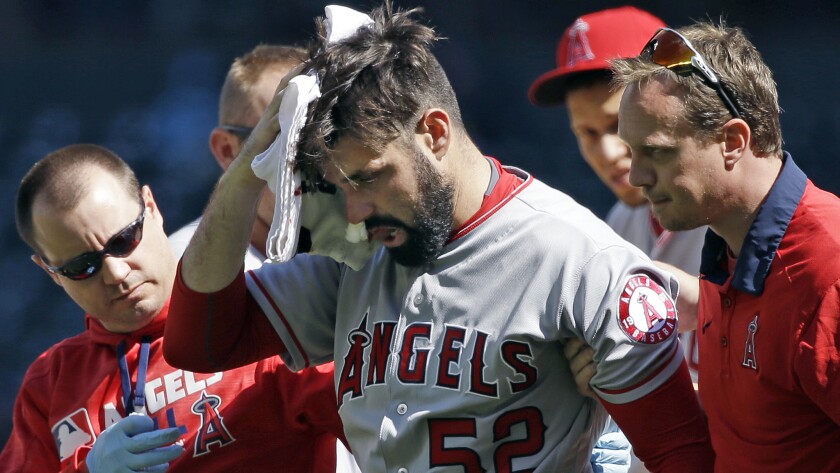 Reporting from Seattle —
The crack of ball meeting skull was audible. The blood shooting from Matt Shoemaker's nose was soon visible.
In a frightening flash Sunday at Safeco Field, a 105-mph line drive hit by Kyle Seager drilled Shoemaker in the right side of the head and sent the Angels right-hander to a local hospital.
There, Shoemaker underwent a CT scan that showed a hematoma and a skull fracture the Angels characterized as small. While the team traveled to Oakland after its 4-2 victory over the Mariners, Shoemaker stayed in Seattle to see a neurologist and was to be examined overnight.
It was the eighth pitch of a fierce second-inning at-bat. On a 3-and-2 count, Shoemaker fired a 94-mph fastball and Seager connected. Defenseless, Shoemaker fell to his knees upon contact and then to his side, in a grisly scene. The ball caromed 40 feet away, nearly into the Mariners' dugout. The crowd hushed and both teams' trainers rushed to the mound.
The eight Angels in the field circled around, kneeling. For a minute, Seager stood, mouth agape, at first base. He paced nervously and then walked toward the mound, joining the opposition on the ground. Three hundred feet away in the Angels' bullpen, Jhoulys Chacin pantomimed the incident for J.C. Ramirez, who had been turned around.
"That was probably the scariest thing I've ever seen on a baseball field," Seager said. "That's a lot bigger than baseball. That was real. You see him sitting there on the ground and all the trainers and doctors out there and you really don't care that much about a stupid game at that point."
After five minutes, rookie catcher Jett Bandy, Manager Mike Scioscia and the trainers hoisted Shoemaker to his feet. He walked off the field with a towel draped over his head to cover the bleeding laceration. He underwent testing at the ballpark and demonstrated responsiveness, then was transported to the hospital. An Angels spokesperson said Shoemaker was speaking as of early Sunday evening.
"When you see it square someone up like that, it's scary," Bandy said. "The first thing that comes to mind is his health. He's a human being. He's a dad. He's a husband."
Said Scioscia: "You've got to catch your breath for a second. It just gives you that feeling, that pit in your stomach. We're relieved to hear that it looks like everything is under control."
Scioscia used six relievers behind Shoemaker, and they held the Mariners to seven hits and two runs over 7 2/3 innings in the Angels' 4-2 victory. Albert Pujols and C.J. Cron supplied back-to-back solo home runs in the first inning. The Angels scored twice more on RBI singles in the sixth and eighth, as they took two out of three games from the Mariners for their fourth straight series win.
Shoemaker's suffering dimmed the joy of victory. Turning 30 in three weeks after debuting later than most of his counterparts, he had established himself as the Angels' top starter this season. One of the American League's best pitchers for a six-week stretch in May and June, he stands to at least quintuple his near-minimum salary next season, in his first year of arbitration.
Several Angels described the difficulty in refocusing on their typical tasks after what they witnessed. But many noted they had, unfortunately, seen something similar in their pasts.
Four years ago Monday, a line drive hit by then-Angels shortstop Erick Aybar struck Oakland right-hander Brandon McCarthy in the head. McCarthy suffered a fractured skull and required surgery to relieve pressure on his brain caused by bleeding. Nine months later, he suffered a seizure.
McCarthy, now a Dodger, and others who've suffered head injuries continue to opt against using bulky protective headgear of the sort that Padres pitcher Alex Torres tried in 2015. Available models are too unwieldy for most pitchers to consider wearing them in games.
Short hops
Top Angels pitching prospect Nate Smith will be shut down for the season because of elbow tendinitis. The 25-year-old left-hander exited his final start of the triple-A season Saturday after two innings. MRI and ultrasound exams showed no evidence of an ulnar collateral ligament tear, General Manager Billy Eppler said. Smith had figured to join the major league club this week in Oakland. . . . Tim Lincecum made his first start in 10 days for triple-A Salt Lake on Sunday. He had been battling illness. The Angels have not committed to bringing him back up to the majors after Salt Lake's season ends Monday. . . . The Angels claimed their sixth player off waivers this season, and their second from Cincinnati. This time, it is 25-year-old right-hander Daniel Wright, who owns a 4.44 minor league earned-run average. Closer Huston Street (knee surgery) was moved to the 60-day disabled list to create a space on the 40-man roster.
pedro.moura@latimes.com
Twitter: @pedromoura
---
Get the latest on L.A.'s teams in the daily Sports Report newsletter.
You may occasionally receive promotional content from the Los Angeles Times.