Angels fall for the 82nd time, securing their first losing season since 2013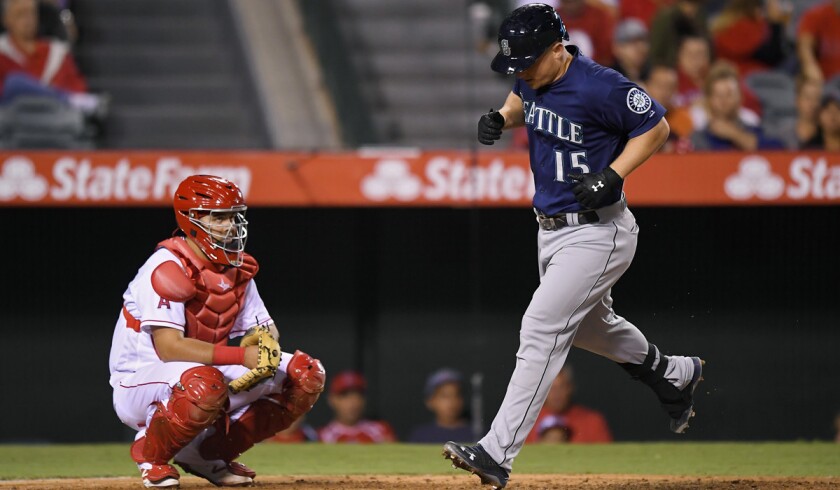 As summer fades into fall, the Angels' losses fade, forgettably, into the ether. They suffered another defeat Wednesday night at Angel Stadium, one destined to be forgotten the same moment it is recorded.
The Seattle Mariners beat them, 2-1. It was their 82nd defeat of 2016, securing their first losing season since 2013. Jhoulys Chacin made an emergency start, replacing Tyler Skaggs, who had an injury scare.
A free agent at season's end, Chacin made it to the Mariners' seventh batter before he yielded a hit, and altogether pounded the strike zone with effective sinkers. He gave up two more hits and one run.
In the bottom of that inning, Juan Graterol punched his second big league hit to right, and then took third on a hit-and-run single from Gregorio Petit. When ex-Angel Chris Iannetta let a slider past him, Graterol scored the Angels' only run. It was the 27-year-old rookie's first major league start.
There were two more memorable moments, one within the field of play. When there was one out and a man on first in the sixth inning, Seth Smith lofted a baseball into short center field. Mike Trout took off running at impact and corralled the ball mid-dive.
Nelson Cruz launched the game-winning home run in the seventh inning, off the second and last pitch Angels reliever Jose Valdez threw. A man in a hat with a foam fish attached — a Trout-themed giveaway from a few seasons back — reached out and caught it with one hand, and pumped his fist wildly as the few thousand fans remaining went silent.
2017 schedule is released
The Angels released their schedule for next season. They will begin on the road, in Oakland on April 3, and return home to host Seattle on April 7. They will end the season hosting Seattle on Oct. 1.
In between, they will visit Washington, Miami and the New York Mets on interleague trips, as well as a four-game home-and-home series against the Dodgers. They will also host Washington, as well as Atlanta and Philadelphia from the National League East.
Short hops
The Angels activated right-hander Cory Rasmus from the disabled list to provide additional pitching coverage Wednesday, since Chacin was forced into the spot start for Skaggs. They moved Matt Shoemaker to the 60-day disabled list to make room on the 40-man roster for Rasmus. … Catcher Geovany Soto (knee) suffered a setback and remains several days from playing. … Right-hander Garrett Richards (torn ulnar collateral ligament) will throw off a mound Saturday, he said, for the first time since he suffered his injury in May.
pedro.moura@latimes.com
Twitter: @pedromoura
---
Get the latest on L.A.'s teams in the daily Sports Report newsletter.
You may occasionally receive promotional content from the Los Angeles Times.