Andrew Heaney because back problems during Angels' 8-1 loss in Seattle
Reporting from Seattle —
As he fired his 60th pitch Saturday night at Safeco Field, Andrew Heaney grimaced, then shook his left arm. Immediately, catcher Martin Maldonado signaled to the Angels dugout. Athletic trainer Adam Nevala and manager Mike Scioscia rushed to the mound.
Within a minute, Heaney renounced his protest to remain in the game. The Angels said examinations uncovered only stiffness and soreness in the back of Heaney's left shoulder.
Heaney, 26, said he expects to continue to throw in the coming days. The left-hander made an unexpectedly rapid return from July 1, 2016, elbow ligament-replacement surgery. Scioscia, at season's start, thought there was no way Heaney could pitch in 2017, but Heaney did all along.
Though his five starts since making it back last month had offered generally poor results, he and the Angels retained hope he could contribute to this season's stretch run.
The Angels' postseason hopes slowed in an 8-1 loss to the Seattle Mariners. After Heaney's exit, the game went downhill for the Angels.
"I know they're looking out for my safety and well-being," Heaney said. "It's just, obviously, extremely frustrating."
Blake Wood took over for Heaney (1-2) in the third inning but could not finish the fourth. Once he replaced Wood, Jesse Chavez became upset with plate umpire David Rackley's strike zone. His first pitch, to Mitch Haniger, appeared inside the zone but was called a ball. After Haniger singled to load the bases, Scioscia went to the mound for a lengthy chat.
Rackley walked up after a while. He and Scioscia exchanged words, and Scioscia was quickly ejected.
Maldonado missed Chavez's next pitch, allowing a run to score. Robinson Cano singled in another run and Nelson Cruz hit a three-run homer to supply Seattle the eight-run lead.
When the Angels still trailed by that margin in the sixth inning, acting manager Dino Ebel pulled Maldonado, Mike Trout, Justin Upton and Andrelton Simmons. The Angels had not lost a game by more than three runs since Aug. 7, so their starters had rarely received opportunities for such rest.
Heaney is still searching for consistent command of his pitches. In the first inning, a 1-and-2 changeup to Haniger intended to entice off the plate instead traveled down the middle, and Haniger sent it over the fence.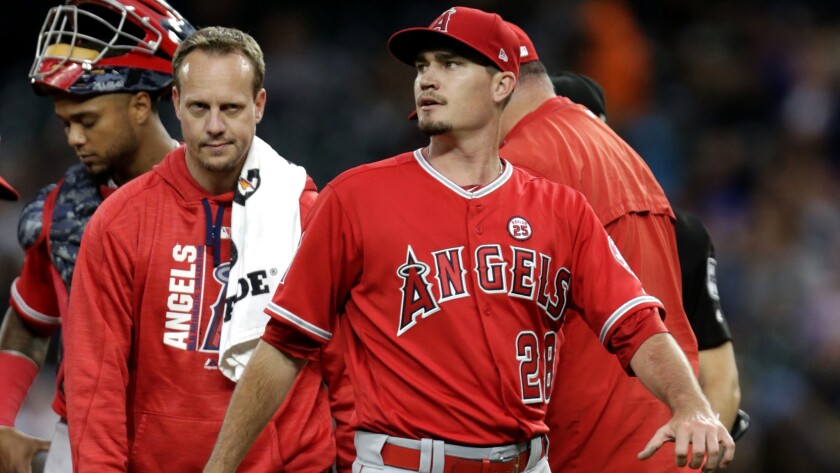 Heaney pitched out of a bases-loaded jam in the second, then gave up a leadoff triple in the third when Kole Calhoun leaped, caught and then dropped Haniger's drive to the right-field track. Ten pitches later, Heaney exited.
Left-hander Andrew Albers (4-1) mystified the Angels, who batted only twice with a runner in scoring position against him: once in the first inning, when C.J. Cron struck out, and once in the fourth, when Maldonado struck out. Albert Pujols hurt the club's chances in that inning, as he stroked a single but was thrown out trying to take second.
Heaney's situation created a concern about a possible hole in the pitching staff. If Heaney cannot start the next turn through the rotation, the Angels will have to unearth another starter from somewhere.
Short hops
Third baseman Yunel Escobar suffered a setback in his recovery from an oblique strain. He felt more stiffness in his side and is not with the team in Seattle. It's unclear when Escobar could return, but Scioscia said he still believes Escobar can play this season. … Scioscia said reliever Huston Street has progressed slowly as he attempts to return from a rotator-cuff injury. Street had hoped to rejoin the team in a week, but he is not yet pitching in games, so that will not happen.
Follow Pedro Moura on Twitter @pedromoura
---
Get the latest on L.A.'s teams in the daily Sports Report newsletter.
You may occasionally receive promotional content from the Los Angeles Times.