Before Angels defeat the Mariners, Garrett Richards discusses his uncertain future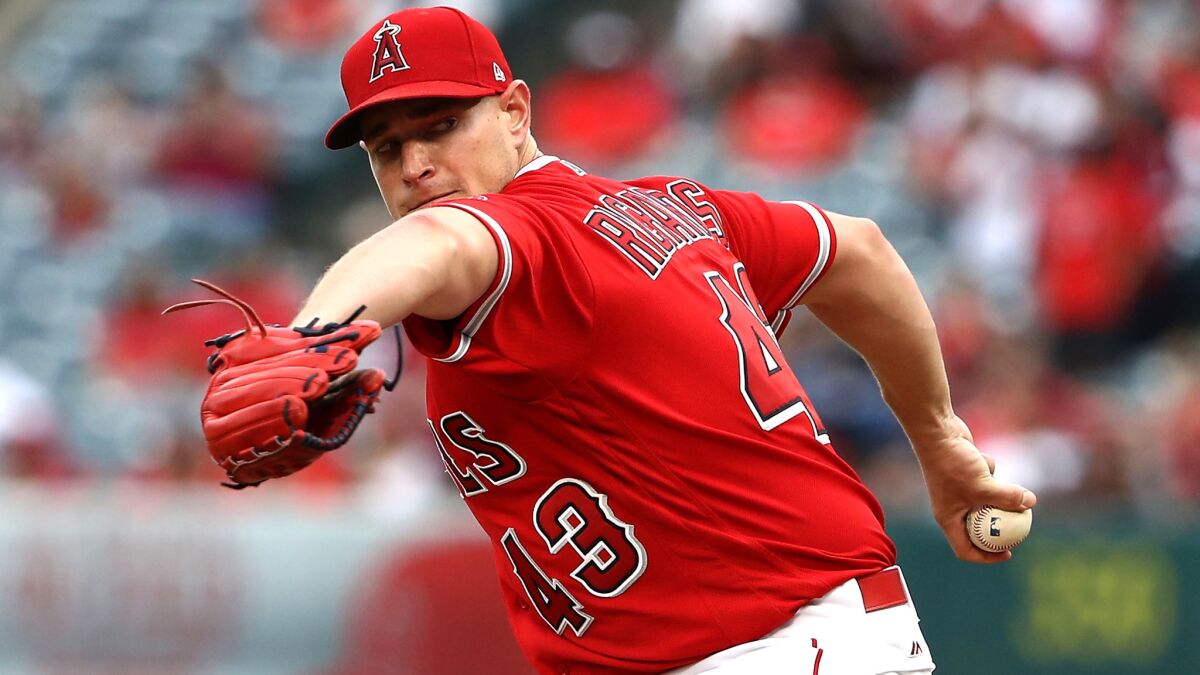 His Angels teammates have long called Garrett Richards "Bullet," a nod to both his projectile-like pitches and the intensity with which he used to throw them.
The nickname dates back to his college career at the University of Oklahoma, where he knew not how to pitch, only to release every throw at maximum effort.
Eight years as a professional and two seasons of struggling with right-arm injuries have taught him the name no longer fits him.
Richards returned from biceps nerve irritation this month throwing at a slightly lower intensity, in greater control of his pitch location, and came away convinced it is his best path.
"I think that that's me now," Richards said before the Angels beat Seattle 6-5 on Friday night at Angel Stadium.
"I don't think I'll ever go back to the overthrowing and trying to throw your best bullet on every pitch. Having taken a step back and rethinking things, I think moving forward it not only helps me, but makes me more efficient."
After his Wednesday start in the game that eliminated the Angels from postseason contention, Richards will shut down all throwing until mid-December.
His five September starts, he said, eliminated his lingering doubts about his readiness for 2018.
"Peace of mind, right now, is kind of the main thing for me," he said.
"Obviously, we didn't get to where we wanted to get to, but next year is looking good."
Richards, 29, will be eligible for free agency after next season.
He said Friday that he is open to signing an extension with the Angels, but has heard nothing about one.
His injuries, obviously, complicate any potential talks, and lighten his likely salary in his final year of arbitration.
Between his first and second arbitration years, Richards' salary more than doubled, from $3.2 million to $6.43 million.
He had thrown more than 200 innings. Once he threw only 342/3 innings in 2016, his salary increased only 6%.
He threw 27 2/3 innings this season.
He was one of many Angels pitchers to miss significant time because of injury this season, a reality he said they often questioned among themselves.
"We ask ourselves that all the time," Richards said. "When somebody goes down, we're all just like, 'Wow, really? This is happening?'
"But I don't think there's any method to the madness. I think it's just sheer bad luck, to be real."
He understands, then, how much of next season's success or failure will depend on that luck turning for the team.
"We have a lot of guys in here that have to stay healthy in order for us to get to where we want to get to," Richards said.
"You look at our team on paper, and it looks great. But if you're not out there on the field, then it doesn't really matter. I think just speaking for me and maybe a couple of other, younger guys on the team, we've gotta really focus on staying healthy, that's it."
Doctors have prescribed Richards a regimen of exercises to minimize the nerve irritation, including a technique known as flossing. It entails slowly mobilizing affected nerves, and he'll continue to do the flossing over the offseason.
He'll also focus, he said, on bettering his two-seam fastball, so he can present left-handed hitters with a pitch that moves away from them.
That will make it easier to stay away from the changeup, the pitch he is convinced contributed to his arm injuries.
Short hops
The Angels beat their division rivals before what they announced was a crowd of 35,106 fans at Angel Stadium. Mike Trout hit the 200th and 201st home runs of his career and his 32nd and 33rd of 2017. Nelson Cruz and Kyle Seager launched back-to-back homers against Angels left-hander Tyler Skaggs, who lasted 42/3 innings in his final start of the season. Yusmeiro Petit, a relief ace for much of this season, surrendered a two-run home run to Mike Zunino. Luis Valbuena knocked in the winning runs with an eighth-inning double. …
The National Baseball Hall of Fame asked right-hander Matt Shoemaker for a cap and protective liner he wore this season, and he gladly obliged. Shoemaker recovered from a September skull fracture to make the Angels' opening-day rotation. Now recovering from surgery to release the radial nerve in his forearm, he is scheduled to build up to bullpen sessions and then shut down for the winter by October's end.
Follow Pedro Moura on Twitter @pedromoura
Get the latest on L.A.'s teams in the daily Sports Report newsletter.
You may occasionally receive promotional content from the Los Angeles Times.