Angels in no rush to push Shohei Ohtani
Once Shohei Ohtani put down his glove, he emerged as one of the elite offensive players in the major leagues. When he picks up his glove again in 2020, should the Angels try to keep a bat in his hand more often?
Ohtani entered play Thursday leading the major leagues with a 1.246 OPS (on-base-plus-slugging percentage) since Aug. 1. In that span, he was batting .367 in 32 games, with 10 home runs, 29 runs batted in and eight stolen bases.
In this rookie season, the Angels did their best to duplicate the workload under which Ohtani flourished in Japan: no hitting on the day he pitches, the day before he pitches and the day after he pitches. That essentially leaves his bat out of the Angels lineup three days a week.
"He wanted to hit more," manager Mike Scioscia said, "and felt he could."
Ohtani has been the Angels' most productive hitter other than Mike Trout. However, even if Ohtani enjoys a similarly successful season next year, Angels general manager Billy Eppler said he would not rush to adjust Ohtani's schedule so that he could hit more often in 2020. Ohtani is expected to be limited to hitting next year as he recovers from Tommy John surgery.
"So 2020 would be when he would be back on a mound for the first time," Eppler said. "I think introducing a new variable at that juncture might be a little aggressive."
On the surface, to give Ohtani a recovery day after he pitches makes more sense than giving him the day off before he pitches.
Eppler said he would remain "open-minded" toward letting Ohtani bat more often, pending consultation with Ohtani and the team's medical staff and a review of medical research and biometric data.
"Ultimately, we're going to do what's best for our players from a perspective of managing their workload, and trying to manage fatigue," Eppler said. "Fatigue is normally one of the major contributors to injury."
Could Ohtani have a greater influence on the Angels as a relief pitcher? In theory, he could hit every day if he did not need the endurance to start, and he could deliver his six weekly innings over three games instead of one, either as an opener or closer.
In nearly two decades of front office experience for three teams, Eppler said he has yet to hear a consensus opinion from orthopedists on which workload might put more stress on an arm: a reliever throwing fewer pitches at higher leverage, or a starter throwing more pitches at lower leverage.
"It's one of the great questions of the present day," Eppler said.
In the meantime, Scioscia said, Ohtani could be "a dominant force" by playing a full season in 2020 using the Angels' 2018 plan for him, under which Ohtani could get 350 plate appearances and start 24 games.
"He might win 19 out of 24," Scioscia said. "He's got that kind of talent."
The Angels have had three pitchers win as many games in this century.
Bartolo Colon won 21 games in his Cy Young Award season of 2005, Jered Weaver won 20 in 2012 and John Lackey won 19 in 2007.
Angels lose to Mariners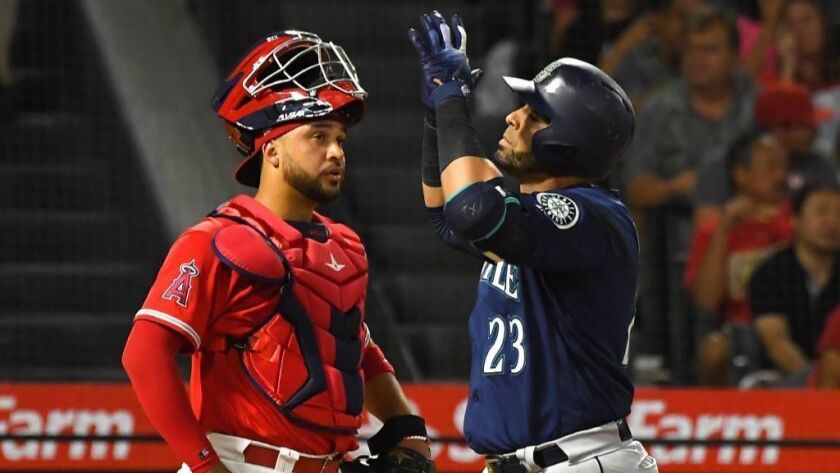 Ohtani had one hit — a double — in the Angels' 8-2 loss to the Seattle Mariners. The Angels did not advance a runner past second base until the seventh inning, when Justin Upton hit the solo home run that accounted for half of their scoring.
Upton has hit 27 home runs this season, 19 at home. He is batting .288 in Anaheim and .239 on the road.
He had two of the Angels' four hits against Seattle starter Mike Leake, who gave up one run in seven innings.
The Angels deployed seven pitchers in a bullpen game, most notably Parker Bridwell, who worked two shutout innings in his first major league appearance since April 6.
Bridwell went 10-3 for the Angels as a rookie last season, but he spent most of this season on the minor league disabled list because of an elbow injury that eventually required arthroscopic surgery.
Nelson Cruz hit a three-run home run for the Mariners. Cruz has hit 50 home runs against the Angels, second on the all-time list behind the 70 hit by former Mariners, Texas Rangers and New York Yankees star Alex Rodriguez.
Follow Bill Shaikin on Twitter @BillShaikin
---
Get the latest on L.A.'s teams in the daily Sports Report newsletter.
You may occasionally receive promotional content from the Los Angeles Times.