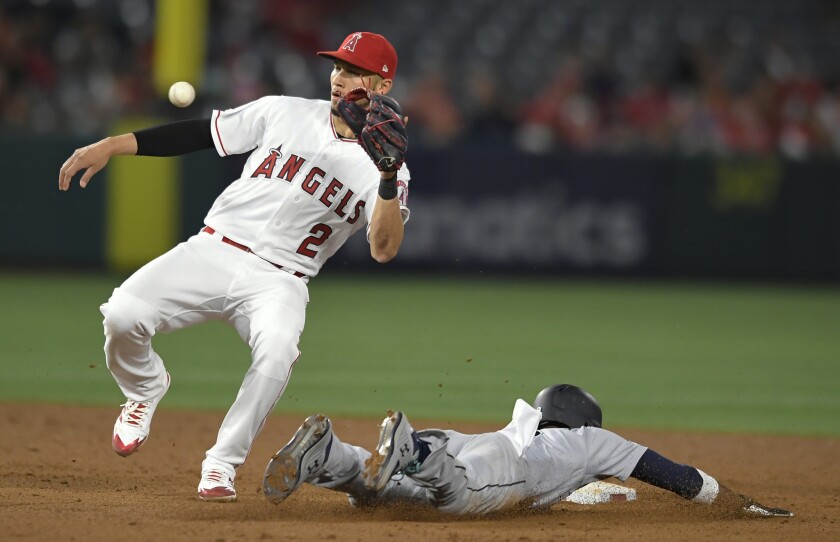 Andrelton Simmons insisted it was a coincidence, that the red hoodie he pulled over his head Thursday afternoon, the one that said "Awake-ish" across the front, reflected his affinity for a certain clothing line and not the team's state-of-mind.
"I wear it every day," the Angels shortstop said. "It's comfortable."
Intentional or not, it seemed a fitting a fashion statement for a groggy team that, because of weather-related travel delays, did not return home from Wednesday night's game in Texas until sunrise Thursday, leaving the Angels seemingly sleepless against Seattle on Thursday night.
For six innings, that is. The Angels awoke from their slumber with a ferocity they haven't shown this season, erasing all of an eight-run, seventh-inning deficit to pull even with the Mariners before giving up a ninth-inning run in an 11-10 loss in front of an announced crowd of 33,592 in Angel Stadium.
Angels third baseman David Fletcher lined a home run over the left-center field wall off Anthony Swarzak to lead off the eighth for his second career homer, tying the score 10-10. Kole Calhoun walked, Albert Pujols walked with two outs, and both advanced on a wild pitch before Brian Goodwin struck out to end the inning.
Mitch Haniger singled with one out in the ninth off Angels closer Cody Allen, and Edwin Encarnacion walked with two out. Pinch-hitter Jay Bruce grounded an RBI single through the left side of a shifted infield for an 11-10 lead.
A pair of home runs by Ryon Healy — a three-run shot to left off Angels starter Chris Stratton in the second and a two-run shot to left-center off reliever Jake Jewel in the sixth—and Omar Narvaez's three-run shot off Jewel in the seventh helped push Seattle to a seemingly insurmountable 10-2 lead.
The Angels, who have lost four in a row, erased all but one run of the deficit with a seven-run, seven-hit seventh that started with Tommy La Stella's single and Peter Bourjos' run-scoring double off Mariners starter Felix Hernandez.
Right-hander R.J. Alaniz replaced Hernandez and struck out Fletcher for the first out. Calhoun drove a two-run homer to right to cut the lead to 10-5. Mike Trout flared a single to right-center and scored on Simmons' double to left to make it 10-6.
Pujols followed with another double down the third-base line for career RBI No. 1,991, moving the Angels slugger to within one of Babe Ruth for fifth place on baseball's all-time RBI list. That made it 10-7.
Brandon Brennan replaced Alaniz and walked Goodwin to put two on for pinch-hitter Justin Bour, who struck out on a 2-and-2 changeup. But La Stella lined an RBI single to right to make it 10-8. Goodwin, who took third on the hit, scored on Brennan's wild pitch to make it 10-9 before Bourjos grounded out.
Angels reliever Luis Garcia walked the bases loaded with one out in the eighth but got Healy to pop out to second, the runners holding. Dee Gordon hit a sharp grounder up the middle, but Simmons made a diving stop to his left and flipped to second for an inning-ending forceout, saving two runs.
Both teams stumbled into the series. The Angels were coming off a three-game sweep at the hands of the Rangers, and the Mariners had lost six straight to Houston and Cleveland, killing much of the buzz they created in the Pacific Northwest with their 13-2 start.
Sign up for our daily sports newsletter »
Stratton retired the side in order during a 13-pitch first inning. The second inning was not quite as breezy. The right-hander needed 29 pitches in an inning that featured singles by Edwin Encarnacion and Daniel Vogelbach, Narvaez's shattered-bat, run-scoring single and Healy's three-run homer—off a hanging 0-and-2 slider—to left-center for a 4-0 Seattle lead.
The Mariners extended the lead to 5-0 in the third when Mitch Haniger walked, Vogelbach singled and Tim Beckham hit an RBI single to right-center. Narvaez walked to load the bases with two outs, but Stratton minimized damage by getting Healy to ground into an inning-ending fielder's choice.
The Angels put a dent in the lead with two runs in the third against Hernandez, a longtime nemesis who was making his 55th career start against the Angels, almost the equivalent of two full seasons against the American League West rival.
Calhoun, who entered with a .169 average, ripped one-out a double to right, Simmons hit a two-out RBI double to left and Pujols added an RBI single to left.
---