New Angels pitcher Matt Harvey says he's a changed man from time in New York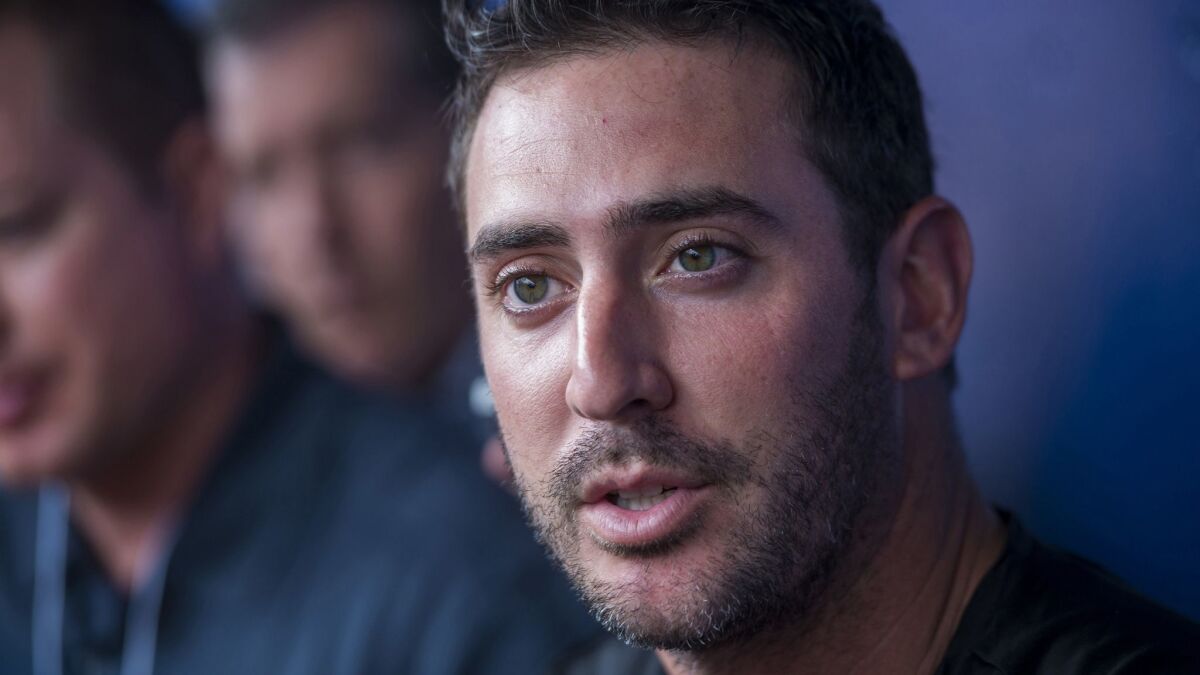 Reporting from Tempe, Ariz. —
The call to Matt Harvey's phone came unexpectedly in December, in the middle of of a Monday Night Football game the week before Christmas.
Harvey, the 29-year-old former New York Mets ace pitcher, became nervous. He had spent the previous month and a half trying not to bug his agent, Scott Boras, about his first foray into free agency. Each time, Boras had told him a serious contract offer was unlikely to come in before the new year.
Yet there was Boras' name flashing onto Harvey's phone screen on Dec. 17.
"I thought I was in trouble," Harvey said.
In the past, when Harvey's off-the-field ventures produced scandals, Boras' tone might have been different.
But this time, Boras addressed Harvey as "Matty." And the news on his end of the line was good: The Angels, a team he once rejected when it drafted him out of high school in 2007, wanted to sign him to a one-year, $11 million contract.
Sign up for our daily sports newsletter »
With that in his pocket, Harvey arrived at Angels spring training at Tempe Diablo Stadium two months later seeking to move beyond the hardships that shaded his past.
New York's scrutiny was never a problem, Harvey said Wednesday. It was his inability to deftly handle success and failure that ended his career-long alliance with the Mets last May, when he was traded to the Cincinnati Reds.
"People may think that I was fighting against something where I was really just fighting against myself," said Harvey. "It was me who was disappointed in what I was not able to bring to the team and to the city of New York at the time.
"It was me who was beating myself up. That was the tough part."
When he was 24 in 2013, Harvey became a Cy Young award candidate and finished fourth in voting. Two years later, after recovering from an elbow ligament replacement surgery that put his nascent career on hiatus, he led the Mets to the 2015 World Series.
Harvey had been in the spotlight for years by then. He catapulted to near the top of the list of New York's prospects when the Mets used the seventh pick of the 2010 draft to lure him away from the University of North Carolina. Then he flourished in the major leagues two years later, amassing a 2.39 ERA while striking out 9.9 batters per nine innings through his first 36 big league starts.
Harvey grew so accustomed to success he became complacent.
"When you start, you want to be the best. And I was at one point," Harvey said. "In 2013, I would say I was up there with the best. At that time you think you're going to just continue to be the best."
Instead of continuing on an upward trajectory, Harvey stumbled. He became afflicted with thoracic outlet syndrome in 2016 and had surgery to relieve the discomfort in his right arm. As he attempted to become a productive pitcher the following year, he was suspended for violating team rules in May 2017, shortly after amassing a 5.14 ERA in his first six starts. That same year, he missed more than two months as he recovered from a stress fracture in his scapula and never regained his 2015 form.
Harvey had pushed himself and failed. He lashed out in response, setting in motion his eventual trade to the Reds.
The transition served Harvey well. On the field, he improved his fastball velocity and his command.
And off the field, he accepted the role of mentor. Young players sought his advice on how to be successful. The questions prompted a realization: He needed to do more. He showed his Reds teammates as much. He came to terms with his mistakes — among them, his decision to party in Los Angeles the night before a 2018 start in San Diego — and became the version of himself he said he wished he had been at 23.
"I wish I had gone back after good starts and gotten after it a little bit more," Harvey said. "That was something that I, and I think Cincinnati, took a lot of pride in — my work ethic.
"That's another thing that really helped me last year," he added. "Being able to take some of the errors and some of the issues that I had and really make sure that I follow those footsteps. It was fun for me to be able to do that and now it's fun to flush both scenarios and become an Angel, like I was going to in 2007."
That is the version of Harvey, who turns 30 right before opening day, the Angels appear to have in camp this spring.
"I don't think there's any hand-holding that has to go on," manager Brad Ausmus said. "Matt Harvey is an adult. That's exactly how we should treat our guys, like adults, unless they show us that they shouldn't be. He's not gonna get any special treatment."
---
Get the latest on L.A.'s teams in the daily Sports Report newsletter.
You may occasionally receive promotional content from the Los Angeles Times.