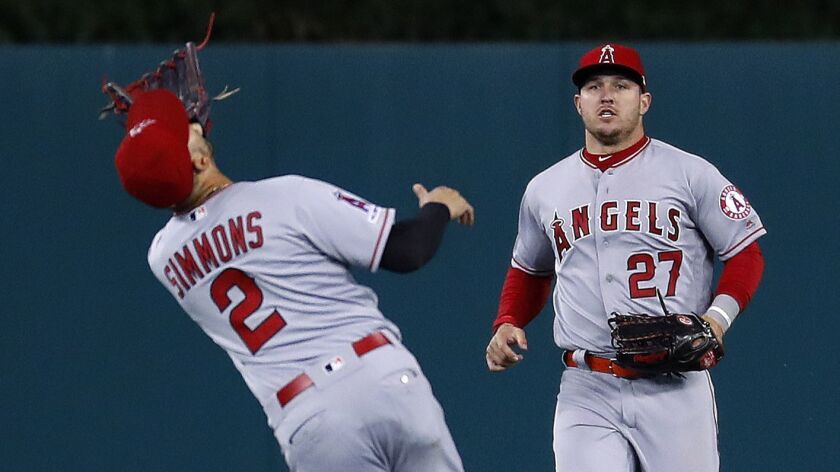 Reporting from Detroit —
Mike Trout raced in from center field on Jeimer Candelario's sixth-inning popup Tuesday night and thrust his glove into the air, the universal sign that an outfielder is trying to convince a baserunner he's going to catch a ball he knows he can't catch.
Trout did not fool JaCoby Jones, who was on second after a leadoff double. He did convince his own pitcher, Griffin Canning, who was in his first jam after throwing five scoreless innings in which he gave up one infield single.
"Yeah," Canning said after the Angels' 5-2 victory over the Tigers, "I definitely thought that ball was dropping."
Until it wasn't. Shortstop Andrelton Simmons raced into shallow and, with his back to home plate, made a lunging, over-the-shoulder catch for the first out.
Nicholas Castellanos followed with an RBI triple and Miguel Cabrera added an RBI single to pull Detroit to within 4-2 and knock Canning out of the game, but Simmons' play prevented a two-run inning from becoming a bigger mess.
"That was an awesome play," Canning said. "It was a nice little pick-me-up."
Canning, the organization's top pitching prospect, did heavy lifting of his own, giving up two runs and four hits in 5 1/3 innings, striking out seven and walking one to earn his first big league win in his second start.
He relied heavily on a slider that he threw for 34 of his 86 pitches, the Tigers swinging and missing at 12. The right-hander struck out six of the first 12 hitters.
"His slider looks a lot like his fastball to the hitters," manager Brad Ausmus said. "That's why you see guys swing and then the ball drops or moves or just goes by them. The spin is similar to the batter's eye."
Roster moves
In addition to activating Shohei Ohtani on Tuesday, the Angels reinstated reliever Cody Allen (lumbar spine strain) and infielder Zack Cozart (neck strain) from the injured list, optioned infielder Luis Rengifo to triple A and designated struggling pitcher Chris Stratton and outfielder Peter Bourjos for assignment.
The upshot of the moves is that the Angels, who are carrying 13 pitchers and 12 position players, have a thin and inflexible bench because one player (Ohtani) can't play defensively, one (Kevan Smith) is a catcher and two (Albert Pujols and Justin Bour) play only first base.
David Fletcher, who has played three infield positions in addition to left field, is the only backup outfielder.
"The Swiss Army knife nature of David Fletcher," general manager Billy Eppler said, "allows us to have this roster construction."
The Angels will have 10 days to trade Stratton (0-2 with an 8.59 ERA in seven appearances) and Bourjos (.091 batting average) or pass them through waivers to hopefully keep them in the organization.
Sign up for our daily sports newsletter »
Soft landing for Allen
Allen, who had a 6.00 ERA in 11 appearances and lost his job as closer before going on the IL, will pitch mostly in low-impact situations with a chance to reclaim the ninth-inning role.
"The game will sometimes force your hand, but ideally, since he just came off the IL, I'd like to get him in a softer situation," Ausmus said. "But if he's the guy who can get us out of a situation, we'll go to him."
Allen said his back began bothering him a week before he went on the IL, but he wouldn't use the injury as an excuse.
"I wasn't throwing strikes, I was in bad counts, and guys were hitting homers," Allen said. "That was just a bad stretch of baseball. We decided that the only way it would get better was with an extended period of rest."
---