Shohei Ohtani might be the most intriguing player in baseball, but the Angels won't push him to be the face of the team
It has been 29 years since the Angels were the center of the baseball world during spring training. Mike Trout gets attention every spring. Mo Vaughn, Vladimir Guerrero, Albert Pujols and Josh Hamilton got their share of attention when they signed with the Angels.
But that attention lasts a day or two, and then the national media horde moves on. In 1989, the Angels had a story that captivated America: Jim Abbott, an Olympic hero who was born without a right hand, was trying to jump from the University of Michigan directly into a major league starting rotation.
"If I wasn't doing well and if I wasn't at this level, then me being born with one hand wouldn't matter," Abbott said then. "But at the same time, if I had two hands, there wouldn't be all this attention. I'd just be another left-handed pitcher."
He attracted sellout crowds, and garnered standing ovations, in opposing ballparks across the Cactus League. CNN, ABC, CBS, NBC and Phil Donahue flocked to camp for interviews with Abbott. Dozens of reporters made the long drive across the Arizona desert to chronicle Abbott's every pitch in a B game — the spring-training equivalent of a junior varsity game — in Yuma, Ariz.
"The kid is embarrassed," Times columnist Scott Ostler wrote, "because his media army tramples his teammates."
As the Angels welcome Shohei Ohtani to camp this week, the thought that dozens of reporters might follow him around is laughably quaint. The Angels camp will feature the best player in the world in Trout, and the most intriguing player in Ohtani.
Ohtani carries the hopes and dreams of his country on his shoulders, at a time the media has exploded beyond networks and newspapers. The so-called "Babe Ruth of Japan" is trying to do what Ruth himself stopped doing.
The New York Yankees 98 years ago told Ruth to stop pitching and keep hitting. The Angels plan to let Ohtani keep pitching and keep hitting.
When Abbott pitched that B game in Yuma, the Angels did not want those dozens of reporters overrunning the clubhouse, so they brought him out to a picnic table to do interviews.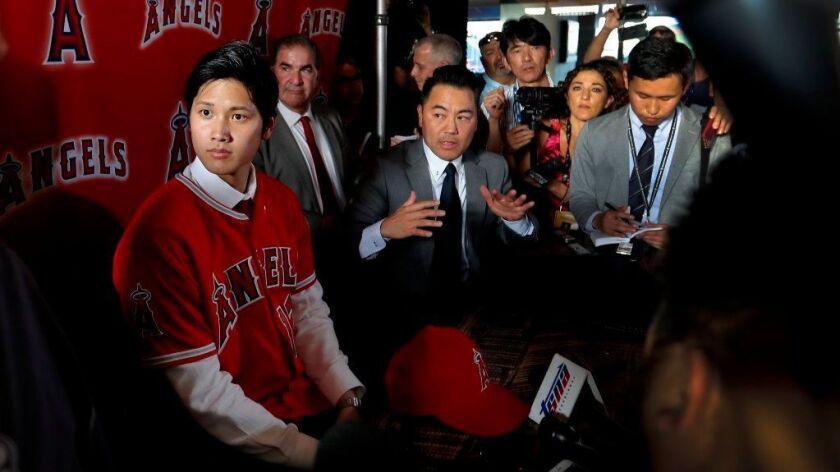 When Ohtani meets the media for the first time Wednesday, the Angels will bring him to a nearby hotel, where they have reserved three rooms in a conference center for what they anticipate could be as many as 175 reporters.
They play in the oldest stadium in the Cactus League, so they are scrambling to accommodate the media demand. They have converted a dining area into one media workroom, and they are erecting a tent behind the right-field wall for another.
When the regular season starts, according to vice president of communications Tim Mead, the Angels expect 75 to 80 reporters to cover the team at home every day, and 30 to 40 on the road. Three reporters covered the Angels on the road last season.
"We think we're prepared and ready and excited all at the same time," Mead said.
The Angels are excited not only for Ohtani's effect on the team, but for his effect on their business. On the day of his introductory news conference in Anaheim, barely 24 hours after Ohtani decided to play for the Angels, the team had season-ticket information available in Japanese.
They won't say how many more season tickets they have sold. They declined to allow Neil Viserto, their vice president of sales and marketing, to speak to a reporter.
We're talking about a 23-year-old who has to adjust to the culture, to Major League Baseball, and to his teammates.
— Tim Mead, Angels vice president of communications
But Mead acknowledged Ohtani has triggered a wave of business in season tickets, group tickets, advertising and sponsorships. With Japanese fans poised to follow Ohtani on television, the Angels are expected to announce partnerships with Japanese companies interested in displaying their name on camera-friendly areas at Angel Stadium.
"We've certainly seen a spike throughout many aspects of our business," Mead said.
They do not plan to put up too many signs in Japanese at the ballpark, and they do not intend to unveil a Japanese food stand, Mead said, but they do want to add popular Japanese foods at existing concession stands.
That could be of particular interest to fans that fly from Japan to watch Ohtani in person. Visit Anaheim, the bureau charged with promoting tourism in Anaheim and Orange County, has consulted with the Angels and is expected to roll out tour packages that offer Japanese fans the chance to see Ohtani play as well as to visit Disneyland and other Orange County attractions.
"We're working on concepts to welcome Japanese tourists that want to see Ohtani," said Charles Harris, senior vice president of marketing at Visit Anaheim. The phenomenon of the faraway fan is not new to Harris, who was a Dodgers publicist in 1994, when Chan Ho Park became the first Korean-born player in the major leagues.
The Angels are reluctant to push Ohtani onto every billboard in Southern California.
"We're talking about a 23-year-old who has to adjust to the culture, to Major League Baseball, and to his teammates," Mead said. "That is as important to the organization as the business component."
Trout still plays in Anaheim, after all. Albert Pujols is 32 hits from 3,000, and 17 home runs from passing Ken Griffey Jr. for sixth on the all-time list.
The Angels got Ohtani, but they also brought back Justin Upton and brought in Zack Cozart and Ian Kinsler, fortifying the roster in a bid to win their first postseason game in nine years.
They had a taste of this attention in 2010, when they signed the greatest slugger Japan has sent to the major leagues, Hideki Matsui. But Matsui was 35, proven in the major leagues, and at the end of his career.
"I think he was like sprinkles on a cake," Angels publicist Eric Kay said. "This guy is going to be like building the whole cake."
Times staff writer Mike DiGiovanna contributed to this report.
Follow Bill Shaikin on Twitter @BillShaikin
---
Get the latest on L.A.'s teams in the daily Sports Report newsletter.
You may occasionally receive promotional content from the Los Angeles Times.