Column: Shohei Ohtani's drop in velocity should be of more concern to Angels than early exit
Reporting from Houston —
Never mind the two-run home run by George Springer. This start was never about the results. More disconcerting was the abrupt and extraordinary drop in velocity.
Almost three months removed from his most recent start, Shohei Ohtani returned to the mound Sunday night and threw a fastball in the first inning that registered 99 mph on Minute Maid Park's radar gun. Two innings later, as he approached his pitch-count limit, Ohtani delivered fastballs resembling the variety thrown by Dodgers left-hander Rich Hill, including one that clocked a pedestrian 88 mph.
"I hope he's OK," Springer said.
Angels manager Mike Scioscia offered a couple of explanations. Ohtani had a tight back. Ohtani also had a sore ring finger after he instinctively stuck out his right hand and deflected a comebacker by Marwin Gonzalez in the second inning of the 4-2 loss to the Houston Astros.
The ulnar collateral ligament that limited the two-way player to hitting over the previous several weeks wasn't a problem, or so the pitcher and manager insisted.
"At this point, my elbow feels fine," Ohtani said in Japanese.
Scioscia said he was hopeful Ohtani would be able to start again in a week.
"The thing that obviously set him back for the last couple of months was his elbow," Scioscia said. "His elbow felt fine. So the peripheral things of the stiffness in his back or taking his ball off the ring finger, that'll dissipate."
If that's the case, Ohtani triumphed in defeat in his 21/3-inning appearance. He was charged with two runs, two hits, two walks and the loss, but that was secondary to how none of the 49 pitches he threw made his elbow burst into flames. With the Angels virtually eliminated from postseason contention, that was really the point of this entire exercise, to determine whether Ohtani's sprained UCL healed enough to withstand the force required to hurl baseballs at speeds approaching 100 mph.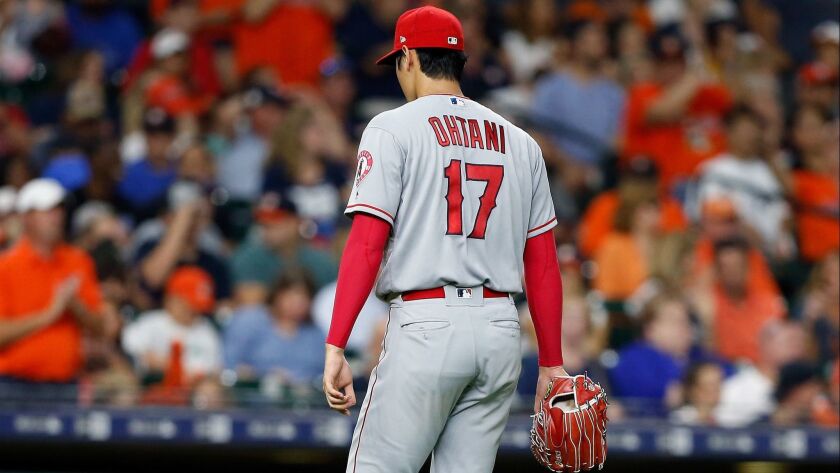 But as much as the third-inning home run Ohtani served up to Springer could be downplayed as inconsequential and as much as the series of high-90s fastballs he hurled in the first two innings inspired optimism about his future, he is by no means in the clear. A pitcher never is, especially a pitcher who was diagnosed earlier this season with a Grade 2 sprain of his UCL.
The purposely abbreviated start could lead to another, then another, each occasion presenting an opportunity to further test the limits of the Angels' most precious elbow. If the joint holds up, he should continue to redefine what's possible in baseball. If it doesn't, the operating room awaits.
How this ends is anyone's guess. About all that can be ascertained at this stage is that Ohtani selected the right team last winter. In the Angels, he found a franchise committed to realizing his ambition of remaining a two-way player in the major leagues.
The Angels have accommodated Ohtani at every step, starting in spring training, when he pitched erratically and looked overmatched at the plate. Rather than listen to the chorus of naysayers, the Angels trusted that Ohtani knew what he was doing to prepare himself for the season and placed him on their opening-day roster.
They were only four games out of first place on June 6, when he departed from a game in Kansas City after only four innings. Ohtani said he could make his next start, something the pitching-starved Angels could have used. The Angels shut him down.
"It was the only move to make," Scioscia said.
Ohtani now has 15 home runs in 80 games as a designated or pinch hitter. Not pitching in recent weeks has sharpened his hitting, as he has batted .333 with six home runs and 18 runs batted in over his last 23 games.
If Ohtani had signed elsewhere, he could have been asked to become a full-time hitter by now. Pitching exposed him to the risk of doing the kind of damage to his elbow that could require a season or more to recover.
"He's too good of a pitcher, he loves pitching too much, to just give up on it right now," Scioscia said. "I think it's important from now to the end of the year for Shohei to go out there and feel that he's 100% going into the offseason, not only important for him, but important for the Angels. I know that the dynamic impact that he has as a pitcher and a hitter is something that I know he wants to play out and the organization wants to also."
Ohtani was grateful for the support.
"I received the best treatment and was able to throw like this today," he said. "Of that, I'm very appreciative. The season's long and it's not over yet. And if I can stand in the batter's box, I will. If I can pitch, I will try my best to do my job."
Whatever happens, the Angels will be right there with him.
Follow Dylan Hernandez on Twitter @dylanohernandez
---
Get the latest on L.A.'s teams in the daily Sports Report newsletter.
You may occasionally receive promotional content from the Los Angeles Times.