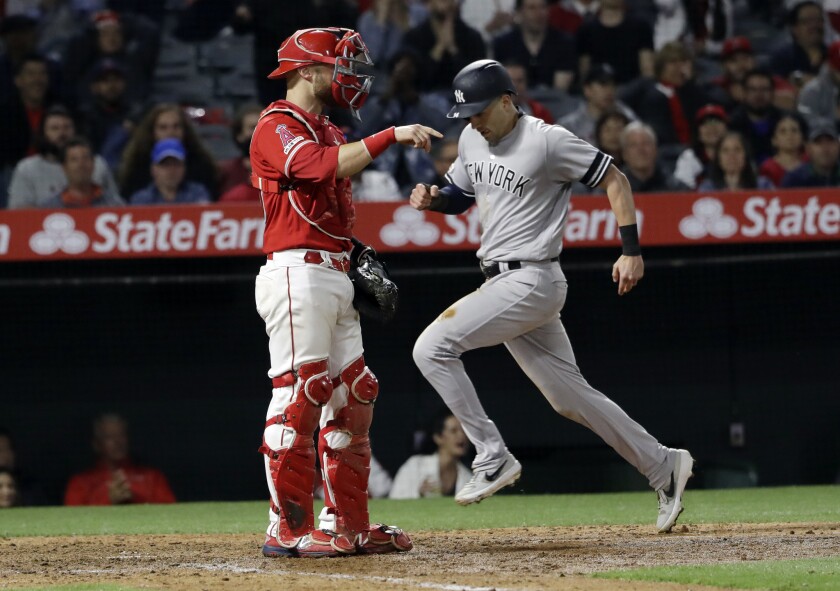 Cody Allen may have put it best Wednesday afternoon, when the struggling reliever was discussing his demotion from the closer role with reporters outside the Angels clubhouse.
"This game is humbling," the veteran right-hander said. "It's either hard or really hard."
Wednesday night's 6-5 loss to the New York Yankees before 37,928 in Angel Stadium fell under the latter category.
The Angels, for whom victories have been so elusive, took a 5-0 lead into the sixth inning and appeared on their way to a win before crumbling amid a flurry of walks and timely Yankees hits.
New York scored twice in the sixth and three times in the seventh to tie the score and won with a quick-strike two-out rally off reliever Ty Buttrey in the ninth.
"We need to sync up our offense and our pitching," Angels manager Brad Ausmus said. "When we hit well, we struggle a little bit with our pitching, and when we pitch well, we struggle a little bit with our hitting."
Buttrey, who did not allow an earned run in 91/3 innings of his first 11 games, got the final three outs of the seventh, retired the side in order in the eighth and got two outs in the ninth with the help of right fielder Kole Calhoun, who made a running, leaping catch at the wall to rob Mike Tauchman of a double.
But No. 9 hitter Tyler Wade singled to right-center, stole second and scored on D.J. LeMahieu's single to right. Closer Aroldis Chapman threw a scoreless ninth for his fourth save, sending the Angels to their 10th loss in 12 games.
The Angels fell to 9-15. Ten of their losses have been by two runs or fewer, and seven have been by one run.
"Nobody likes losing — it's part of it," Buttrey said. "I think we're competing. It's not like we're getting blown out. It's a long season. There's going to be a lot of games like this, and there's going to be a lot of games with us winning. We have to stick to what we're doing, and it's going to work out."
The Angels built a 5-0 lead on a pair of Andrelton Simmons solo homers off Yankees starter CC Sabathia in the first and fourth innings and Calhoun's three-run homer later in the fourth.
The Angels employed an "opener" for the second time in four games. Reliever Cam Bedrosian struck out two in a scoreless first and Felix Pena followed with five strong innings in which he allowed two runs — one earned — struck out eight, seven with a nasty slider and walked none.
But the Yankees scored twice off Pena in the sixth — on LeMahieu's RBI double and catcher Jonathan Lucroy's passed ball — and took advantage of Angels reliever Luis Garcia's inability to find the strike zone to tie the score 5-5 in the seventh.
Garcia walked Mike Ford to open the inning. Gio Urshela singled to right, and Tauchman walked to load the bases. Garcia issued a four-pitch walk to Wade to force in a run and was replaced by right-hander Buttrey. Garcia entered with an 0.87 ERA but he has now walked 11 in 101/3 innings.
Sign up for our daily sports newsletter »
"A lot of it has to do with his off-speed pitches moving so much," Ausmus said of Garcia. "But he can be very effective when he's around the zone. He gets a lot of swings and misses, a lot of ground balls."
LeMahieu hit a sacrifice fly to deep left field to make it 5-4. Tauchman tagged and took third, and Wade took second when left fielder Brian Goodwin threw to third base instead of second.
The Angels brought their infield half-way in. Luke Voit hit a hard grounder to shortstop, but Simmons' throw home pulled Lucroy to the first-base side of the plate. Tauchman slid home with the tying run.
Brett Gardner followed with a drive to deep center field, where Mike Trout made a spectacular lunging, behind-the-head catch on the warning track for the second out before firing a throw to the infield.
Wade got back to second in plenty of time to avoid being doubled off, but he inadvertently stepped off the bag for a split-second to adjust his feet while Simmons kept his glove on Wade's back. Simmons immediately called for an instant-replay review, and Wade was called out to end the inning.
"He signaled to me to look at it," Ausmus said. "We didn't get an answer from our instant-replay guy, but with it being the seventh inning, I just trusted Simba and decided to have them take a look."
---