Jered Weaver recaptures some former glory, if not velocity, in Angels' 3-1 win over Texas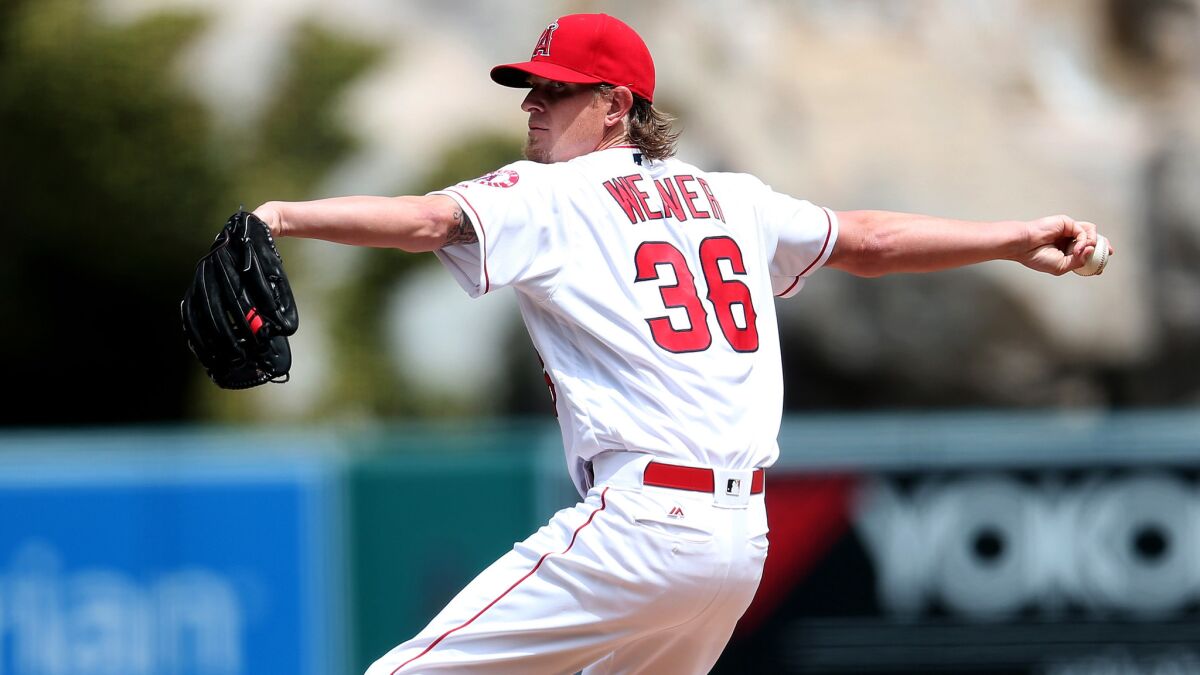 His ire raised and his arm slot dropped, Jered Weaver found a happier medium between the dominant right-hander that he "guaranteed" would return this season and the cranky, stiff-necked veteran whose fastball — and career — appeared to be in steep decline this spring.
This version of Weaver won't garner Cy Young Award votes, as he did as recently as 2012, but it was plenty good enough to lead the victory-starved Angels to a 3-1 win over the Texas Rangers on Sunday.
Weaver, mixing and locating his sinking fastball, curve and changeup with precision, allowed one run and six hits in six innings, striking out four and walking one, to improve to 11-0 with a 2.23 earned-run average in 18 career starts against Texas at home.
He also earned his 139th career victory, passing Nolan Ryan for sole possession of second place on the franchise's all-time wins list.
"I didn't come here for personal accolades, I came to win championships, and today's win was a step in getting to that goal," Weaver said. "With that being said, it's very humbling to be put in the same sentence as guys who have done great things for this organization."
Weaver, 33, has played a key role on four American League West-champion teams since 2007, but his fading fastball and a career-worst 7-12 record and 4.64 ERA in 2015 fueled doubts he would be a front-of-the-rotation starter again.
Slowed by neck and shoulder stiffness this spring, he struggled to hit 80 mph with his fastball, which had dropped from an average velocity of 86.3 mph in 2014 to 83.3 mph in 2015, according to Fangraphs.
But Weaver lowered his arm slot just enough to find a more comfortable delivery and release point, and he felt so good about a four-inning simulated game last Tuesday that he vowed to prove his detractors wrong.
"Haters equals motivation for me," Weaver said. "I feed off of it."
Weaver seemed far more in-control than angry on the mound on Sunday, but he did gain some velocity on his fastball, which sat in the 82-mph range and hit 84 mph four times during his 84-pitch outing.
His success stemmed from his ability to keep the Rangers off balance and a competitive edge he has maintained despite his less-than-electric stuff.
"He's a workhorse, man," catcher Geovany Soto said. "He'll give you everything he's got. He's coming after you at all times, no matter how many guys are on base, who's hitting, what the count is. That's one of the things I didn't quite see in spring training, but it was great to see today."
The difference, Weaver said, is his health. His neck and shoulder were so stiff in mid-March that he could barely turn his head, but he has loosened up with physical therapy and stretching exercises.
"The arm slot is coming back," Weaver said. "There's no tightness in my shoulder, no tightness in my back, no tightness in my hip. I'm feeling healthy. I can pitch like this for the rest of the season, but I know it's only going to get better."
Improved health has led to a better state of mind.
"It makes me look forward to the future in baseball," Weaver said, "as opposed to thinking about shutting it down."
The only player to bother Weaver on Sunday was 20-year-old right fielder Nomar Mazara, who had two singles and hit a fifth-inning solo home run to center field in his major league debut.
Weaver pitched out of a two-on, one-out jam in the first, striking out Mitch Moreland looking at a tailing, 81-mph fastball. He escaped a two-on, no-outs jam in the fourth by retiring Elvis Andrus (fly to right), Hanser Alberto (pop to short) and Bryan Holaday (strikeout).
Weaver struck out Delino DeShields looking at a slow curve and Prince Fielder looking at a changeup in the fifth.
"It's almost like facing a knuckleballer in some ways," Texas Manager Jeff Banister said. "He throws the breaking ball and the fastball at different speeds and the slider that goes down and away, and it's challenging for us. He's not what you see every day."
Weaver's strong 2016 debut helped the Angels (2-4) avoid their worst start in club history and gave them a boost heading into a 10-game road trip to Oakland, Minnesota and Chicago.
It also provided a much-needed shot in the arm to a rotation that has lost left-handers Andrew Heaney and C.J. Wilson to injury, is waiting for Tyler Skaggs to return from elbow surgery and includes struggling right-hander Matt Shoemaker.
"He had a tough time finishing pitches and executing pitches this spring," Manager Mike Scioscia said. "But where he is today is much further ahead from where he was in the middle of the spring, and that's encouraging. He'll keep getting better."
mike.digiovanna@latimes.com
Twitter: @MikeDiGiovanna
Get the latest on L.A.'s teams in the daily Sports Report newsletter.
You may occasionally receive promotional content from the Los Angeles Times.