Angels lose Ohtani to a blister, fall to Red Sox 10-1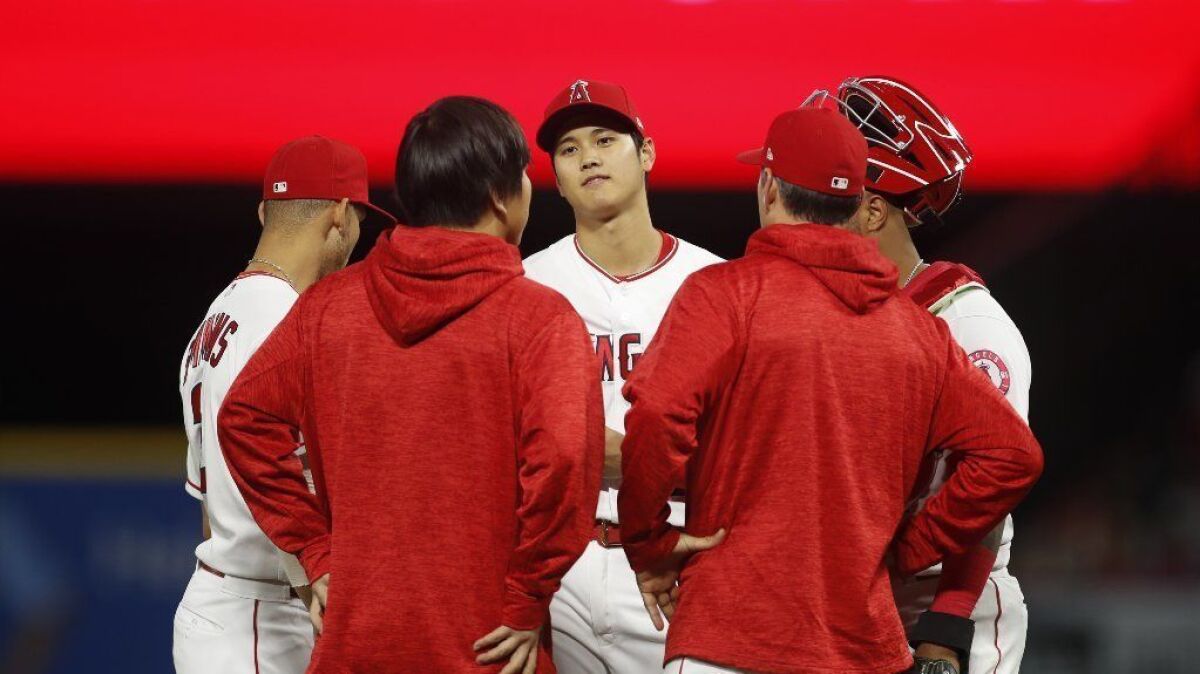 The Boston Red Sox were a real buzzkill for the Angels and Shohei Ohtani on Tuesday night, the team with the best record in baseball knocking the seemingly otherworldly two-way star back to terra firma.
A sellout crowd of 44,822, the second-largest since the 1998 renovation of Angel Stadium, packed the house in anticipation of another pitching gem by Ohtani, the Japanese right-hander who was dominant in his first two starts.
Ohtani didn't make it to the third inning, a blister on the middle finger of his pitching hand and the blistering bats of the Red Sox conspiring against him in a 10-1 loss that snapped the Angels' seven-game win streak.
Mookie Betts hit three solo home runs for his third career three-homer game and was in the on-deck circle when Brock Holt grounded into a double play to end the ninth.
The Red Sox, who have scored 75 runs in their last nine games for an 8.3-run average, improved to 14-2, the best start in the franchise's 118-year history.
Ohtani, perfect through 6 1/3 innings of his previous start against Oakland on April 8, needed 66 pitches to record six outs against the Red Sox, allowing three runs and four hits in two innings.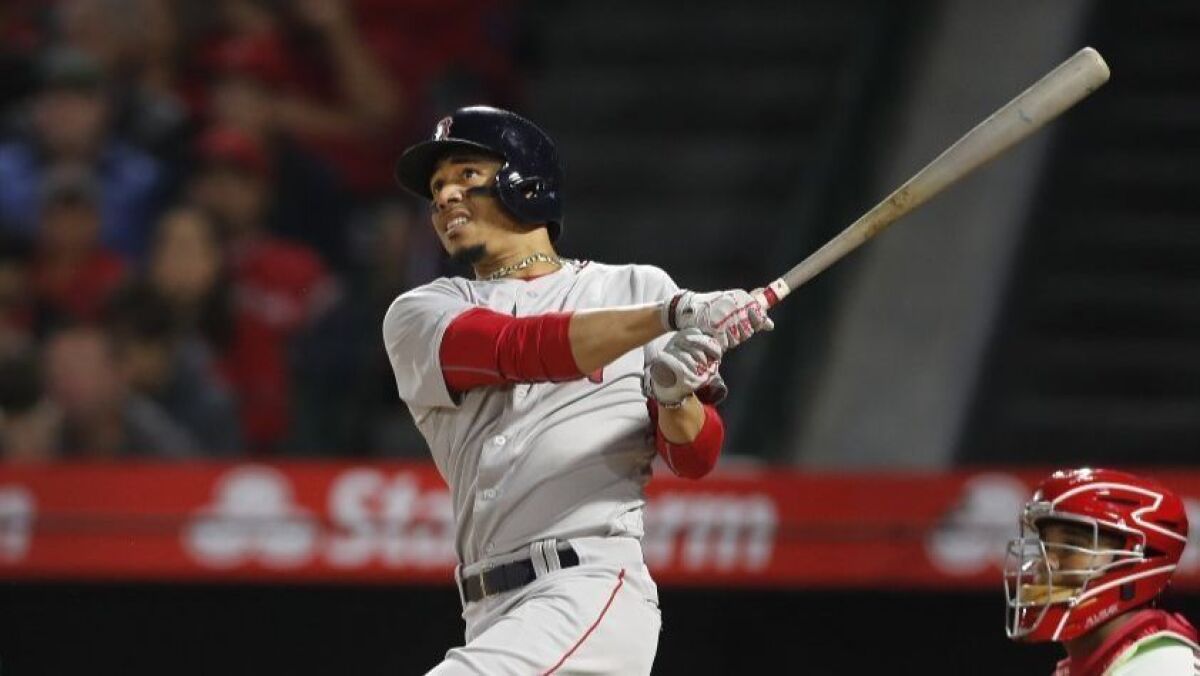 He looked uncomfortable on a 67-degree evening, constantly blowing on his pitching hand. His split-fingered fastball, so devastating against the A's, was not a factor against the Red Sox, who swung at only one of Ohtani's 13 dirt-diving pitches, fouling it off.
All of Ohtani's 18 strikeouts in his first two starts were swinging, and he entered Tuesday with a major league-leading 35.2% swinging-strike percentage. He induced only two swings and misses against the Red Sox and struck out one.
RELATED: Shoemaker feeling confident about return to rotation
Manager Mike Scioscia said Ohtani was fine in warmups and didn't have any problems in the first inning, but the blister became an issue in the second.
"It definitely had an effect on his command, especially his off-speed pitches," Scioscia said. "He got through two innings, but we don't want it to get any worse."
Ohtani said the blister actually developed toward the end of his last start, and that it mostly affected command of his split-fingered pitch and fastball.
"They took a look at it and felt it would be fine for today, and I felt the same way," Ohtani said through an interpreter. "But under the high intensity of the game, it didn't hold up too well."
Ohtani dealt with blisters — often in the same area — virtually every season in Japan, and he sometimes pitched entire seasons with them.
"I have a decent idea of how long it will take to recover and heal," Ohtani said. "Usually in Japan, I would pitch without it fully healing. I think it will be something similar this time around. It's a long season, and it's early in season, so I'm being really cautious with it."
Ohtani said he "shouldn't have any problem hitting" later in the week. The Red Sox certainly didn't have any problem hitting him Tuesday night.
Betts led off the game by lining a full-count, 97-mph fastball over the wall in left-center, and Ohtani needed 28 pitches to get out of the first.
Jackie Bradley Jr. singled with one out in the second, Christian Vazquez drew a seven-pitch walk, and Holt hit a 100-mph fastball into left field. Betts capped a nine-pitch at-bat with a walk, and Andrew Benintendi hit a sacrifice fly for a 3-0 lead.
Luke Bard came on for the third and gave up homers to Bradley, Holt and Betts in that inning and Rafael Devers' 438-foot solo shot to right in the fourth.
Boston left-hander David Price, who left his previous start after one inning because of a sensation in his pitching hand, allowed one run and three hits in five innings, striking out six and walking four, to earn the win.
Follow Mike DiGiovanna on Twitter @MikeDiGiovanna
Get the latest on L.A.'s teams in the daily Sports Report newsletter.
You may occasionally receive promotional content from the Los Angeles Times.