Red Sox blow out Angels second straight night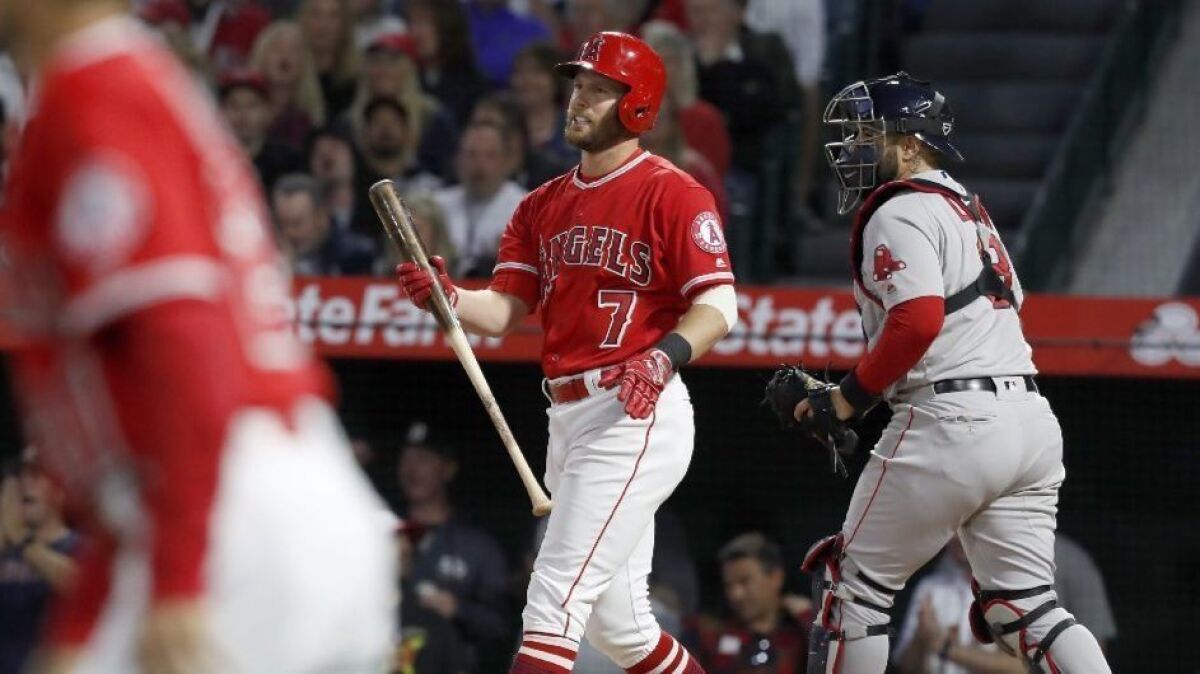 The Angels and Boston Red Sox convened in Anaheim this week sporting the best records in baseball and explosive lineups led by two of the most dynamic players in the game, outfielders Mike Trout and Mookie Betts.
It seemed a little bigger than your typical mid-April series, and not just because two-way sensation Shohei Ohtani started the opener for the Angels. It was a chance for the upstart Angels to see how they stack up against one of the best teams in baseball.
Or maybe not.
"It's always fun to play good teams, regardless of the time of year, but it's April, and we're just worried about ourselves and what we can do to get better,"Angels second baseman Ian Kinsler said. "We're not measuring ourselves against anyone else."
A sound approach, this was, because two games in against the Red Sox, the Angels clearly don't measure up.
Boston pounded Angels starter Tyler Skaggs for six runs and eight hits in 41/3 innings, Rafael Devers' grand slam keyed a five-run third, and right-hander Rick Porcello threw six shutout innings to lead the Red Sox to a 9-0 victory in Angel Stadium on Wednesday night.
J.D. Martinez had four hits, including a solo homer in the seventh, and Mitch Moreland capped a three-hit, four-RBI night with a two-run homer in the ninth to push the Red Sox to 15-2, the best start in the 118-year history of the franchise.
Including Tuesday night's 10-1 thrashing of the Angels, Boston has outscored the Angel 19-1, outhit them 29-10 and outhomered them 9-0 in two games. They have badly outpitched the Angels and played superior defense.
"You're gonna run into some waves like this where it just doesn't seem like you're putting things together," Angels manager Mike Scioscia said. "We haven't pressured them on the offensive side the way we need to, but we're confident we're gonna swing the bats well."
Porcello, who mixes a heavy sinking two-seam fastball with a slider and changeup, allowed six hits, struck out six and walked none to improve to 4-0 with a 1.40 ERA.
He escaped a bases-loaded one-out jam in the first inning by striking out Kole Calhoun and Zack Cozart with elevated fastballs and allowed only one more runner to reach second.
Skaggs was described as "effectively awful" in his last start, when he needed 114 pitches to complete five innings of one-run, five-hit, four-walk ball against Texas.
He labored again at the start Wednesday night, need-ing 27 pitches to complete a first inning in which Hanley Ramirez doubled and Moreland ripped a hanging curve to right field for a two-out RBI single and a 1-0 Boston lead.
Skaggs righted himself in a 10-pitch, one-two-three second. More trouble awaited in the third. Betts, who hit three homers Tuesday, led off with a single, and Ramirez chopped a grounder that Cozart, the third baseman, backed up on and fielded well behind the bag.
Cozart, the converted shortstop who was making his fourth career start at third, appeared to have one play, at first base. He threw to second in an attempt to force the speedy Betts, who slid in safely as Cozart's throw pulled Kinsler off the bag. The play was ruled a fielder's choice, with no error.
Scioscia thought Cozart made the right decision going to second.
"He had the play at second — the throw was just a little high," Scioscia said. "Coz has one of most accurate throwing arms around, and he's gonna make that play a lot of times. We trust his judgment, we trust his arm."
Said Cozart: "If it was a good throw in my opinion, he's out. In my opinion, it should have been an error."
Get the latest on L.A.'s teams in the daily Sports Report newsletter.
You may occasionally receive promotional content from the Los Angeles Times.