Angels closer Huston Street says fans and media are too quick to criticize velocity of his pitches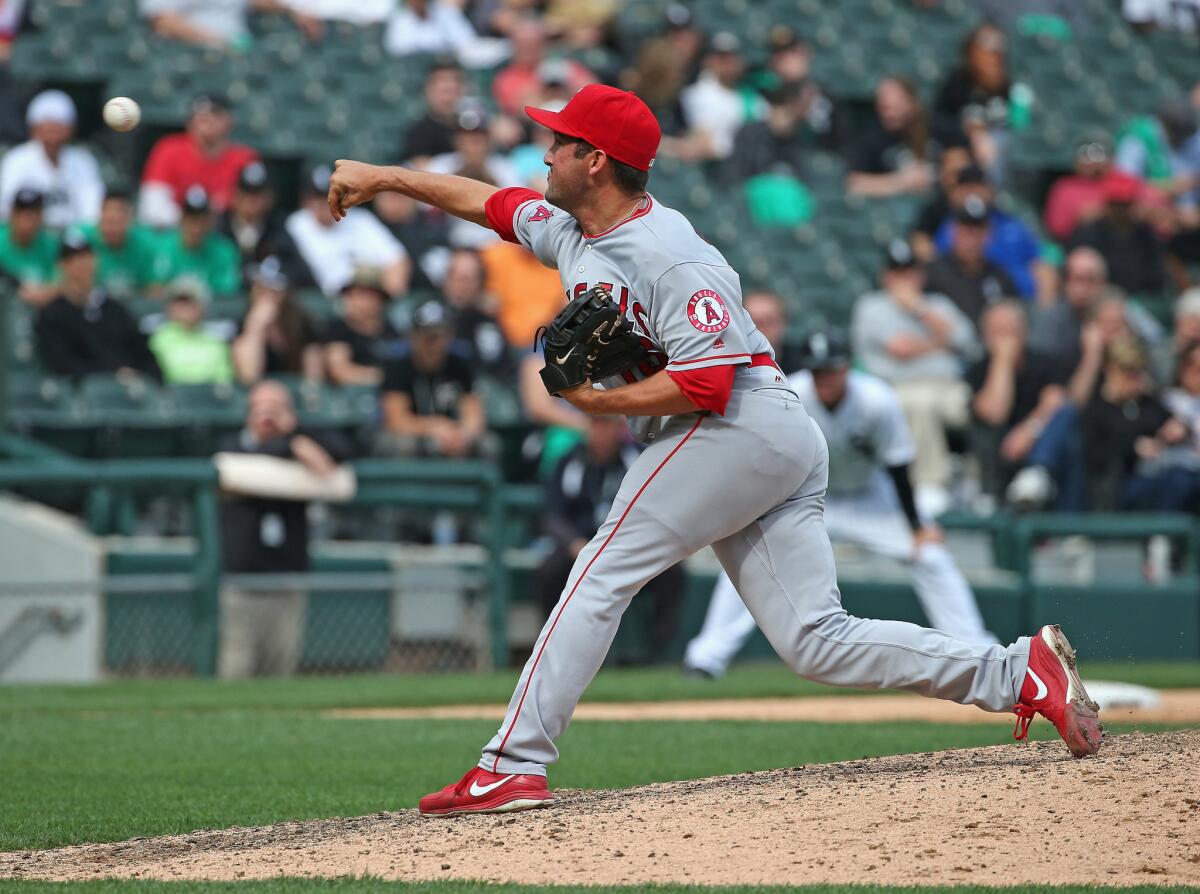 Huston Street wanted to make two things perfectly clear. First, the Angels closer does not believe there should be any concern over his velocity. Second, he believes social media are fueling an "obsession" with velocity, to the detriment of the game.
"I think velocity is one of the most over-hyped things in the game," Street said Friday. "And, to hear people say that my velocity is down this year is funny. It just is not."
According to Fangraphs, Street's average fastball velocity this season is 87.9 mph, down from 88.5 mph last season and 89.3 mph two years ago.
However, all of his fastballs Thursday hit the 88-90 mph range, according to mlb.com. In any case, he has faced just 21 batters this season, too few to draw conclusions.
"I think my velocity is up," he said. "I'm dead serious."
On the surface, Street's performance Thursday did not appear impressive. He inherited a 3-1 lead in the ninth inning, got the first two outs, then gave up a home run to Todd Frazier and walks to Melky Cabrera and Brett Lawrie.
"I had three guys to get one out," Street said. "I fell behind Melky Cabrera, who had hit a home run in his previous at-bat. I missed by two inches twice. The count was 2-0. What do they want me to do, challenge him with a fastball with a one-run lead?
"I already tried that with Frazier. I challenged him with a slider. He hit a homer. I didn't care. I had a two-run lead."
Street said Lawrie was hitting the ball well, so he threw all sliders and worked around him to get to Austin Jackson, who had two hits in his previous 24 at-bats. With the potential winning runs on base, Street got Jackson to fly out, saving a 3-2 victory.
Street traced part of what he called the current obsession with velocity to how media and fans interact on Twitter.
"My honest-to-God opinion of why velocity has become such a hot topic in the media — unlike how big of a deal it was when [Tom] Glavine and [Greg] Maddux dominated for two decades without it — is because of the whole idea of followers," Street said. "It's social media. It's an easy tag line.
"You're talking about velocity, and you put a little graphic across the screen in yellow, or you tweet out, 'so-and-so threw 19 fastballs today and 17 were 100 mph,' and it gets retweeted 500 times, so that becomes a bigger deal. If they said I threw a beautiful slider, started at the knees, broke down two inches off the plate and got a nice first-pitch ground out, who's going to retweet that, much less even believe that's what you were trying to do?"
Street said he monitors his velocity by checking radar-gun readings on stadium scoreboards, and he could recall at least one time he hit 90 mph this season.
"I look up, I see 90," Street said, "and I remember thinking, 'I cannot wait to give Joe Smith a hard time.'"
Trout on Team USA?
Mike Trout said it is too early for him to say whether he would join Team USA in the World Baseball Classic next spring. Major League Baseball officials are dreaming of an outfield that features Trout and Bryce Harper.
"It's definitely something you would want to do," Trout said. "We'll see how I feel. It's obviously a ways away."
Trout said he attended a WBC game three years ago and remembered David Wright hitting a grand slam.
"It's always fun," Trout said.
Twitter: @BillShaikin
Get the latest on L.A.'s teams in the daily Sports Report newsletter.
You may occasionally receive promotional content from the Los Angeles Times.