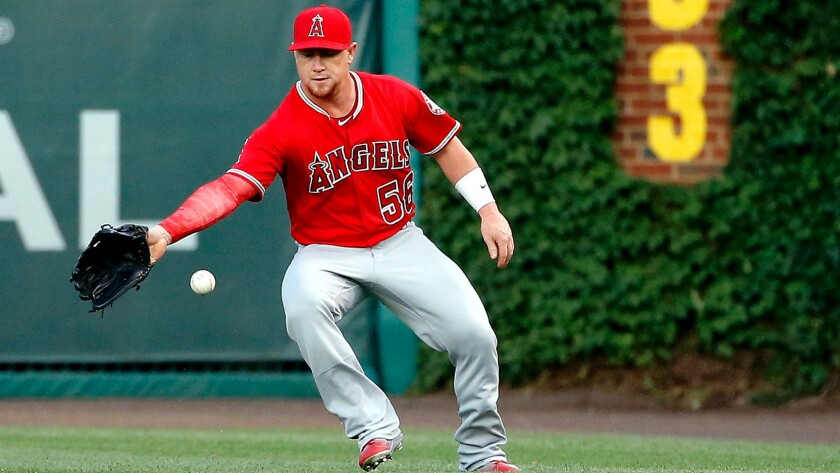 Reporting from Cleveland —
Kole Calhoun went six weeks without hitting a home run until Tuesday at Wrigley Field, but he has maintained an on-base percentage far higher than his mark from a year ago and considers that a certain success.
His on-base percentage of .353 is 45 points higher than his .308 mark from last season and 34 points better than his career average entering the season.
"That was a goal coming into the season: Get on base more, and set the offense up," Calhoun said. "I really wanted to cut down on strikeouts. Strikeouts went down, walk rate went up, and that's where you want to be."
After striking out in 23.9% of his plate appearances last season, Calhoun has lowered that number to 16.8%, one of the larger shifts in baseball from 2015 and 2016.
The 28-year-old right fielder's other offensive numbers are similar to his previous play.
And because he is hitting second, ahead of Mike Trout, Calhoun's improvement (in addition to Yunel Escobar's .317 hitting atop the order) has meant nearly 100 more opportunities for Trout to drive in runs. Trout is on pace to bat with 440 runners on base this season, as compared to 341 last year.
Oberholtzer up
Brett Oberholtzer joined the Angels on Thursday. They claimed him off waivers Tuesday from the Philadelphia Phillies, who acquired the left-hander in the multi-player Ken Giles trade last December.
For the Houston Astros, his previous team, the 27-year-old Oberholtzer had been a serviceable starting pitcher, logging a 3.94 earned-run average 1½ seasons' worth of starts. He could figure into the Angels' 2017 starting-rotation plans.
"This is a guy who has made 42 starts and thrown 250 innings with a sub-4.00 ERA in his major-league career while pitching in a hitters' park," Phillies General Manager Matt Klentak, a former Angels assistant general manager, said after acquiring Oberholtzer last winter. "We're very happy to have him."
Oberholtzer said his hometown Phillies told him that he could compete for a starting spot when they acquired him but did not give him the shot they promised. In 50 1/3 innings as a reliever for the Phillies, he had a 4.83 ERA.
"I feel like I'm a quality left-handed starter," he said. "I can fill a job. Eventually, I'd love the opportunity to start."
Short hops
To make room for Oberholtzer, the Angels optioned right-hander A.J. Achter to triple-A Salt Lake for the fourth time this season. Achter also has been designated for assignment once. …Right-hander Alex Meyer, acquired from the Minnesota Twins for Hector Santiago at the trade deadline, is scheduled to throw a second live batting-practice session or pitch in an Arizona League game in the upcoming days. The Angels say they remain hopeful that the 26-year-old will pitch for them in September. He has sat out most of the season because of shoulder fatigue.
pedro.moura@latimes.com
Twitter: @pedromoura
---