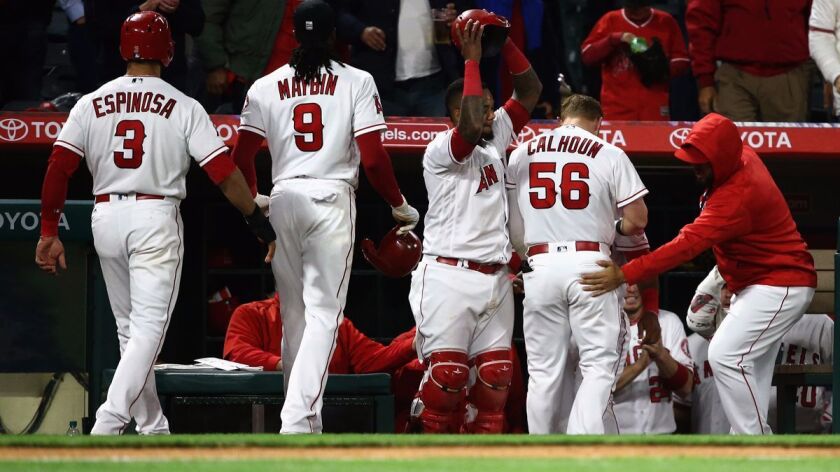 Stage 2 of the Angels' operation to replace Yunel Escobar atop their lineup commenced Tuesday night, when left fielder Cameron Maybin debuted as their leadoff hitter against a left-hander and right fielder Kole Calhoun batted fifth.
"We want to certainly give it a look," manager Mike Scioscia said. "Cam's definitely been more comfortable against lefties so far this year. Kole's not really been as comfortable as we know he can be against lefties. So we're just gonna flip them around and see."
Maybin, 30, entered Tuesday hitting .180 with a serviceable .305 on-base percentage but an unseemly .243 slugging percentage. No Angel had worked walks at a higher rate than Maybin, who wears his socks high to delineate the bottom of the strike zone to umpires.
A right-handed hitter, Maybin has hit better against right-handed pitching over his career. This season, his batting average is better against lefties, but he's walked far more often against right-handed pitching.
"The one thing Cam has been doing is getting on base," Scioscia said. "His walk rate is great. If he can do that, be a table-setter, that's really valuable for us."
Hits work, too. Maybin doubled three times and singled twice Tuesday against the Chicago White Sox, more than doubling his hit total from his previous 40 plate appearances. "At times early, he was very patient, to the point of almost being passive, at the plate," Scioscia said. "That got him in a lot of bad counts. But it did lead to some walks."
Rehab delayed
Right-hander Andrew Bailey said he was encouraged by news he received Monday from Dr. David Altchek. At a visit in New York, nothing new was found inside the reliever's surgically repaired and again inflamed shoulder.
But, once close to returning, Bailey does not yet know when he can pitch again.
"It's just frustrating to ramp up a throwing program, feel really good, start throwing bullpens, and once you have that intent and effort, you get those symptoms again," he said. "I know what's going on. I have to keep getting after it and will start throwing in a few weeks."
Bailey, 32, said he could not describe the specific symptoms within his shoulder, but referred to his previous problems and compensatory issues that have developed.
After ascending to the Angels' temporary closer role in September, he signed a one-year contract worth $1 million in November.
Short hops
Right-hander Mike Morin (neck tightness) will throw to hitters Thursday at the club's spring-training complex in Arizona. He's the injured reliever closest to a return. Right-hander Huston Street (lat strain) is next. Eligible to be activated June 1, he continues to throw at the Arizona facility.
Twitter: @pedromoura
---