With three starters on disabled list, Angels could use some help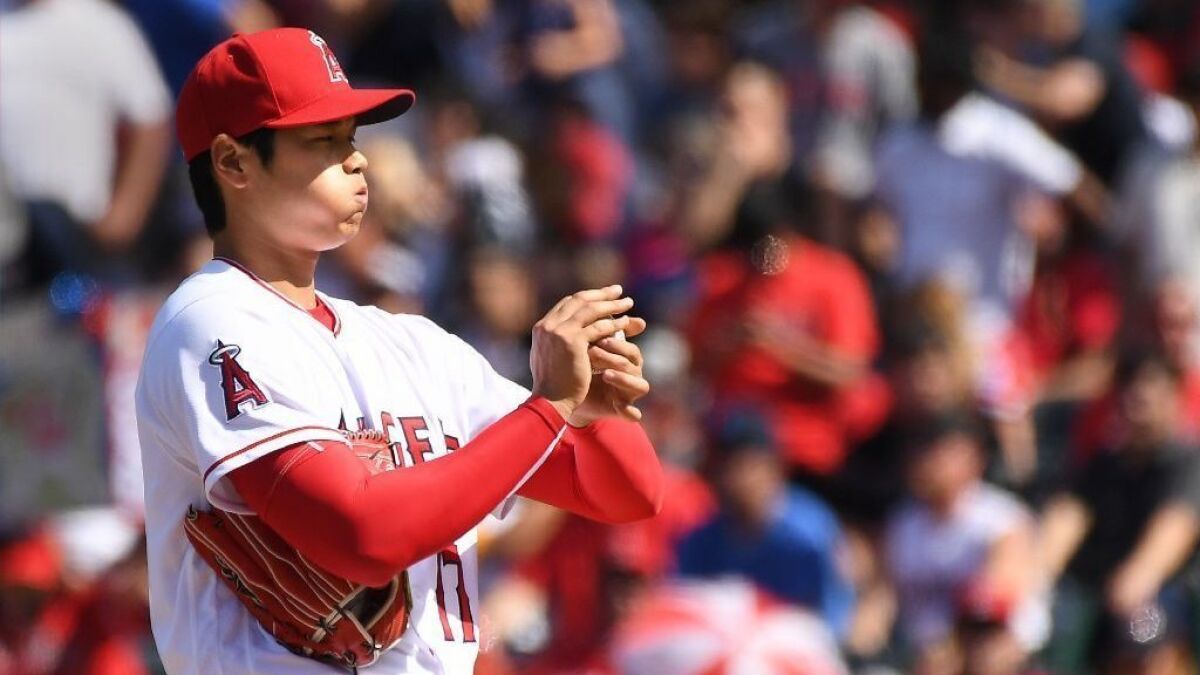 If you're an Angels fan, this all might seem so predictable, and frustrating.
The Angels are 10 games into the season, and three of their starting pitchers — Andrew Heaney, JC Ramirez and Matt Shoemaker — already are on the disabled list. They are among six Angels starting pitchers to spend time on the disabled list because of an arm injury within the past two seasons.
The greatest risk factor for an injury is a previous injury. And yet, in advance of a season in which they intend to contend, the Angels did not add a veteran starter with a track record of delivering innings.
Perhaps the Angels might have waited out the free-agent market, as so many teams did. But after they signed Shohei Ohtani as a pitcher-designated hitter last December, they counted on nine candidates to start: Ohtani, Heaney, Ramirez, Shoemaker, Garrett Richards, Tyler Skaggs, Parker Bridwell, Nick Tropeano and prospect Jaime Barria.
"Nine felt like a reasonable number," general manager Billy Eppler said Sunday.
So within a week of signing Ohtani, they filled vacancies by adding Ian Kinsler at second base and Zack Cozart at third base.
"We had an opportunity, so we seized it," Eppler said. "I think anybody could have sat there and looked at our roster and said, 'Where do the Angels have more depth? Do they have more depth in the infield, or do they have more depth in starting pitching?'
"You saw us maximize our potential to invest our dollars."
Still, of the nine starters, only ace Garrett Richards and the injured Shoemaker have pitched even 150 innings in a major league season. If the Angels need to get another starting pitcher, Eppler said he is confident owner Arte Moreno would approve the expense.
"I know that our owner is always interested in winning," Eppler said. "If we have an opportunity to put this club in a good position, he's supported it before, just like last year, with Justin Upton. With Brandon Phillips, with one month to play, he spent $4 million."
The Angels officially put Ramirez on the disabled list Sunday, citing a strained right elbow. They are expected to make an announcement about Ramirez on Monday. He left Saturday's game after two innings and had a medical examination Sunday.
The Angels also optioned pitcher Akeel Morris to triple-A Salt Lake and promoted relievers Felix Pena and Eduardo Paredes, so they played Sunday's game with a 10-man bullpen.
King fish
Mike Trout was hitless in his past 15 at-bats when he crushed a 440-foot home run Sunday. He also singled, walked, stole a base and scored two runs.
Trout lifted his batting average to .220 from .184, not that anyone is sweating his temporary association with the Mendoza line.
"If we're worried about Mike Trout, we've got a lot of big problems," Angels manager Mike Scioscia said. "Mike Trout is going to hit."
Follow Bill Shaikin on Twitter @BillShaikin
Get the latest on L.A.'s teams in the daily Sports Report newsletter.
You may occasionally receive promotional content from the Los Angeles Times.