Ohtani not expected to be sidelined by blister; should be able to DH Thursday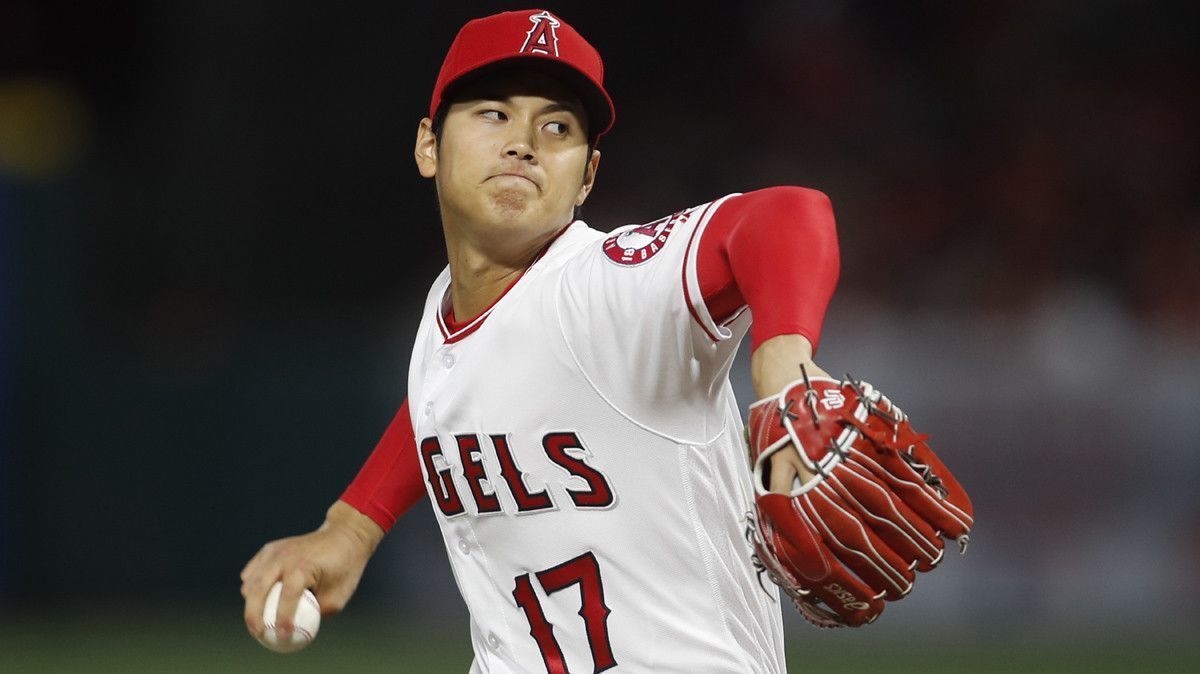 Shohei Ohtani was unable to pitch for almost two months during the 2016 season in Japan because of a blister similar to the one that forced the Angels right-hander out of Tuesday night's game after two shaky innings.
But neither Ohtani nor the Angels believe this blister, located on the inside edge of Ohtani's middle finger, will knock him out of the rotation.
"We're anticipating that he'll make his next start," manager Mike Scioscia said on Wednesday, "and we'll let you know when that is."
Scioscia said Ohtani "will be available" to start at designated hitter Thursday night, but with Boston starting left-hander Eduardo Rodriguez, Ohtani might remain on the bench. That decision will not be related to the blister.
"He has no problems swinging the bat," Scioscia said.
If Ohtani remains on his once-a-week pitching schedule, he would start next Tuesday in Houston. He has been throwing a light bullpen four days before his starts and a regular bullpen two days before, so this Friday and Sunday will be important benchmarks.
"There's always 'if thens' along the way, so we'll monitor him through this week and see where he is," Scioscia said. "It's something he's had before and he's managed. He's not very concerned with it.
"We'll make sure that, first, he's able to throw his bullpen. Then we'll see how he comes out of things. We'll take this one step at a time. We won't have to make a decision for a while."
Ohtani said Tuesday that this blister doesn't seem as severe as the one that sidelined him in 2016. The location of the blister is an indication it is probably caused, and exacerbated by, his split-fingered pitch, which he had no control of Tuesday, spiking most of them in the dirt.
"He used his split a lot in his first two outings and had no issues with it," Scioscia said. "It's just something that came up [Tuesday]. He'll be able to throw all of his pitches."
Pitchman
Mike Trout is one of four star athletes featured in a campaign for Bodyarmor sports drink that will air on TNT during the NBA playoffs. The ads were written and co-directed by former Lakers star and Oscar winner Kobe Bryant.
In Trout's spot, the center fielder, donning a 1970s'-era headband, stares into the camera while being jiggled violently by the belt of an old-fashioned waist-shaper.
"Mike Trout wouldn't use an outdated workout machine to be All-Star Mike Trout," a voiceover intones, "so why would he choose an outdated sports drink?"
Trout filmed the commercial in the offseason.
"It took a couple of hours to shoot, so it was pretty uncomfortable," Trout said. "My goal was to make it funny. You see me on the field playing the game, having fun, smiling. It's good to let the fans know I have a humorous side."
Short hops
Mookie Betts, 25, joined some elite company with his third career three-homer game Tuesday. Twenty-three Red Sox players have homered three times in a game, but only two have accomplished that feat three times: Betts and Hall of Famer Ted Williams. … Top pitching prospect Jose Suarez, a 20-year-old left-hander from Venezuela, was promoted to double-A Mobile after allowing two earned runs, striking out 18 and walking one in nine innings in two starts for Class-A Inland Empire. Suarez started against Biloxi Wednesday, allowing two runs and six hits in 3 2/3 innings, striking out nine — all swinging — and walking none.
Get the latest on L.A.'s teams in the daily Sports Report newsletter.
You may occasionally receive promotional content from the Los Angeles Times.