Shohei Ohtani may return to bat before he's ready to pitch again for the Angels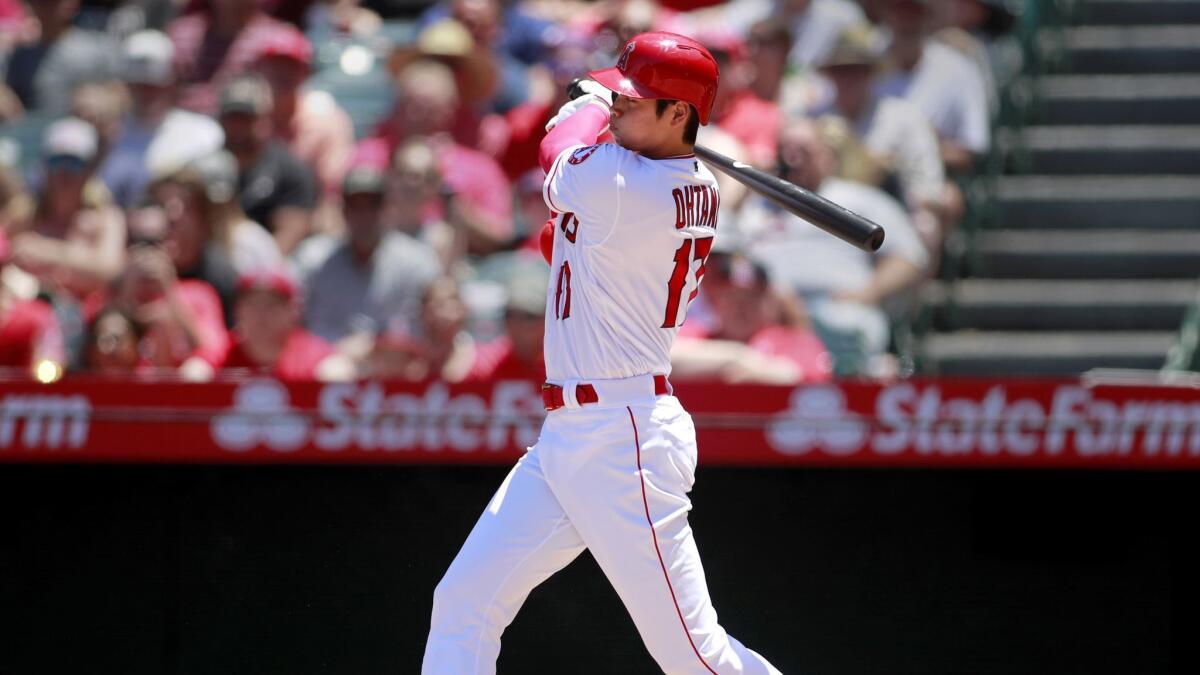 The Angels continue readying for the possibility of Shohei Ohtani returning as a hitter even if he can't pitch.
On Friday, he stepped back into the batter's box, a development that was notable even if he did nothing more than just stand there.
Out with a grade 2 sprain of his right ulnar collateral ligament, Ohtani tracked pitches as Felix Pena threw a bullpen session.
"This helps him, when he gets to a certain stage, to be able to see the ball," manager Mike Scioscia said. "This will make it a little smoother transition when he is able to go out and hit."
Ohtani is scheduled to be reevaluated Thursday, at which point the Angels hope to know if the platelet-rich plasma and stem-cell injections he received on June 7 are working.
At the time Ohtani was injured, general manager Billy Eppler said he "probably" could have continued playing if he strictly were a designated hitter.
Ohtani also recently began taking one-handed swings in the batting cage to keep his core engaged. He also has been running.
Given the normal recovery time for elbow-ligament replacement surgery, Ohtani probably wouldn't be ready to pitch again until 2020, regardless if he has the procedure done this summer or after the season.
Until further reevaluation, the Angels won't know if Ohtani will even require surgery.
Eppler has indicated the Angels will consider using Ohtani as a hitter only with medical assurances that doing so won't jeopardize the long-term health of his arm.
::
Garrett Richards, who continues to progress from a left hamstring strain, said he could be ready to throw off a mound "probably within the next few days."
If he passes that test, a rehabilitation start could be the next step and also the final one before rejoining the rotation. Richards was injured June 13 in Seattle.
"We're just going to make sure everything's good before I do that," Richards said of advancing to a mound. "Want to do it the right way the first time."
::
Tyler Skaggs (right hamstring) is scheduled to throw a bullpen session Saturday, meaning he's unlikely to start Sunday, though no decision has been made.
The Angels still haven't announced a starter for the finale of this series, Pena right now the likely option.
If Skaggs is OK, he could start Monday afternoon when the Angels play a makeup game in Kansas City.
::
Griffin Canning, a second-round pick out of UCLA in 2017, pitched four scoreless innings Thursday in his debut with triple-A Salt Lake. The right-hander has advanced quickly since opening the season in single A.
Could his fast-track climb land him in Anaheim this season?
"As much progress as Griffin has made, we're all very excited," Scioscia said. "There are certainly things that every pitcher needs to absorb before they're ready for this beast that is pitching in the major leagues."
::
Reliever Deck McGuire, a former first-round pick of Toronto, was recalled from Salt Lake and Eduardo Paredes was optioned down. The Angels acquired McGuire this week from Texas.
Get the latest on L.A.'s teams in the daily Sports Report newsletter.
You may occasionally receive promotional content from the Los Angeles Times.