Here are five candidates to replace Mike Scioscia as Angels manager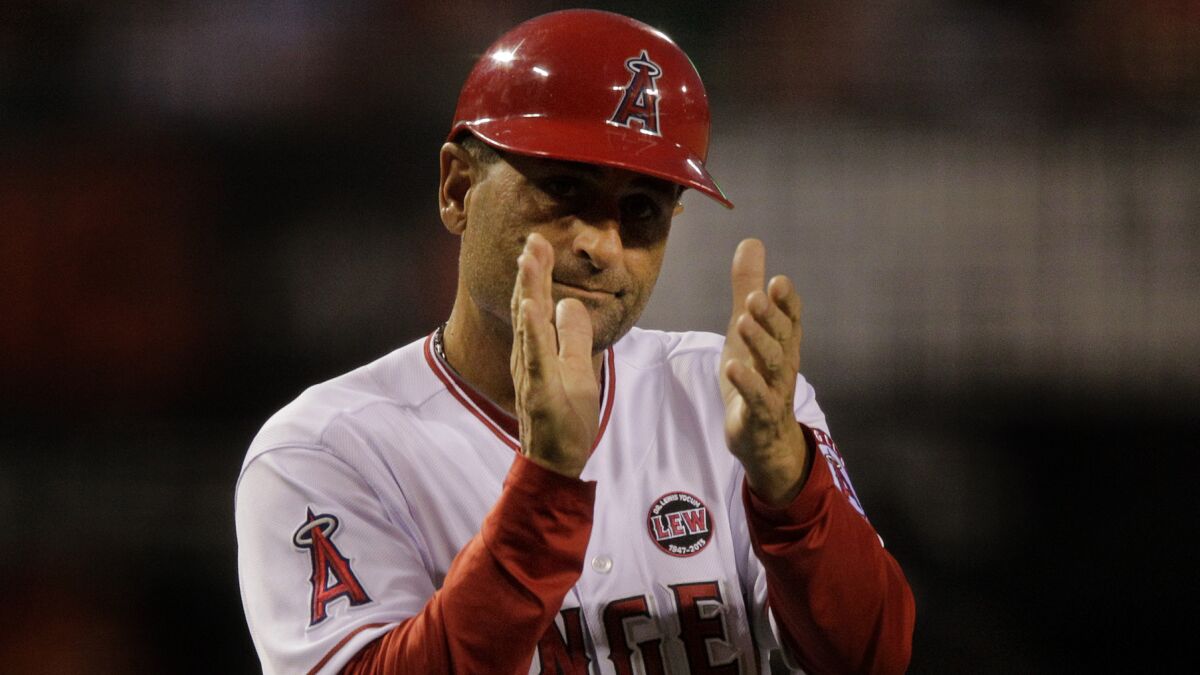 Angels general manager Billy Eppler sat in Angel Stadium on Monday describing his ideal manager.
Thirty miles away, the Dodgers played meaningful baseball, and by the end of the afternoon had won their sixth consecutive division title.
Eppler has tried and failed to push the Angels into the postseason since his hiring Oct. 4, 2015. The Angels have had losing records during every season of his tenure.
Among other factors, a change in the dugout might help expedite the process.
"We're looking for somebody who can think with a probability-based mindset," Eppler said. "We're going to look for someone who is eager to grow and evolve. Someone that can develop a culture that will put the welfare of the team above any singular person. Those are the criteria that we're going to look for in our next manager."
The Angels aren't alone in their quest.
The Texas Rangers and Cincinnati Reds had interim managers this season who seem poised to earn a promotion, but both teams have begun formal managerial searches. The Toronto Blue Jays have to replace John Gibbons. And the Minnesota Twins joined the list Tuesday after firing Paul Molitor, a Hall of Famer who took over his hometown team in 2014.
The Baltimore Orioles seem likely to go hunting, too. Buck Showalter's contract expired when Baltimore wrapped up the season with a major league-worst 47-115 record.
Here are some candidates that make sense for the Angels to consider.
Brad Ausmus, 49, special assistant to Eppler
Ausmus stepped away from the manager's job in Detroit last fall with grace.
He said then that he wouldn't have felt right accepting a contract extension, especially not after the organization indicated an upcoming rebuild by trading the likes of J.D. Martinez and Justin Verlander.
He also said that he would return to managing if given the opportunity. He only got four years in Detroit, where he won a division title in his first year but had a 314-332 record.
Eppler positioned Ausmus, who caught for 18 years in the majors, in the right place at the right time when he hired him in November as a special assistant. Ausmus spent the season dabbling in player development and amateur scouting, among other things.
Eric Chavez, 40, special assistant to Eppler
Eppler was part of the New York Yankees front office that signed the third baseman in 2012 and 2013. Chavez later joined the Yankees as a special-assignment scout in 2015.
One of Eppler's first moves with the Angels was to hire Chavez as his special assistant. Chavez has handled coaching and scouting.
Soon after reports surfaced in August that Scioscia was expected to step down, Chavez replaced Keith Johnson as the manager at triple-A Salt Lake. The Bees were 10-14 under Chavez.
Although Eppler said experience was not a prerequisite, Chavez may be too green. It may be more effective to transition him into a major league coaching role.
Dino Ebel, 52, Angels third base coach
After 14 seasons in the organization, Ebel may finally get a crack at managing.
Ebel just completed his ninth season as the Angels' third base coach. He managed the final three innings of the season-finale triumph over the Oakland Athletics on Sunday.
He has served as bench coach and third base coach since joining Scioscia's staff in November 2005. He also oversaw the outfield from 2011 to 2015 and this season.
With Ebel back as the Angels' outfield instructor, most-valuable-player candidate Mike Trout turned in the best defensive season of his career. Trout had an ultimate zone rating of 4.0 and an 8 in defensive runs saved. He had negative numbers in each category (-4.4 UZR, -6 DRS) in 2017.
Ebel spent 17 seasons in the Dodgers organization as a minor league player, coach and manager.
"He's one of the best baseball minds I've been around," Scioscia said Sunday.
Joe Espada, 43, Houston Astros bench coach
Espada, a scout for the Yankees in 2014, also crossed paths with Eppler in New York. He became the Yankees' third base coach in 2015, a position he held until the Astros hired him in November.
The Astros became the leaders of baseball's data revolution when general manager Jeff Luhnow hired former NASA engineer Sig Mejdal in 2012 to lead what Luhnow called the department of decision sciences.
Espada was already familiar with analytics when he moved to Houston. A former career minor league player, Espada coached eight years in the Miami Marlins organization.
Conversations with Espada would have to wait until the end of the Astros' postseason run, same as with any external candidates whose teams are in the playoffs.
Josh Paul, 43, Angels bench coach
Paul is a former big league catcher, like Scioscia and Ausmus, but not as accomplished at the major league level, and was a Yankees employee during Eppler's tenure in New York. He was hired as Angels bench coach last offseason.
He spent one year as a coach under Scioscia and also played for the longtime manager in 2004 and 2005.
"The first day we talked to him, I said, 'JP, you come into the dugout every day like you're managing. Prepare like you're managing,' " Scioscia said during his farewell news conference Sunday. "He took it to the nth degree, trust me. He was very prepared."
Get the latest on L.A.'s teams in the daily Sports Report newsletter.
You may occasionally receive promotional content from the Los Angeles Times.