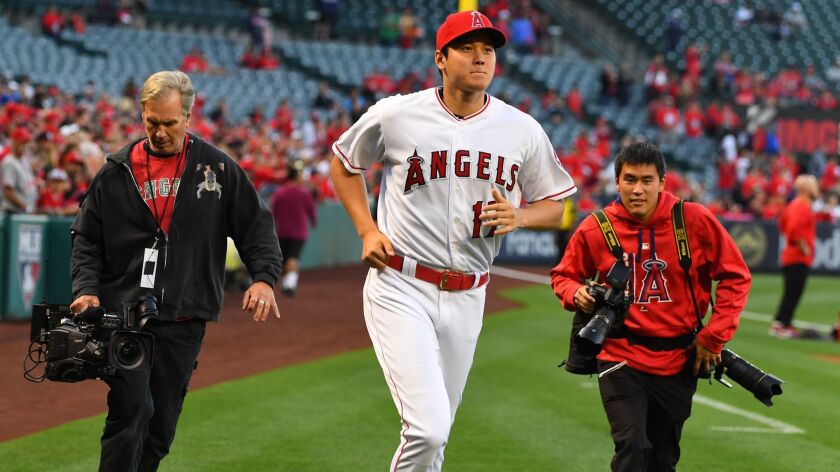 When the Angels took the field for Thursday's game, they had scored the fewest runs of any team in the American League West. Their lineup has two glaring weaknesses, based on the league rankings at each position.
The Angels' third basemen are batting .216 with two home runs. Their designated hitters are batting .228 with two home runs.
Shohei Ohtani is expected to come to the rescue of the latter problem, as soon as next week. The Angels expect to activate Ohtani from the injured list before the team returns to Anaheim May 17, manager Brad Ausmus said.
"There's always the risk of a setback, but I would say that's likely," Ausmus said.
Ohtani, the reigning AL rookie of the year, batted .285 with 22 home runs last season. He was limited to 306 at-bats because he did not become a full-time hitter until July, after a season-ending injury to his pitching elbow.
Ohtani is expected to be a full-time designated hitter this season, as he recovers from Tommy John surgery.
The Angels hope the presence of a productive Ohtani can persuade pitchers to throw a few more strikes to Mike Trout.
Trout leads the league in walks (30) and intentional walks (7).
Trout is on pace for 37 intentional walks, which would set an AL record. The major league record: 120, set by Barry Bonds in 2004.
Bonds set a major league record that year with 232 total walks. He batted .362 with 45 home runs, in 373 at-bats.
The Angels' solution at third base is unclear. Zack Cozart, the projected starter, experienced recurrent neck stiffness Wednesday, and Ausmus said he is "not sure what the timetable is" for Cozart's return.
For the fifth time in six games, Tommy La Stella started at third base. La Stella entered play Thursday tied with Trout for the team lead in runs batted in, with 19.
La Stella, a utility man in his previous five seasons, already has set a career high with seven home runs. Trout has six.
Mexico, for naught?
The Angels had a team meeting Thursday to review protocol and plans for the weekend series in Monterrey, Mexico. The Angels are scheduled to fly there Friday, but thunderstorms are forecast for Saturday and Sunday, when games are scheduled against the Houston Astros.
"It sounds like the weather is going to be a challenge," Ausmus said. "There's a lot of logistics that both the Angels and MLB are involved in, in trying to make it a smooth process for us. But one thing you can't control is the weather."
Commissioner Rob Manfred has spoken of Mexico as a contender for an MLB team via expansion or relocation, with Monterrey and Mexico City as the two cities considered most likely. Ausmus isn't sure how players would react if the league put a franchise in Mexico.
"I'm sure a lot of them would love it if they had a team in Cabo San Lucas," he said.
Sign up for our daily sports newsletter »
Short hops
Trout had a special gift awaiting him Thursday: golf clubs from Masters champion Tiger Woods. … Andrelton Simmons will host a charity wine tasting event May 23, with proceeds benefiting a college scholarship fund for Latino students. Guests will enjoy "Andrelton's very own 2015 Sonoma red blend," according to a press release. … If Trevor Cahill starts as scheduled Saturday, he would become the first MLB pitcher to start games in four countries: the United States, Canada, Australia and Mexico.
Follow Bill Shaikin on Twitter @BillShaikin
---