Justin Upton reports to spring training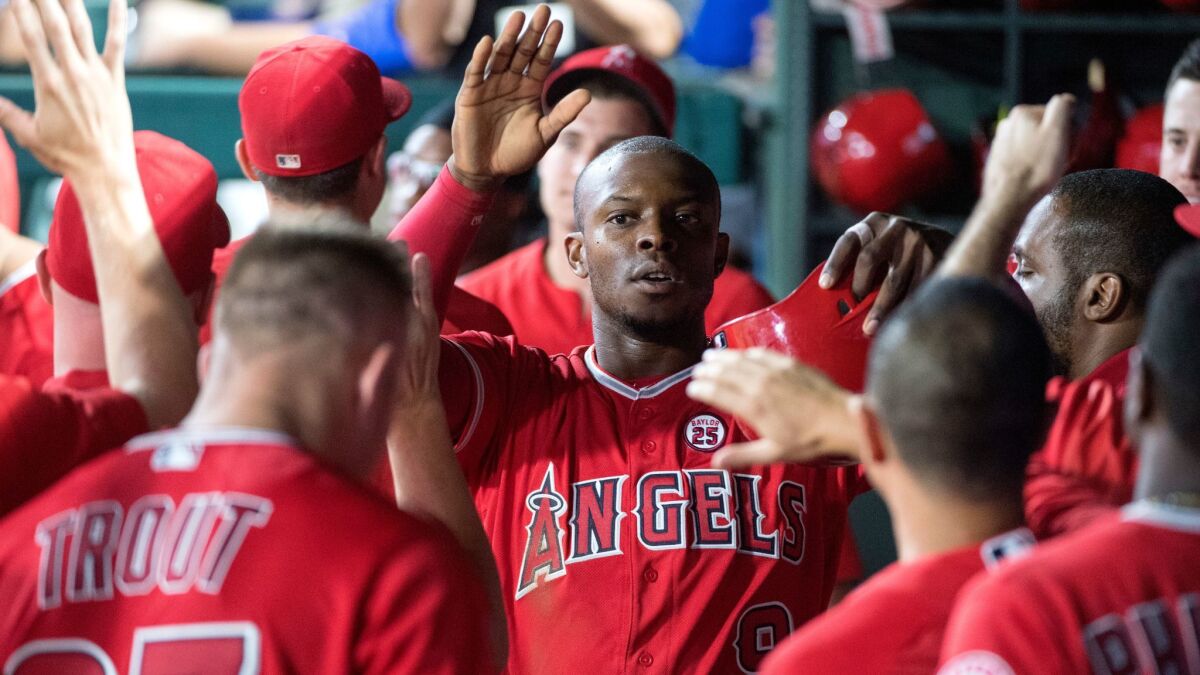 Reporting from TEMPE, Ariz. —
While star players such as J.D. Martinez and Jake Arrieta remain unsigned, Justin Upton reported to spring training Saturday with the security of the five-year, $106-million extension he signed in early November, well ahead of baseball's free-agent freeze out.
"It hasn't been the most enjoyable process for those guys," said Upton, a 30-year-old left fielder acquired from Detroit last August. "The fact that I avoided it, looking back in hindsight, I'm happy I did. I kind of got a little taste of it two years ago when I was a free agent. I understood the way the trend was going."
Upton's last foray into free agency, after 2015, stretched to Jan. 20, 2016, when he signed a six-year, $132.75-million deal with the Tigers. He could have opted out of the final four years and $88.5 million of that deal but instead re-upped with the Angels, who added a fifth year.
Had Upton, who had an .887 on-base-plus-slugging percentage with seven homers and 15 RBIs in 27 games for the Angels, not signed that deal, he might still be looking for work.
"There's definitely anxiety," Upton said. "You're going to a new city, you don't have any time to get settled, you have to find a house in spring training … there's a lot of logistical things people don't look at. They say, 'Look, he signed for that much money, he'll be fine.' There's no comfort that late in the offseason."
Extended play
Shohei Ohtani had a little trouble commanding his curveball, but his fastball looked sharp and his form looked sound during a two-inning, 30-pitch batting practice session. Minor leaguers hitters Hutton Moyer and Brennan Morgan fouled off five pitches and hit one fair ball, a fly to left field.
"He has a lot of weapons for major league hitters," general manager Billy Eppler said. "His delivery looked athletic. He looked comfortable."
Ohtani's assessment?
"There were good and bad parts," he said through an interpreter, "but I was happy to get through the 30 pitches."
Ohtani will hit live pitching on Tuesday or Wednesday. He hopes to DH two or three times a week between starts. Manager Mike Scioscia said Ohtani could also be used as a pinch-hitter or pinch-runner.
The Angels will probably open the season with a three-man bench. Ohtani would allow Scioscia to run for Albert Pujols without burning a position player. If the game goes extra innings, Ohtani could remain as DH.
"I've never had a pitcher pinch-run — more bad can come out of that than good," Scioscia said. "But Shohei is not just a pitcher. He has the ability to do some things off the bench. We're definitely going to tap into that if necessary because we feel we're not putting him at risk."
Asked if he was used as a pinch-runner in Japan, Ohtani said, "Maybe a couple of times very early in my career, but that's about it."
---
Get the latest on L.A.'s teams in the daily Sports Report newsletter.
You may occasionally receive promotional content from the Los Angeles Times.