Angels bullpen has room for two aces: Huston Street and Joe Smith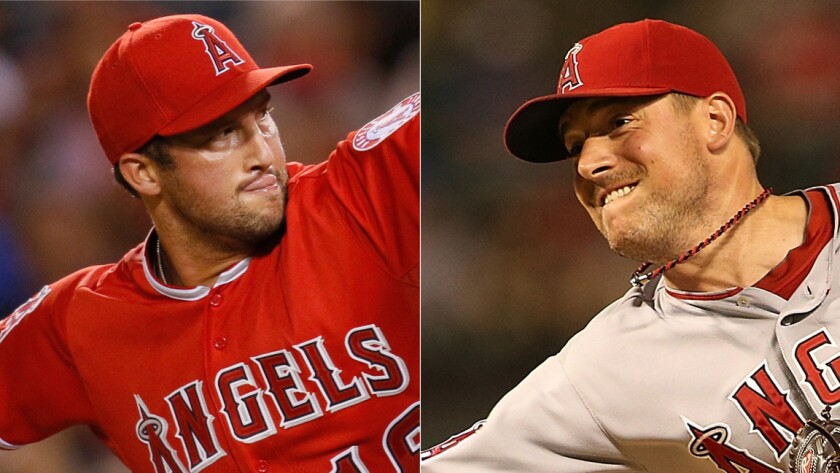 Joe Smith looked genuinely confused.
The Angels had just polished off a third consecutive win against the Detroit Tigers. Smith and Huston Street had each pitched three-up, three-down innings to seal the game — Smith the eighth, Street the ninth.
The Angels' July 18 trade for Street had given them a tested arm to close games, but it also bumped Smith, who dazzled in 10 save opportunities as the de facto closer. He was back to being the setup man.
So, Smith was asked, had he talked to Street about the switch?
"About what?" Smith said, raising his eyebrows. "No. Why? I mean, no need for it. You just pitch where they tell you to pitch."
Street said that when he was acquired by the Angels from the San Diego Padres, Smith "came up to me and said, 'Hey, happy to have you.'"
The conversation didn't go much further.
"It's just all been unspoken and understood," Street said.
With Street joining Smith, the bullpen has a swagger, and the duo has already developed a late-inning synergy.
With Smith's current level of production, the Angels can make a case for the best setup-closer duo in baseball. Statistically, only Washington's pair, setup man Tyler Clippard and closer Rafael Soriano, compares.
Since June 24, when Smith became the temporary closer, he has dominated. In that five-week span, he hasn't given up a run and has allowed only four hits and one walk in 17 appearances. Opponents are batting .077 against him. He gave up a hit to Minnesota's Brian Dozier on June 24 and hasn't given up a hit to another right-handed batter since — 26 straight at-bats and counting.
And in 10 save attempts, he was flawless.
Meanwhile, Street has the best earned-run average, 0.96, of any closer in baseball and has converted 27 of 28 save opportunities, the last three with the Angels.
"I feel like I came into a pen that was pitching really, really, really well and kind of on a streak," Street said. "And you feel that down there. Everybody's feeding off of each other, sharing information."
Street said he understands the move probably was harder for Smith than for him. Especially, he noted, because Smith had performed so well.
Smith said he is happy that the bullpen arms the Angels have acquired — they traded for Jason Grilli and situational left-hander Joe Thatcher before Street — have also turned out to be good people. Everyone, including the young pitchers the team has called up from the minors, has fit in quickly, he said. And the added depth helps the team.
"Not playing for anything else but Ws," said Smith, who also picked up five saves during the season's first two months in place of struggling Ernesto Frieri, since traded. "So whatever way it works, it works."
Manager Mike Scioscia said Smith would get save opportunities from time to time. But he is not surprised Smith has easily transitioned back to a setup role.
"He wants to win," Scioscia said. "I don't think he's hung up on who's going to get that label as closer."
Street said he has spent his first few days with the team trying to meet his teammates, find out where they are from, if they are married or have kids. In the clubhouse, he is chatty and personable and circulates as if he has an aversion to stillness.
Other relievers spoke highly of him. Rookie Mike Morin said the other relievers feed off the success of pitchers like Street and Smith.
Street already refers to teammates with nicknames like "Jeppy" (Kevin Jepsen) or "Freezer" (David Freese). Before one recent game, he talked with one section of the room about a magazine he was reading. He spoke with another about hotels. He moved to a different part of the clubhouse to discuss fantasy football.
He was interested in joining a league and had some suggestions for the rules. But he didn't want to overstep his bounds.
"You're the boss," he told one player. "I'm the new guy. I know."
Up next
Angels ace Jered Weaver (11-6, 3.36 ERA) will take on Baltimore's Chris Tillman (7.5, 3.92) at 4 p.m. PDT in the opener of a three-game series at Camden Yards and an eight-game trip that will also take the team to Tampa Bay and Dodger Stadium. On the air: TV: FS West. Radio: 830.
Twitter: @zhelfand
---
Get the latest on L.A.'s teams in the daily Sports Report newsletter.
You may occasionally receive promotional content from the Los Angeles Times.