One thing Mike Trout hasn't hurt is his MVP chances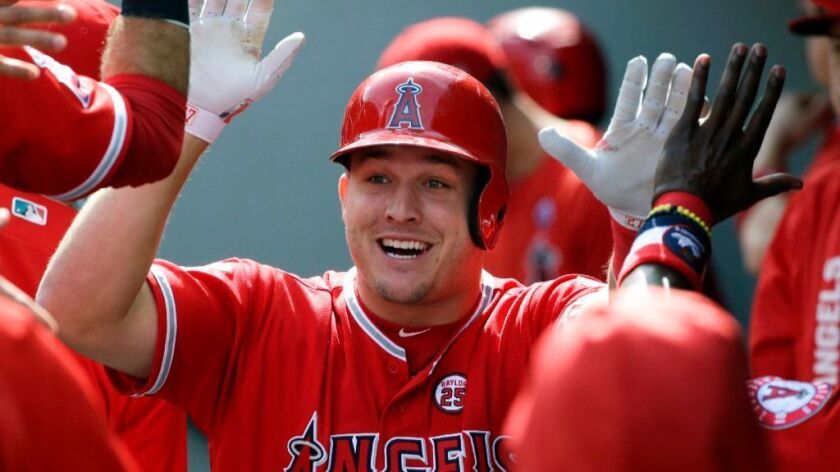 One afternoon at Angel Stadium last week, Mike Trout tossed a large foam football around the clubhouse with some teammates. At one point, Trout fired the football in a tight, perfect spiral across the room to Garrett Richards, his housemate and the Angels' ace. Richards returned the throw on an uneven path. Trout sent him another spiral. Again, Richards returned the throw with a slight wobble.
"Garrett!" Trout exclaimed. "Make an adjustment!"
That's the paradox: Improvement is typically attributed to adjustments. But Trout, on the verge of registering his best season to date, maintains he has made none.
"I haven't changed a thing," Trout said. "For sure."
The Angels' center fielder and reigning American League most valuable player is contending for the same award this year despite missing nearly seven weeks because of a torn thumb ligament.
Trout, 26, is walking more, hitting for more power and striking out less than ever before. Based on his plate-appearance pace, he should qualify for the American League batting title on Friday, a technicality that will allow him to appear on standard leader boards.
He will then take a sizable AL lead in both on-base and slugging percentage. New York's Aaron Judge will be next-best, ahead in each over Houston's Jose Altuve, who is thought to be the current MVP favorite.
Trout, who also won the award in 2014 and finished second in 2012, '13 and '15, could become the first player to finish in the top two in MVP voting for six straight seasons. However, he declined to discuss his own candidacy.
"I'm just gonna try to finish strong," he said. "Guys are having great years. With Judge, Altuve, even [Jose] Ramirez from Cleveland is having an unbelievable season. I'll keep going to the end and see what happens."
Trout said his outlook is the same for the Angels, who sit 1½ games out of playoff position with 13 games to play. Though he never has won a postseason game, this will be the fourth time in six major league seasons that Trout has had at least a chance to make the playoffs in the season's final days.
He called each remaining game a "must-win." Had he not suffered the thumb injury in May, the Angels' circumstances might be different.
"Being hurt switches up some things," Trout said. "But the beginning of the year was a good start, the start you wanted coming out of spring. At the end, you want to be in it, still, which helps a little bit. It's been a crazy year, obviously."
For him and for the league. On Tuesday, Major League Baseball will break its record for homers in a season with nearly two weeks to spare. Theories abound as to why, from increased temperatures to intended or unintended changes with the baseballs that are being used. Trout thinks it's because pitchers are throwing harder.
"I can't see anything else," Trout said. "People say maybe the balls are a little tighter, but I haven't noticed anything. I just think guys are throwing harder, for sure. I think that's why strikeouts are up.
"Other than that, I'm speechless."
Pitchers are actually not throwing harder. Fastballs, sliders and curveballs are all down one tenth of a mile per hour this season compared to last, according to Statcast data captured by BaseballSavant.com.
But Trout is correct that the game around him is changing. Since the year he debuted, 2011, home runs are up 34%, walks are up 6% and strikeouts 16%.
So, some of his improvement — what shows up in statistics — can be attributed to him swaying with the sport as it has changed. Some might be reflective of how pitchers now approach him, and, he says, his understanding of those approaches. The rest is limiting slumps.
"The biggest thing is, with all the walks, my timing just has been on," Trout said. "When my timing's off, that's when my strikeouts are up, when I'm swinging at bad pitches. You want to limit it to a game, limit it to an at-bat, or even pitches within an at-bat."
On recent days in the Angels' clubhouse, strength and conditioning coach Lee Fiocchi has approached several players about planning offseason training regimens. When he went up to Trout last week, the franchise player playfully pushed back.
"I'm getting old, man," Trout told Fiocchi to laughter across the clubhouse.
"Man," 36-year-old second baseman Brandon Phillips said, "come on."
Short hop
The Angels announced they will begin to sell tickets to potential postseason home games Sept. 27 at 10 a.m. Tickets for up to three games will be available on the Angels' website or by phone through Ticketmaster.
Follow Pedro Moura on Twitter @pedromoura
---
Get the latest on L.A.'s teams in the daily Sports Report newsletter.
You may occasionally receive promotional content from the Los Angeles Times.