Mike Trout, Angels organization still reeling from death of Aaron Cox
The name on the back of Mike Trout's jersey Friday night was not there Saturday or Sunday, but it will forever remain in the heart of the Angels center fielder.
As a tribute to Aaron Cox, his 24-year-old brother-in-law who died Aug. 15, Trout wore "A. COX" on his No. 27 jersey. It was Trout's way to honor a family member, his hunting, fishing, golfing and bowling buddy, and a fellow baseball player.
Cox, the younger brother of Trout's wife, Jessica Tara Cox, and until recently a pitching prospect in the Angels farm system, died from what a New Jersey State Police spokesman said was a self-inflicted gunshot wound.
Cox was rushed by ambulance from the Driftwood RV Resort & Campground to the AtlantiCare Regional Medical Center in Atlantic City. He died four days later.
Trout declined to discuss the circumstances surrounding Cox's death.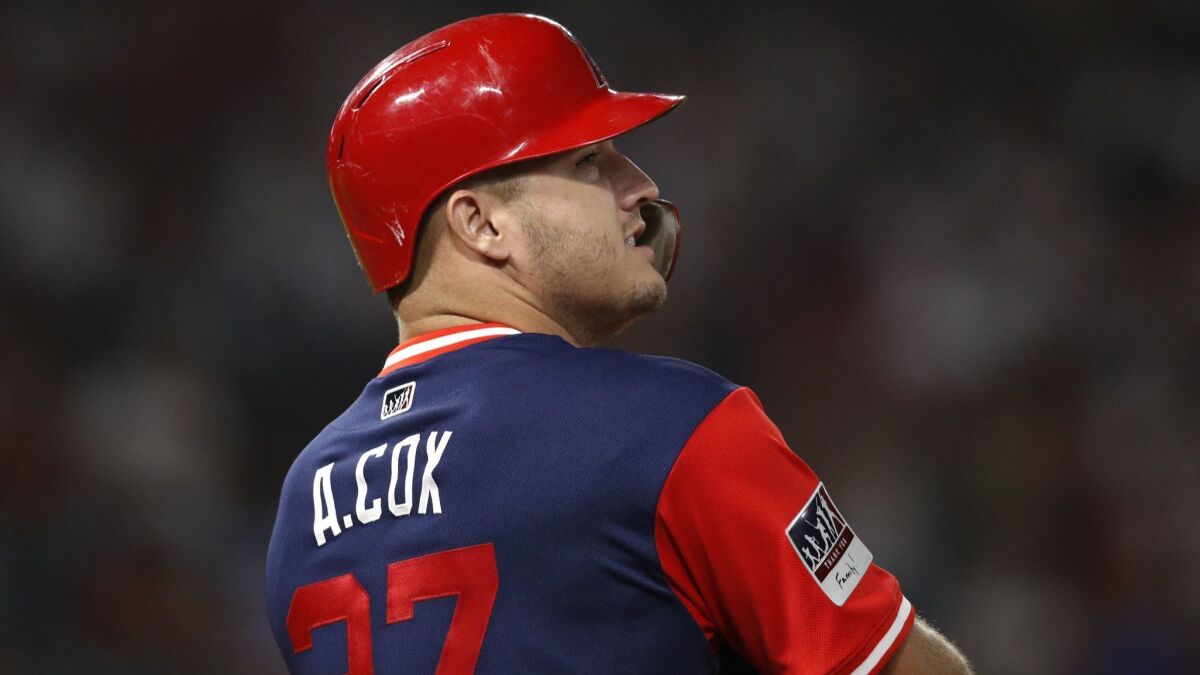 "This remains a very personal and private family matter," a team spokesman said. "When and if the family chooses to speak publicly about Aaron is their choice."
Trout posted a heartfelt tribute to Cox on his Instagram account Thursday, the day after Cox's memorial service in Vineland, N.J., which several Angels officials attended, and a day before he resumed playing after a three-week absence.
"Aaron, words can't describe the emotions that I've been feeling the past week and a half," Trout wrote. "You were more than just my brother-in-law... you were my best friend. You made such an impact on my life since the day I first met you.
"You were an amazing person inside & out who showed us all how to live life to the fullest. Seeing and hearing about your impact on other people are all things that made me a better person every single day."
The next night, in his first game since he suffered a right-wrist injury Aug. 1, Trout lined the first pitch he saw for a triple. He played all three weekend games against Houston, going four for 11.
Trout said after Friday night's game he was "emotionally drained" and still reeling from Cox's death.
"When it happened," Trout said, "you tell yourself you want to wake up from a dream or a bad nightmare."
Trout, 27, married Jessica last December, but the pair began dating at Millville High School in New Jersey. The Trout and Cox families have been intertwined for more than a decade.
Like Trout, Cox starred at Millville High, helping the Thunderbolts win the 2011 South Jersey Group IV championship as a junior in 2011 and going 6-0 with an 0.86 ERA as a senior in 2012.
He played three seasons for Division II Gannon University in Erie, Pa., before being drafted by the Angels in the 19th round in 2015.
"Aaron was one of the most humble people I have ever known," said Nico Baldelli, who was Cox's catcher at Gannon and remained a friend. "He was a very loyal friend, someone I called the little brother I never had. Our bond was so strong because I was his catcher in college, and that pitcher-catcher relationship is something you can't replace."
As a minor leaguer, Cox went 7-3 with a 3.64 ERA in 68 appearances over three seasons for rookie-league Orem and Class-A Burlington and Inland Empire. His teammates at Inland Empire this season described him as highly energetic, ultra-competitive and fun-loving, with a good sense of humor.
"He was a great kid," said left-hander Nate Bertness, who shared an apartment with Cox in San Bernardino in April and May. "If Cox walked into the room, the room got better, for sure. He brought a ton of energy and was always bouncing off the wall.
"He was extremely competitive. Some nights we would stay up until 4 a.m. playing cards. On the golf course, we'd go on the chipping green, sit there and chip balls for four hours to see who would get the first ball in."
Cox seemed to immerse himself into every activity.
"Even playing video games, he'll sit there and stare at the TV forever and you have to say his name five times to get his attention because he gets locked in," Bertness said. "He gets focused on one thing, and he's worried about winning and competing."
Cox had a great passion for bow hunting, duck hunting, fishing, golf and bowling.
"He was always talking about hunting," Bertness said. "I was supposed to go [to New Jersey] this offseason and go duck hunting with him."
Inland Empire reliever Greg Belton roomed with Cox for parts of 2017 and again briefly this July at the team's minor league complex in Arizona.
"He was hilarious," Belton said. "And he could not do two things at once, that's for sure. He'd be texting, you'd ask him something, and he'd just look at you as if he didn't hear a word you said. He was very focused. He was awesome. We hung out every morning and drank coffee. I loved him."
Cox did not pitch in 2017. He suffered an orbital fracture when he was hit in the face by a line drive in spring training and was suspended for 50 games in late July after testing positive for the banned stimulant methylphenidate, more commonly known as Ritalin. The drug is used to treat attention deficit hyperactivity disorder (ADHD) and narcolepsy. Players who test positive without applying for a therapeutic use exemption are subject to a suspension.
Cox returned this season and compiled a 4.11 ERA in 11 relief appearances for Inland Empire. But after a May 29 game against Lancaster, Cox was granted a leave of absence. He was placed on the disabled list June 2 and returned to New Jersey.
Photos posted on social media showed Cox and family members enjoying a vacation in Ocean City in late June. They're playing Wiffle ball on the beach in several pictures. One of them included Cox catching as his mother, Pam, took a turn at bat.
"Aaron always wanted to make you laugh or smile," said Rebecca Lambe, a friend of Cox. "He hated any of his friends being sad or upset. He was genuinely kind and caring. He was the greatest friend to anyone."
Cox returned to the Arizona complex in July with an eye toward returning to Inland Empire this season.
"I'm not going to go into too much detail," Angels general manager Billy Eppler said, "but we thought there was a chance he was going to play again."
Cox resumed bullpen sessions, and his stuff — a 95-mph fastball, sinker and slider — was coming back.
"He went home and lost a lot of weight, and when he came back [to Arizona] you could tell he was a little different," said Belton, who was rehabbing an elbow injury in July.
"But he still seemed normal, funny. He was going to church and everything, going to bible study. He said his arm felt great and he was throwing hard. He seemed like he was having fun. I figured he'd be back at Inland Empire soon."
But on Aug. 6, Cox abruptly retired from baseball and returned home.
There was no mention of retirement on Cox's Twitter feed. In his last two tweets, Cox congratulated his parents, Joseph and Pamela, on their 30th wedding anniversary and posted an inspirational quote from Rachel Marie Martin, an author and single mother of seven:
"Sometimes you have to let go of the picture of what you thought life would be like and learn to find joy in the story you are actually living."
Five days later, Cox was dead.
Belton said he and Cox spoke by phone once after Cox left Arizona. Belton did not get the impression Cox was troubled.
"I saw him posting stuff on Instagram, and he seemed happy," Belton said. "I was happy for him. I figured he was feeling better being back at home with his family, but I guess you never know, huh?"
Belton said he and several teammates are having a difficult time reconciling the Aaron Cox they knew with the one who took his life.
"That was not the Aaron I became so close to," Belton said. "When I found out [Cox died] I felt like I was going to throw up. I couldn't sleep for two nights. You always wonder if you could have done something. It's terrible. I wouldn't want anybody to go through that."
---
Get the latest on L.A.'s teams in the daily Sports Report newsletter.
You may occasionally receive promotional content from the Los Angeles Times.